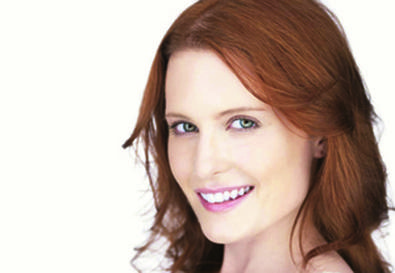 Rare indeed is the project that provides an actor the opportunity to make a decades-spanning journey from sepia-toned 19th-century country girl to 1920s slapstick muse, and from steely '40s noir siren to color-drenched new wave gamine in a scant 15 minutes. This is the transformative arc Back Stage reader Jenny Joslin takes in "Cinephilia," a short homage to filmmaking from the 1890s to 1960s composed of four era-specific chapters. "It was such a beautiful-sounding project," she says. "It was just an ode to the beauty of cinema."
In a somewhat surprising move, Joslin prepared a contemporary Theresa Rebeck monologue for her initial audition, knowing the film role would undoubtedly require strong emphasis on period affectation and appearance. "The real theme of the film was love, so I wanted to be very simple and not put any gimmicky time period on what I prepared. I just wanted to convey a relationship and a connection to another human being," says Joslin, whose less-is-more approach piqued the interest of "Cinephilia" director Leah Chen Baker. "Each premise in the film is a boy-meets-girl story in some fashion," Baker says. "I was very determined to find leads who would work for every genre and period we were going for while also bringing something different to each section. I liked Jenny's overall energy and there was a lot of visual potential."
For her callback with Baker and the film's makeup and wardrobe team the following week, Joslin adopted a subtle 1940s look that did not go unnoticed. "I liked that attention to detail," Baker says. "I had just sent sides for the film noir scene that morning, so the actors only had a few hours to prepare. It definitely showed me that she had been thinking about this." Unbeknownst to her at the time of the callback, Joslin had already landed the female lead -- efficiently referred to as the Girl -- and was in effect reading to help finalize Baker's choice of male co-star. "Jenny told me later on when we were doing the makeup test that she didn't think she got the part, and I was like, 'You're so silly,' " Baker says with a laugh. "I had asked for her availability after the first audition because I really wanted to make sure that we got her."
Having only recently seen the final cut, Joslin is particularly appreciative of the sheer volume of dynamic material she amassed from the brisk seven-day shoot. "Filming was a dream. Each day we jumped from film noir to silent pictures to new wave and back. I have amazing pictures and great footage for my reel, and I look forward to using it in a lot of places," she says. "It was a fantastic chance for all of us to showcase so many of our skills and looks. It's funny -- when we started the DP told me, 'You're going to like this because actresses really like the way their skin looks when it's shot in 35mm; it gives it a kind of glow,' and he was absolutely right. I didn't recognize myself in a lot of it. I really felt like I was watching a movie from another time."
Jenny Joslin is nonunion and holds a BFA from Texas State University. She has also studied with the Royal Shakespeare Company in Stratford-upon-Avon and continues to train with Anthony Abeson in New York. She can be contacted via www.jennyjoslin.net.

Has Back Stage helped you get cast in the past year? We'd love to tell your story. Be in the weekly column by emailing casting@backstage.com for New York or bswcasting@backstage.com for Los Angeles with "I Got the Part" in the subject line.