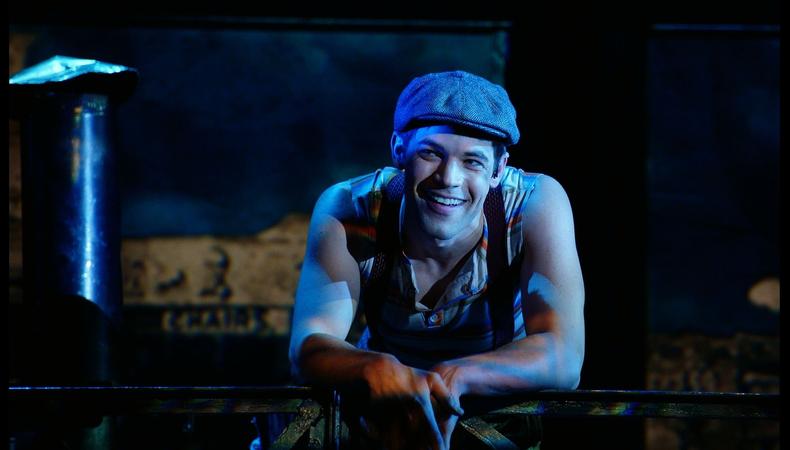 On Broadway and beyond, a curtain can rise as quickly as it can fall; a star can be swapped as easily as Bernie Telsey can say, "That's enough." Theater is the beating heart of New York show business and, if you want to make it here, it's crucial you're up to date on incoming projects, latest castings, and other industry news. Don't worry, Broadway baby, Backstage has your back. Every week, we're rounding up the can't-miss stories no thespian should live without, so you can focus on important matters like hitting your high C. Curtain up and light those lights!
Jeremy Jordan clocks in.
For the second time this season, Jeremy Jordan is heading back to Broadway. Fresh off his run this fall in "American Son," the Tony nominee will clock into the diner in "Waitress," playing the role of Dr. Pomatter opposite new leading lady Shoshana Bean. Jordan begins performances April 8.
Your 2019 Tonys host is…
Earlier than usual, the Tony Awards have lined up their host and they're going with the tried-and-true. James Corden, host of "The Late Late Show" on CBS (not coincidentally the same network as the telecast) will emcee the evening on June 9. Corden, a Tony winner himself, first hosted the shindig back in 2016.
A "Great Comet" star goes behind the scenes.
In a production that is bringing together many incredible nouns, Lincoln Center Theater/LCT3 will stage "In the Green," a new musical by "Great Comet" star Grace McLean. Featuring direction from Lee Sunday Evans ("Dance Nation"), the piece will have an eight-week run at the Claire Tow Theater beginning June 8. McLean will also star in the production alongside Rachael Duddy, Ashley Pérez Flanagan, and Hannah Whitney.
Sam Shepard returns to the New York stage.
Though his Broadway revival of "True West" just shuttered, the work of Sam Shepard will be on another New York stage shortly. Signature Theatre has announced the cast and creative for its upcoming production of Shepard's "Curse of the Starving Class," directed by Terry Kinney. Beginning performances April 23 at the Pershing Square Signature Center, the drama will be led by Lizzy DeClement, Flora Diaz, Gilles Geary, Esau Pritchett, Andy Rothenberg, Maggie Siff, and David Warhofsky. The run is slated through May 13.
More kisses for Kate.
Following its near-unanimous raves, Roundabout Theatre Company's revival of "Kiss Me, Kate" will hang around a bit longer. Originally slated to close June 2, the Cole Porter classic will now stay in performance through June 30. This is particularly significant as the previous end date would have pre-dated the Tony Awards on June 9. (It is a long-held belief that shows do better as far as awards go when they are still open at the time of the ceremony.)