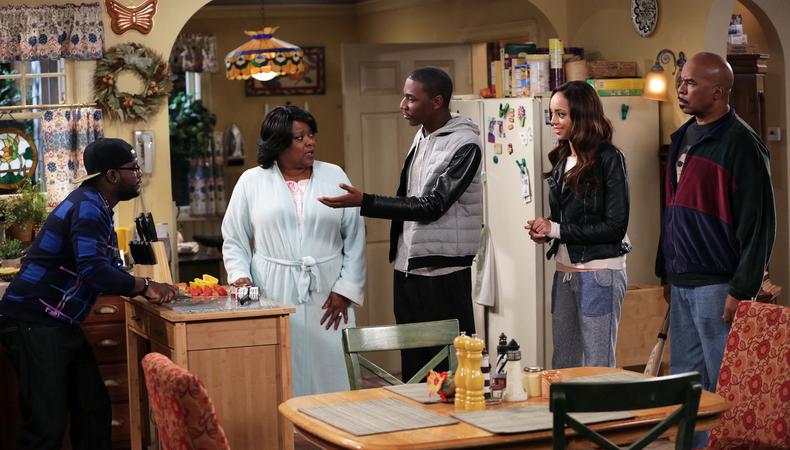 In his early acting days, Jerrod Carmichael had a bad habit at auditions. "I would walk in, write my name down, I would sit there, sometimes look at the material, sometimes [look] around the room," the comedian says. And then, for whatever reason, he would simply walk out.
It's not hard to do, he adds, chuckling. "You just kind of mark your name off the list and you leave. Turns out nothing happens when you do that."
But in his audition for Nick Stoller's frat comedy "Neighbors," Carmichael did the opposite of withdrawing. While chatting with Stoller beforehand, he pointed to a copy of Backstage magazine sitting on the waiting room table. "And I said, 'Hey, I'm in this thing.' " Turns out that in that exact issue, Carmichael was featured as one of 10 "Comics to Watch."
"It was the most Hollywood thing I've ever done," he says sheepishly. But he booked the film, and what's more, Stoller came on board to help Carmichael write and produce a pilot he was developing with NBC. Shameless promotion in an audition does work: "The Carmichael Show" premieres Aug. 26.
The family sitcom, like "Seinfeld" and "Roseanne" before it, draws heavily from its creator's upbringing. "There is a lot of truth," Carmichael says. "It's set in North Carolina, where I'm from. I'm using my name, I'm using my parents' names." So just how fictional is it? "I've been trying to put a percentage on it," he says with a laugh. "These stories are, let's say, 'inspired by.' I think the most accurate description is 'inspired by.' "
The show's pilot centers on the fictional Carmichael's reluctance to tell his conservative parents (David Alan Grier and Loretta Devine) that he and his girlfriend (Amber Stevens West) have moved in together. Between the chaotic intergenerational conflicts that ensue and the live, multicamera format, "The Carmichael Show" is a charming throwback to the sitcoms of the '90s.
When it came to assembling his cast, Carmichael gravitated toward actors with stage experience. Multicamera comedies require honest performances that remain in the moment during filming; unlike any other television format, it's best to capture a scene in as few takes as possible—preferably just one.
"You want people who are comfortable in front of audiences," he says. "We intend to do a stage play each week. We stay in the moment, stay in the pocket, stay in the living room. And really focus on these conversations and focus on people's intentions and emotions." Theater veterans like Grier and Devine, who could play the truth of the situation while still nailing their laugh lines, became his priority. "When you're onstage in theater, if you mess up a line, there's no 'Cut! We'll get it again.' It's full steam ahead. So those instincts are great."
Carmichael's own experience as a comedian offered invaluable preparation as well. "As a standup performer, I'm onstage and it's important how the audience is looking at me. I'm looking at whether they're leaning forward or not, those types of things. You read an energy. And it's the same thing in a scene with other actors."
Again, he says, it's about performing from a place of honesty—meaning not necessarily basing jokes on real life, as "The Carmichael Show" does. Carmichael's favorite standup artist, the late Angelo Bowers, told jokes about his family and his life that were made up. But his intent shone through and made his act unforgettable. "In his presence and movement and delivery and his spirit, it was the most honest thing you'd ever seen, because it was his sense of humor, genuinely. He loved all the things he said, all his jokes.
"When you talk about truth in standup," adds Carmichael, "a lot of people take it to mean [talking about] that crazy co-worker you have. No, it means being honest with your sense of humor, your emotion, your intention." In fact, if you're in an audition and feel you can't deliver a performance that feels emotionally authentic and comes from that honest impulse, you might as well bail.
Inspired by this post? Check out our television audition listings!