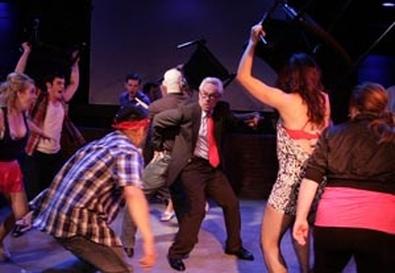 Though you've possibly heard plenty about this controversial but heavily awarded 2003 British-bred musical, there's probably no way to adequately prepare yourself for its audacity and brilliance. Beyond the expected shock humor, this envelope-pushing show offers thoughtful ruminations on human desperation and longing as well as provocative theological themes. In the iconoclastic show's Southern California premiere, director Trevor Biship, a fearless cast, and an inspired design team achieve a riveting production, not soon to be forgotten.
In 1991, Jerry Springer pioneered the sleazy genre of television talk shows featuring lowlifes publicly airing their filthy laundry as they crave a moment of fame on nationwide TV. Parlaying this milieu into an operatic-styled entertainment with irreverent biblical undercurrents sounds like a peculiar proposition. Yet, composer-librettist-lyricist Richard Thomas and his co-librettist-lyricist Stewart Lee have fashioned an eloquent piece that's musically rich, thought-provoking, and at times even wistful. The superb score, ranging from Broadway to operetta to grand opera, is witty and stirring, beautifully sung here. Music director Mike Wilkins and choreographer Kelly Todd elicit sterling results.
The intimate Chance space seems the ideal place to re-create the ambiance of a raucous television studio. Via the magic of Caitlin Lainoff's scenic design, Brian S. Shevelenko's lighting, Casey Long's sound, Lianne Arnold's projected video images, and Biship's crackling staging, the spell is immediately cast. Actors seated among us, portraying rowdy members of the studio audience, add to the visceral excitement.
In short order, we meet the bizarre guests from a typically smarmy "Springer" episode, fervently singing their hearts out and constantly ready to engage in physical altercations (magnificently staged by fight choreographer Chance Dean), keeping bald-headed security guard Steve Wilkos (David McCormick) on his toes. Among the needy eccentrics are a philandering lout (Jovani McCleary) who cheats on his wife (Erika C. Miller) with a floozy (Laura M. Hathaway) and a transsexual (Matthew Ballestero); a raunchy youth (Jared Pugh) in diapers who has a perverse scatological fetish and is having an affair with equally deranged Baby Jane (Miller); and a secretive Ku Klux Klan thug (Kyle Cooper), startled to discover that his wife (Jessie Withers) yearns to be a pole dancer. David Laffey excels as the assertive warm-up man. Warren Draper gives a drolly hilarious portrayal of Springer, capturing the showman's deadpan sarcasm.
What happens after intermission is best kept a surprise, but the episode turns into a surrealistic fantasy brimming with ingenious nuances. One of the best songs reveals the high hopes that Springer's guests place on experiencing their "Jerry Springer moment." Happily, this continually fascinating show offers about 150 minutes' worth of them.
Presented by and at the Chance Theater, 5552 E. La Palma Ave., Anaheim Hills. July 9–Aug. 7. Thu.–Fri., 8 p.m.; Sat., 3 & 8 p.m.; Sun., 2 & 7 p.m. (714) 777-3303. www.chancetheater.com.