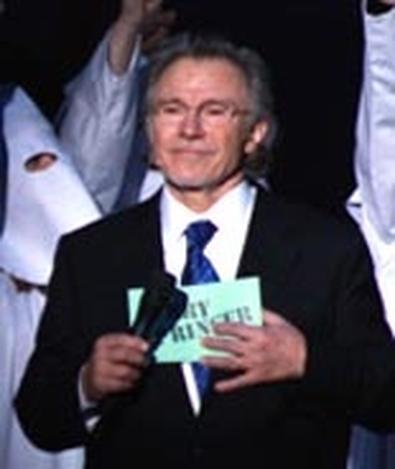 Jerry Springer: The Opera is very ambitious and very slight. It could have been an extended sketch amounting to an hour of social satire, or it could have been expanded into a work so monumental one can see it under the directorial spell of a Franco Zeffirelli, especially because of Act 2, when the eponymous talk-show host finds himself shot through the chest, delirious, and in hell, forced to moderate a spirited battle between Jesus and Satan. There's plenty here to offend delicate sensibilities: Act 2 is why ultraconservative extremists stood protesting outside Carnegie Hall. Yet one wishes they were bright enough to rail against something shocking. Jerry Springer: The Opera really isn't.
Authors Richard Thomas and Stewart Lee understand that juxtaposing opera conventions with American lowbrow entertainment lends itself to fable-telling. Only in Jerry Springer does a chorus fete fellatio in fine harmony ("slurp"), and there's an ionic charge in the air when the warm-up man (the superb David Bedella, who created the role in the U.K.) schools us on how to behave on a trash-talk TV program.
In the nonsinging title role, Harvey Keitel's strutting entrance through the house brought trouble: He was so wooden I suspect it was intentional. Still, for all of the hooting from the chorus of audience members before Springer arrives ("Oh for fuck's sake, we are ready"), an uncharismatic actor at the center of the circus seems counterproductive, even if Springer is a cipher and the show really isn't about him.
What it's about are Springer's unsavory guests. There's Dumpy Dwight (the pure-voiced Luke Grooms), who confides his infidelities to his fiancée, Peaches (the haughty-voiced Patricia Philips), one of whom is the slutty Zandra (the vocally dazzling Linda Balgord), who rhapsodizes their love by singing "I got addicted to crack and dope." But Dwight really loves tranny Tremont (Max von Essen, in Gothic drag), so the chorus taunts, "Chick with a dick!" and "Tacky ta-ta-ta-tacky queen!" Fishnets rule.
Then there's Montel (full-voiced Lawrence Clayton), who tells girlfriend Andrea (excellent Emily Skinner) that if she loves him, she'll indulge his diaper wearing. After Andrea's aria "I Want to Sing Something Beautiful," the chorus nods its approval of Montel: "Poop your fucking pants!"
There's also Shawntel (Katrina Rose Dideriksen), whose dreams of pole dancing yield the breathtaking aria "I Just Wanna Dance," and Chucky (Sean Jenness), her Neanderthal husband, who reacts as expected: "Put your fucking clothes on you stupid bitch," set to more stunning music.
No wonder Springer's inner Valkyrie (Patty Goble) appears to sting Springer's conscience. How can he live with himself? How could he degrade mankind so willingly? Yet it's the commercial breaks — chorally sung and featuring a blizzard of truly tasteless ads — that are the satirically sharpest parts of the work, although Mel Brooks wants to know when he can have his tap-dancing Ku Klux Klan members back. (Don't ask.)
Rather than analyze Springer as a symptom of declining society, in Act 2 the authors take a pass. The music may be brilliant — the first duet between Satan (Bedella) and Jesus (Clayton, in a diaper) raises the bar for 21st-century vocal dynamism — but the idea of Satan wanting Jesus to apologize and demanding that Springer televise it from hell mistakenly elevates Springer to a status beyond his cultural ken. Jerry Springer would never referee a good-versus-evil fight — Oprah would. God (Grooms, in tennis whites) would be irrelevant with her around.
For some, The Jerry Springer Show is a haven for trailer trash and the goons who love to watch them. Jerry Springer: The Opera is where those goons go happily to swoon and die.
Presented by David J. Foster, Jared Geller, and Avalon Promotions
at Carnegie Hall, 154 W. 57th St., NYC.
Jan. 29 and 30. Tue. and Wed., 8 p.m.
(212) 247-7800 or www.carnegiehall.org.
Casting by Telsey + Company.