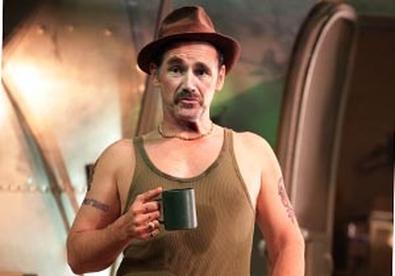 Jez Butterworth's "Jerusalem" falls squarely in the tradition of works lionizing the charismatic, nonconforming outsider whose outrageous behavior masks a pure and noble heart that by contrast proves the mendacity of the society surrounding him. Blowing into town from England's Royal Court Theatre on a gale of critical praise and starring the highly acclaimed Mark Rylance, it's very likely to repeat its London success. While nothing would make me happier than to be able to join in the chorus of hosannas, I sadly must report that I found the show to be three hours and 10 minutes of windy bollocks.
Johnny "Rooster" Byron is a Dionysian rebel living in a grungy Airstream trailer in a forest glen just outside of the suburban English town of Flintock (just love those names). He's been there so long that the place is known as Rooster's Wood on local maps. Johnny is a pied piper for the town's disaffected youth, partly because of his outrageous behavior and outlandish stories but mostly because he provides them with a lot of free liquor and deals drugs. In his coterie are Ginger, an unemployed plasterer and would-be DJ; Lee, a sensitive lad who's planning to emigrate to Australia; Davey, an affable slaughterhouse worker with a taste for speed; Pea, Tanya, and the mysteriously missing Phaedra, 15-year-old wannabe wild girls; and the Professor, an aging eccentric. The events take place on May 1, the date of the local village fair and also the date by which Johnny, who is not a favorite of the town establishment, must vacate the glen by legal order to make way for development of the land. Of course, he has no intention of going anywhere.
Butterworth tries to give Johnny stature by rooting his behavior in an attachment to the eternal historical myths of that "green and pleasant land," as the famous William Blake poem that serves as the text for the show's titular folk hymn puts it. These would include druids, giants, St. George slaying the dragon, and various faeries at the bottoms of gardens. The clear implication (coyly denied by the author in a prelude to his script) is that contemporary Britain has become hidebound by convention and cut off from its wild roots in magical anarchy. Maybe so, but the man provides hard drugs to 15-year-olds. I just can't see him as a role model.
The characters surrounding Johnny aren't exactly a fascinating lot, but the actors do what they can with them. Best are Mackenzie Crook's tart Ginger, older than the rest because he lacks the sense to move on; Charlotte Mills' randy and ready Tanya; and John Gallagher Jr.'s lost but game Lee. As Dawn, the alienated mother of Johnny's young son, Geraldine Hughes is sharp and steady, though she's undermined by a kiss with Johnny intended to show that Dawn, however sensible, is still hopelessly in love with him.
The floorshow, of course, is all Johnny, and Rylance turns on the technique with impressive facility, whether it be a detailed idiosyncratic physicality that includes a suppressed limp or vocal pyrotechnics serving Johnny's roistering charm and silver-tongued way with a story. Ultimately, though, there doesn't appear to be much of an emotional center to Rylance's outsize creation, perhaps the inevitable result of playing a symbol. Still, after three Broadway roles all about technique ("Boeing-Boeing" and "La Bête" containing the others), I'm ready to see Rylance in something less flashy.
Director Ian Rickson works at full volume pretty much all night. Ultz provides the meticulously detailed set and appropriately colorful and dull contemporary costumes, while Mimi Jordan Sherin has designed the alternately caffeinated and pastoral lighting.
A child of English parents, I often cross the pond to visit relatives, so I don't think my problem with "Jerusalem" is that I don't get it. I just don't buy it.
Presented by Sonia Friedman Productions, Scott Rudin, Stuart Thompson, Roger Berlind, Royal Court Theatre Productions, Beverly Bartner/Alice Tulchin, Dede Harris/Rupert Gavin, Broadway Across America, Jon B. Platt, 1001 Nights/Stephanie P. McClelland, Carole L. Haber/Richard Willis, and Jacki Barlia Florin/Adam Blanshay at the Music Box Theatre, 239 W. 45th St., NYC. April 21–Aug. 21. Tue., Thu., and Fri., 7 p.m.; Wed. and Sat., 2 and 8 p.m.; Sun., 3 p.m. (212) 239-7200, (800) 432-7250, or www.telecharge.com. U.K. casting by Amy Ball; U.S. casting by Jim Carnahan.