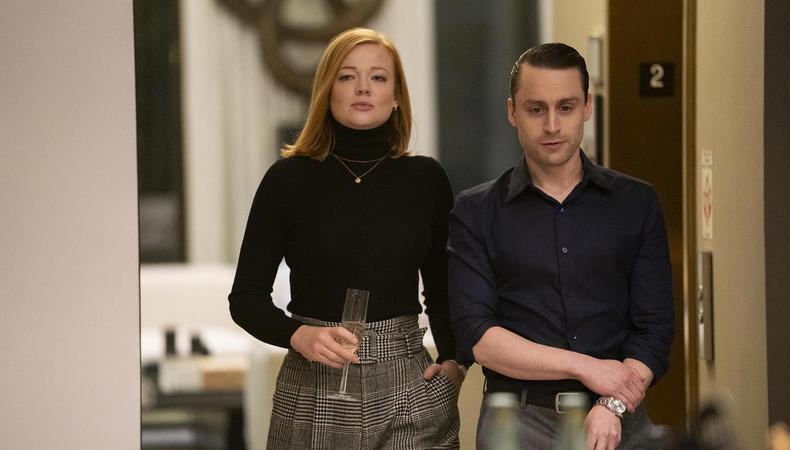 Jesse Armstrong won't say his new HBO show "Succession" is based on the Murdoch family, but the inspiration is certainly there. "I read about lots of media moguls: Sumner Redstone, Conrad Black, Robert Maxwell," he says. For Armstrong, there is a similar through line to how these men think, including Rupert Murdoch, a man he penned a script about before it landed on the Black List. "It struck me that there is a similarity going on in their dynastic ambitions, which has to do with mortality and wanting to cheat it by having something that will go on after your death," he continues. "It's where corporate meets something very human: the desire to cheat the Reaper."
The series follows the fictional Roy family, which controls one of the biggest media conglomerates in the world. The head of the household, Logan Roy (Brian Cox), is expected to step down and hand the company over to his son Kendall (Jeremy Strong). But when he decides to stay on, that's when things get messy. Kieran Culkin, Sarah Snook, and Alan Ruck star as siblings also vying for control of the family business.
While billed as an hourlong drama, Armstrong emphasizes the underlying humor that runs throughout each episode of "Succession." "All the dramas I admire most—'Six Feet Under,' 'The Sopranos'—even when the scenes aren't laugh-out-loud funny, per se, there's a comic twist that gives the stories an energy," he says. The creator's interest in mining humor from drama isn't all that surprising, considering he was nominated for an Oscar as co-writer of the scathing political comedy "In the Loop." Before that, he was best known for his British sitcom "Peep Show." "Succession" is also executive produced by funnyman-turned-Oscar winner Adam McKay ("The Big Short").
READ: How to Get a Show on HBO
To create a believable family dynamic, casting was of the utmost importance, and McKay—who directed the pilot—was with Armstrong every step of the way. "He obviously has an incredible pedigree in terms of comedy for this tragicomic material, and he was a great collaborator," he says. The show strikes such a specific tone, and he explains that working with the actors was a big part of nailing the balance between tragedy and comedy. "All the cast has to play real and feel in their bones where there's a comic beat," Armstrong says. Improvisation is also part of both Armstrong and McKay's process, which they brought to the set for this project. "With an unscripted take, you let the thing live and bring an extra level of life to the performance. Sometimes you get extra jokes because the actors are super smart and see a funnier or more true way to go with the scene."
Armstrong enjoys both when a scene works exactly as he thought it would and, surprisingly, when it doesn't work. "When it works, you get the sense of satisfaction. But when it's not working, you have a bunch of resources in the showrunner role to be liberated to fix it. We were able to move as we played," he says. On the flip side, one thing Armstrong wishes he had realized starting out is if you don't see it on the monitor, don't expect it to show up in the finished product. "There's no intervening magic. It's very simple, but I've found it very true. You need to see it on that monitor. There's a trick you can play on yourself when you're less experienced, like somebody else will fix this and we'll make it work. But you'd better make sure it's there, because there are no fairies involved."
Work to act on television? Check out Backstage's TV audition listings!