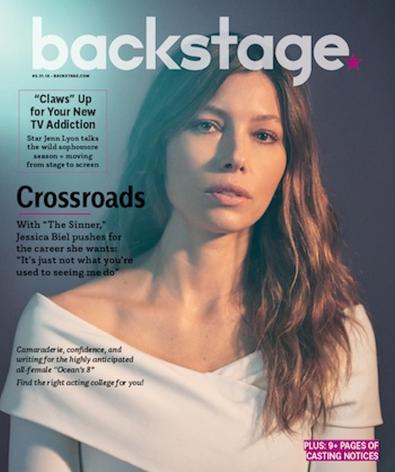 "The Sinner" is Jessica Biel like we've never seen her before, and that's just the way she planned it. As the first television project under the wing of her Iron Ocean production company, the USA crime series, she says, was developed from Petra Hammesfahr's internationally best-selling novel as a vehicle for her to make a hard departure from the projects of her past.
"I just thought, Nobody would ever think of me for something like this," Biel says of securing the rights to the book with producing partner Michelle Purple. "Nobody would ever offer me something [like this]; nobody would ever let me come in and audition. And if they would, I probably wouldn't get it because it's just not what you're used to seeing me do."
In the hit limited series from creator Derek Simonds ("When We Rise"), Biel stars as Cora Tannetti, a mother and wife who, while appearing to lead a happy life, has a lurid past and dark secrets festering within. In the pilot, directed by Antonio Campos ("Christine"), we see her family of three enjoying an afternoon on Lake Minnewaska when Cora inexplicably snaps. While watching a 20-something couple kiss on a nearby towel, she takes the knife she'd been using to peel her toddler son's pear, walks up to the young man in the couple, yells, "Get off her!," and stabs him repeatedly in the neck and torso. The stranger, a 29-year-old doctor named Frankie Belmont, is pronounced dead on the scene, and Cora is thrown behind bars. The rest of the series' eight episodes are an examination of Cora's motive and her relationship with Detective Harry Ambrose (Bill Pullman) as he tries to uncover the answers within this timeline-jumping, why-done-it thriller.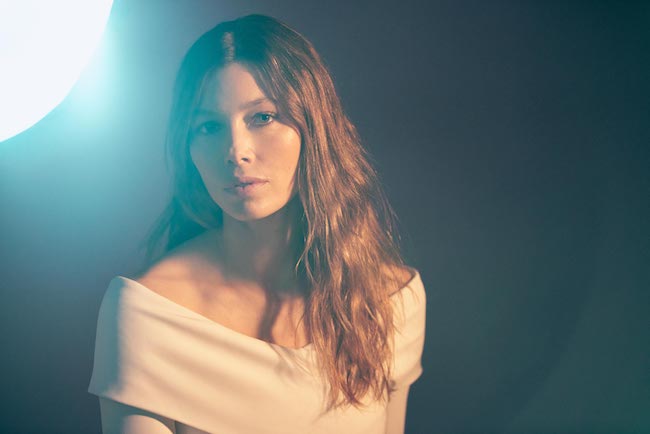 Styling by Rob & Mariel at Forward Artists.
"Every turn is unexpected. Every time you think you're going right, they go left," Biel says. "That was really compelling. I feel like nothing can surprise me anymore, and I just kept being so surprised by this book and by this character. I related to her, and then she does this crazy thing, and then I felt so much compassion for her, and then I hate her and I don't believe her. It's this whole complicated, complex, psychological conundrum that this person is going through. I said to my producing partner, 'This is mine. Nobody can have it.' I just felt like, Oh, my God, what an opportunity."
But again: Cora isn't the Biel we know. With the exception of the 2003 remake of "The Texas Chainsaw Massacre," she hasn't really been one to get blood on her hands. Her 22-year acting career began with the family-friendly "7th Heaven" at age 14 and has featured action-thriller outings like "Total Recall" with Colin Farrell and Adam Sandler–led funny fare like "I Now Pronounce You Chuck & Larry" in the years since. Her credits amount to a formidable list of steady work (other highlights include "The Illusionist," "Hitchcock," and "The A-Team"), but not the kind of projects that necessarily garnered critical acclaim.
"The Sinner," on the other hand, has a 94 percent rating on Rotten Tomatoes, was the No. 1 new cable series of the year, and earned two Golden Globe nominations: one for best limited series or motion picture made for television and another for Biel for best actress in a limited series or motion picture made for television. While it's a self-contained story, those successes rightfully locked "The Sinner" in for a second season. Due to premiere in August, the next installment will follow Pullman's character on another gruesome homicide case—this time in his rural hometown—and star "Fargo" Emmy nominee Carrie Coon. Biel, who's now vying for Emmy recognition, is once again attached as executive producer but won't be appearing in the series. "What a great run this has been, truly," she says.
READ: How to Become a Producer
Admitting her creative about-face was born from feeling somewhat "complacent" in her work ("I felt like I needed a bit of a kick in the ass"), Biel recalls sitting with her management at Rick Yorn's LBI a few years back and combing through her résumé. The process was eye-opening.
"I've had a great career, and I'm very proud of my career, and I feel very lucky—but we were looking at the titles of the movies that I've done, and I just didn't see myself in there," she says. "I want to do some things that are more unique than what I have on my slate already. I really need to step out in a big way, and I was just not getting the opportunities that I wanted."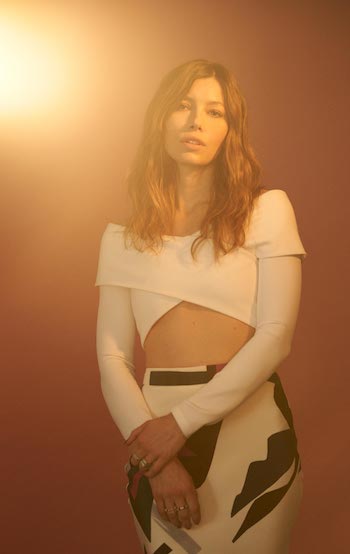 Biel's journey represents a turning point that many actors may one day find themselves in. While any artist's early career often involves saying "yes" to every opportunity they can get their hands on ("You've gotta hustle, get experience, get your résumé going," says Biel), it's possible that one day, you'll turn around and find that not all of those projects were creatively fulfilling. You may eventually find yourself at a crossroads where you must decide whether to keep going down the same track or take the experience and visibility you've garnered and finally insist on doing what you want to do. Biel says that realization can't come to light, however, until an actor has spent "years in the world and in the business."
"There are probably a few decisions I made for other reasons than genuine passion for the role," Biel concedes. "I mean, it's a balance, right? You have to say yes to things when you're just starting off so you can put some experience under your belt. And honestly, any time that you're working through a character and working with other people and understanding how to maneuver around a set, it's a positive. But yeah, I think I just looked back and I thought I really went one direction for a while. And I didn't do that on purpose; I genuinely was trying to make the best decisions. But I had this moment where I thought, I need so much more, and I have so much inside of me that I'm dying to work with and dying to explore, and I'd better take this into my own hands or my career is going to go [to] a place that I'm not going to be happy with."
To hear Biel speak of her Iron Ocean venture, she is enthusiastic and excited for the future. Their most recent project is an animated series in partnership with 44 Blue Productions titled "Going Doll." Inspired by Miranda Darling and Sophie Edelstein's Australian sketch series "Angie Dolls," the series will reportedly tackle contemporary culture's obsession with fame and Los Angeles' "housewife culture." Biel describes it as a "wild, satirical take on our overly perfect culture." The actor-producer also hints at other projects in the works, including a dark comedy and a musical made for TV, both of which she's hoping to get in front of the camera for. "I'm always looking for me, I'm not going to lie," she says. "We created this company so I could really step into my career and have a bit more influence and a bit more power."
Reflecting on any producorial insight she has for actors aspiring to do as she's done, she simply says, "You have to do it. You just have to take it into your own hands." But she clarifies that it's not for the faint of heart. "The hours were ridiculous, and we spent many days shooting and then coming back from the end of the day and casting other roles, looking at other people's tapes, rewriting things, coming in for rehearsals. It's full on—and it's worth every moment."
---
Let a Bad Audition Go!
Even the best acting careers are peppered with bad auditions. Take Biel's audition to voice Elsa in a certain Disney smash hit, for instance: "I auditioned for 'Frozen'—which was the biggest movie of all time, right?—and I had to sing. Kristen Bell was already cast as Anna, and Kristen and I are friendly, and she emailed me: 'All right, let's do it! Let's do this together! Have a great audition!' She was pumping me up, she was so great about it. I went in there—I gave the worst audition of my life, for sure. My notes were all over the place, and after that demoralizing, humiliating experience, I literally just read the lines off the paper like, 'Blah, blah, blah.' I was like, 'It's over.' It was awful. It was one of those ones where I just wished I could call them and say, 'Please let me come back another day!' I was just having an off day. I don't know what happened, [but] it just happens sometimes."
So how does Biel bounce back from an experience like that? "If somebody doesn't choose you, it's their loss. You really have to have that attitude about it. I think: I'm fantastic and I'm so important and I'm worth it and the right person will see that and will cast me and will hire me. Don't let the rejection take you down into a dark hole, because it very easily can do that to you. Having that confidence is important."
Ready for the small screen? Check out Backstage's TV audition listings!
Photographed on April 10 in NYC by Chad Griffith; Styled by Rob & Mariel at Forward Artists; Makeup by Daniel Martin at The Wall Group using Dior Beauty; Hair by Chris Naselli at Starworks