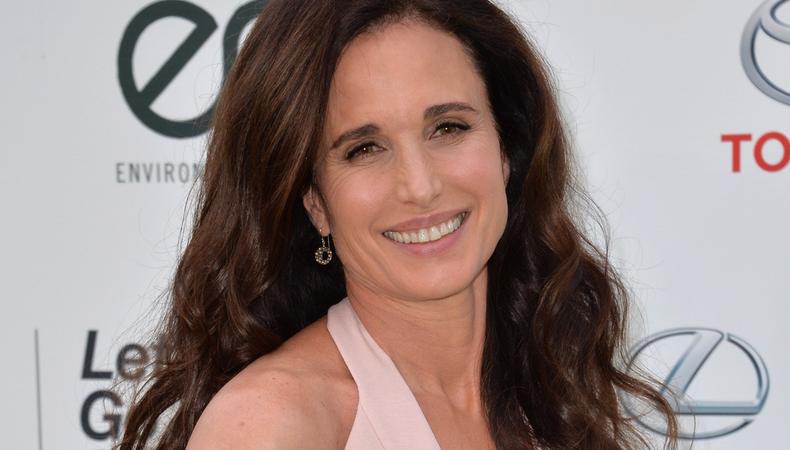 In "Love After Love," the festival hit from writer-director Russell Harbaugh, Andie MacDowell gives her most emotionally complex and daring performance in years. Making its world premiere last month as part of the 2017 Tribeca Film Festival, the film explores one family's grief in the aftermath of a husband and father's death. MacDowell's Suzanne is the widow left behind with two adult sons, Nicholas (Chris O'Dowd) and Chris (James Adomian), who navigates her grief through a string of sexual encounters. The actor spoke with Backstage about baring it all as Suzanne, and offered training and audition advice for young actors looking to have her career's longevity.
What has Suzanne added to your acting skills?
It was an amazing process and different from anything I had ever done before. Russ is just a really brilliant man and an artist, a very sensitive man…. And then his process was completely different, how slow we would set up scenes and how real they were. [There was also] a lot of improv within the scenes; if we used it or not, it didn't matter. It's keeping that feeling of real life and overlapping. It was [a new experience]. I had never shot in that particular way before. I've done two movies that were all improved, so I'm comfortable with improv, but never quite like Russ did it. It was my favorite experience by far.
I really loved this character. I hadn't had the opportunity to play someone so interesting. She's very comfortable with who she is. She will say to her son that the father's great in bed, and she openly admits that she had an open marriage, but yet, she's filled with shame. She's a fuller-bodied person. People are never just one type of person, and she's very multi-layered in that she can be so many things all at the same time. And you get to see her go on this journey where she changes once her husband is gone.
What movie should every actor see?
[Russell Harbaugh] had us watch all these great movies. A lot of them, I had watched at the beginning of my career when I was in acting school. I studied at a Method studio, and a lot of the same films [came up] because they're based on being a very believable and real character. The [Ingrid] Bergman and the [John] Cassavetes. Those were some huge heroes of Russ'. We watched 'The Godfather' and a lot of Woody Allen movies.
What advice would you give your younger self?
Never feel any shame, and just take in a character without worrying what other people think. I'm not worrying about what people think anymore, finally! [laughs]
What advice do you have for succeeding in New York City?
I was always a really New York person. I loved New York. I wanted people to be curt and honest with me. But now I'm in Los Angeles and I really love it. I used to think the people were phony, but I really think they're happy. It's sunny. [To succeed in New York], take a lot of classes and trust your artistic instincts. You can't look for anybody else to do it for you, and you're not going to be like anybody else. So there's no sense in even asking somebody else how they did it because your way is going to be different and unique.
I started [training] with someone named Warren Robertson. He had a studio that felt like a family, and I liked that environment. I had also heard that Jessica Lange had worked with him, and she was my hero. I loved her; I loved her performances. And I always thought that she was a very honest actress. So I went there because I heard she went there. He was really good for me. And when I did 'Sex, Lies, [and Videotape],' I actually did it onstage there in preparation. So, yeah, he had a warm environment. And I worked with other people. I did other classes, as well, and worked with other coaches, but that's where I started. And I tried different techniques. Method is not as technical, so I worked with other acting coaches that were much more technical. And then, yeah, and then you learn through the process of working a lot. You learn from the people that you work with.
How did you get your SAG-AFTRA card?
You know, I don't know! Would I have been able to get it for commercials? Or did I get it because of "Greystroke"? I don't know, honestly.
How do you typically prepare for an audition?
For me, if I know the words really, really well, I'm comfortable and I can make the choices that I need to make. So it's always, for me, first learning it completely so that I don't have to look for the words. I hate that feeling. And then at that point. I can decide who I am: understanding who this character is and then it comes from there.
What your worst audition horror story?
I did an audition for 'Big' and I was really terrible. I just remember [that] for some reason, Penny Marshall [made me] very intimidated. I was absolutely hideous. And I can't remember who I did it with, but the guy saw me after I did 'Sex, Lies, and Videotape,' and he was, like, 'Man, that was the worst audition, because I didn't know how great an actor you were.' And it really, truly was. I don't know. I got really nervous.
That's the other thing: Don't get nervous. I can be high strung, so for me, it's constantly coming in, doing an audition, and remembering to not do that. Be calm. Breathe deeply. I actually auditioned for something recently, and I was reminding myself before I went in not to get nervous. I know that sounds crazy, but it can be a choice. You can choose not to get nervous. You just have to first be prepared, and then secondly, remember to breathe and do whatever it is that you need to do to calm down. And for me, I got up and went for a hike that morning. I started my day right. I remembered to breathe, and made the choice before I walked in there to be calm. All you have to do is do your personal best and then let it go.
Want to star in an indie feature film? Check out Backstage's film audition listings!