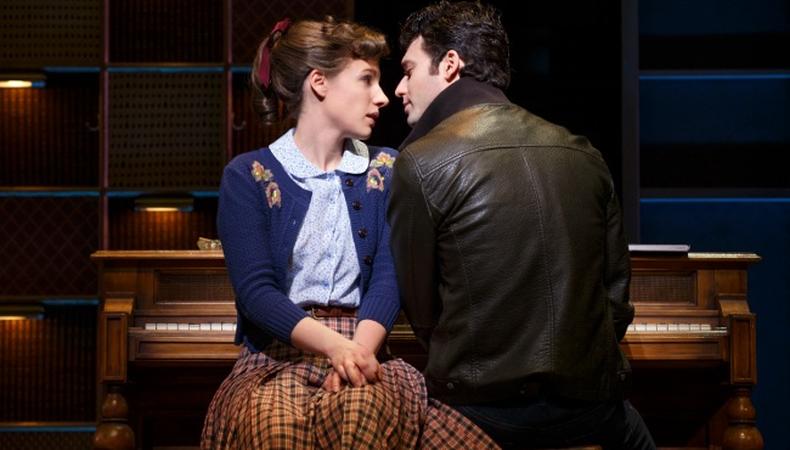 Just after the 2014 Tony nominations were announced, best actress in a musical nominee Jessie Mueller was trying to free up some space on her phone and found a recording of the first time she sang with the orchestra for "Beautiful: The Carole King Musical."
"I feel like I sound very different now," she says in a phone interview with Backstage. "One of the first things I did was take off vibrato and try to take away any sense of 'I want to sound good,' trying to come from intent…. In [King's] music, it wasn't about the prettiest sound you could make; it was why you were making the sound or why you had hit that note. I was listening back and I was like, OK, I got the straight tone down but to me, there was no soul, no musicality yet."
The easy template for playing a musical legend like King would have been to do an imitation and hope for the best. But Mueller (who won a Drama Desk award for her performance) elevates her portrayal of the '70s singer-songwriter from what in less capable hands could have amounted to a great impersonation to a brilliance that belongs to her alone.
Since its original San Francisco run, "Beautiful" has found its soul in the Tony nominee, using her as the crux of a story about the pop music industry in the 1960s and '70s, and about King's turbulent professional and personal partnership with husband Gerry Goffin, with whom she wrote some of the era's most beloved songs, from "Will You Love Me Tomorrow" to "The Loco-Motion."
"There's the general sense of growing up and becoming a woman," says Mueller of the play's progression. "The way it's presented, Gerry Goffin [played by Jake Epstein] was so many firsts for her; that's very precious for a woman. I completely understood why [Carole] wasn't jumping at the chance to come see her life played out before her. To not only see it but realize you're about to watch someone else's interpretation of it and your life—that has to be very strange."
King finally mustered the courage to watch the musical based on her life for the first time April 3, surprising everyone at the Stephen Sondheim Theatre after the evening's performance; cast and audience members alike were in tears when she stepped onstage. Until then, Mueller had met King only once, after rehearsals in California, though she was in contact with King's daughter and manager, Sherry Goffin Kondor, while preparing for the role.
"I didn't know that much about her prior to working on the piece," admits Mueller. "I had the 'Tapestry' vision [King's first successful solo record]—the front of the album with the long, flowing hair and sitting in that window seat, [in] jeans and barefoot, but I didn't know anything about her early life and early career."
Despite lacking some details, Mueller knew where the show's heart was from the first audition. In June 2013, after her run in Broadway's "Nice Work If You Can Get It" came to an end, Mueller—previously nominated for a Tony for her turn in "On a Clear Day You Can See Forever"—stood next to the piano for the duration of her audition. "I felt so weird singing these songs not connected to a piano—it's so much of who she is," she explains. "It felt strange to stand and gesticulate." After three auditions, she was offered the role.
From there, the actor watched and read every video and article she could find on King, downloading everything she could to her computer before she "started collecting things on vinyl and listening to it that way." On recreating King, Mueller says, "There are things I picked up on when I watched her and studied her; there's such a beautiful shyness and yet an openness about her when I watch early concerts. There never really seemed to be anything between her and the music, and yet I think, in my interpretation of it—I don't ever want anyone to think I'm speaking for Carole King—there is an abandon in the way she presents herself in front of an audience, and there's a great feeling of self-awareness and not always feeling comfortable in her skin, especially early on in the play."
That discomfort was "the way in" to the character for Mueller, who's more at ease having people watch her when she's in character than not and can talk more freely about how she sees King than focus on how she plays her.
She says remaining self-aware and fearful of "screwing up" are essential to playing a believable person. "I think that's what keeps me going. Some of the best actors think they're terrible; that's what keeps you connected to a vulnerability that makes it possible for people to empathize with you."
Like this post? Check out more of our Tony Awards coverage!