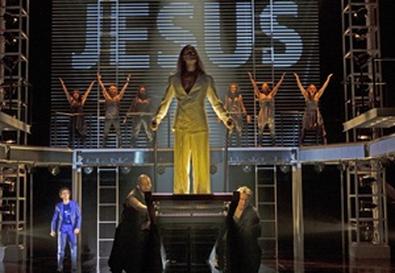 The Stratford Shakespeare Festival production of Andrew Lloyd Webber and Tim Rice's vintage rock opera breathes fresh life into the often controversial megahit. The musical was originally vilified by religious groups as being sacrilegious, and it was dismissed by some critics as a vulgar spectacle. Director Des McAnuff infuses this production with dazzling showmanship while enriching the brew with taste, intelligence, and deeply affecting performances.
McAnuff's interpretation of this rocking and rolling passion play strikes an invigorating contemporary chord. When it premiered in 1971 during the Vietnam War era, the glittery stage adaptation of Webber and Rice's concept album rode a wave of youthful energy. It tapped into the counterculture zeitgeist pioneered in the 1968 flower-child opus "Hair." "Superstar" 's ancient tale of political struggles, the effects of widespread disaffection, and the hope for a formidable savior feels bracingly pertinent here, thanks to Robert Brill's towering industrial-style set, dominated by huge scaffolding; Howell Binkley's resplendent lighting; and Sean Nieuwenhuis' evocative video design. At the same time, a clever juxtaposition of past to present is sometimes apparent: Paul Talzewell contributes terrific period costumes, while Brill's set includes a sprawling LED display that announces key story developments in a news ticker effect.
McAnuff, music director Rick Fox, and choreographer Lisa Shriver guide a gifted ensemble. The cast maximizes the pleasures of the evergreen score while imbuing the portrayals of biblical characters with passion and nuance. In the titular role, Paul Nolan deftly merges the sensibilities of a charismatic rock star with those of a troubled young man, brooding over the expectations placed on him. Equally impressive is Josh Young in his triumphant take on Judas Iscariot, who comes across here as surprisingly sympathetic—less a headstrong rebel than a man trying mightily to persuade Jesus to step up the role of a spiritual leader. Chilina Kennedy is effective as the emotionally torn Mary Magdalene, having her finest moments in the lovely "I Don't Know How to Love Him." Bruce Dow, as the Jewish emperor Herod, puts a welcome spin on the jaunty "Herod's Song," which is usually played as a relentless camp turn. Though the number, backed by a chorus line of giddy revelers, initially elicits comic relief as expected, Dow caps it off with a chilling note of doom.
This classy and enthralling revival seems certain to fare well in its upcoming Broadway run.

Presented by and at the Mandell Weiss Theatre, La Jolla Playhouse, 2910 La Jolla Village Dr., La Jolla. Nov. 30-Dec. 31. Tue.-Wed., 7:30 p.m.; Thu.-Fri., 8 p.m.; Sat., 2 & 8 p.m.; Sun., 2 & 7 p.m. (Also 2 p.m., Tue., Dec. 20; Thu., Dec. 22; Wed., Dec. 28; Fri., Dec. 30.) (855) 550-1010. www.lajollaplayhouse.org.