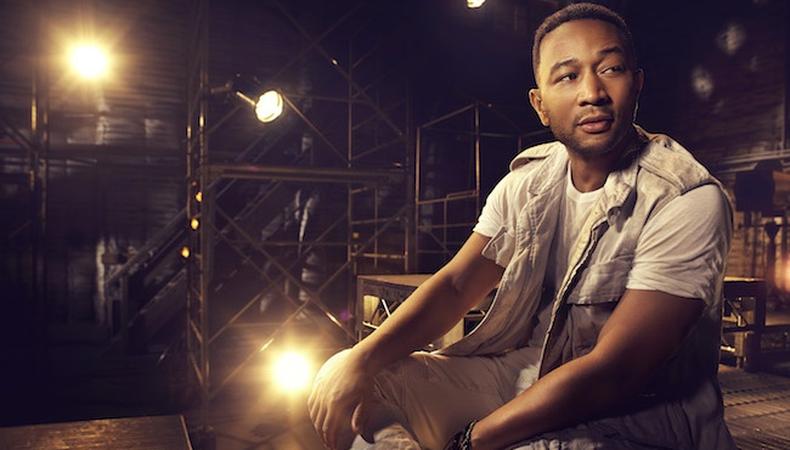 Easter Sunday's live telecast of "Jesus Christ Superstar: Live in Concert" on NBC won't make major changes to the beloved rock opera from lyricist Tim Rice and composer Andrew Lloyd Webber, but it promises to be a "Superstar" like you've never seen before.
"It's 2018 and this is 'Jesus Christ Superstar,' and it's 2018 and this is Jesus. I think we're going closer to the truth, frankly, and to be able to do that through television is incredibly exciting to me," director David Leveaux declared. Joining the five-time Tony nominee on his Feb. 26 Paley Center for Media panel in Midtown Manhattan were executive producer and live television director Alex Rudzinski, executive producer Neil Meron, Chairman of NBC Entertainment Robert Greenblatt, and stars John Legend, Sara Bareilles, Alice Cooper, and Brandon Victor Dixon, who play Jesus Christ, Mary Magdalene, King Herod, and Judas Iscariot, respectively. "In this case," Leveaux continued, "I genuinely feel engaged in an incredibly radical, courageous, brave, and—I'm gonna use the word—daringly loving operation."
"Love" was the word of the hour at the Monday evening talkback, especially from the actors onstage. Dixon, best known for playing the Judas-like schemer Aaron Burr in "Hamilton" on Broadway, waxes on how both his Judas and Burr were broken by their love, and how that leads them from one act to the next. "Coursing underneath every emotion is love," he said. "I hate because my love is violated or somebody I love is violated. I fear because I fear my love will be violated. Judas is in that place. He loves Jesus desperately."
Legend echoed the sentiment, saying that Leveaux's favorite note for them through rehearsals was that "it really goes back to love, every time, and to keep that in mind when we're making choices as to how we're going to portray the character." Bareilles, too, said her Mary is "deeply motivated by the purest love" for Jesus.
While they were over a month out from their anticipated "Live in Concert" production of the classic musical at Brooklyn's Marcy Armory, happening April 1, the creative team and cast were abuzz with excitement to reveal some of their show's secrets. The most apparent was the surprise casting of Legend, an African-American artist, to play Jesus. (Greenblatt recalled receiving a number of notes from black employees at NBC extending their thanks for the decision.) But the less obvious reveal is that their "Superstar," true to its original unorthodoxy, is being staged as a live rock concert—audience of 1,500 and all.
"We long left behind the notion of pointing cameras at a stage set. Now it has to involve something that's actually alive and living in front of the camera," Leveaux said of network TV's live musical "evolution" since "The Sound of Music" in 2013. Citing that the front rows of the Williamsburg audience will be "standing two feet away from the lip of the stage," he said that the evening is bound to be "the most fabulously, romantically organized [piece] of reckless television," which is the point.
But don't worry, it won't just be the in-person audience that gets the live experience. Rudzinski said that the concert-style production allows for "an incredibly immersive energy to be had on-camera." He is embedding cameras with the audience on the armory's floor to capture their perspective and get "into the rawness of the concept and the contemporariness of the event."
"What's wonderful about the televising and staging of these specials is that when you get them right, there's an immersiveness to the presentation that's almost subliminal," he continued. "It's subtle, and the audience really appreciates that they're in the heart of the action."
Want to rock out on stage? Check out Backstage's theater audition listings!