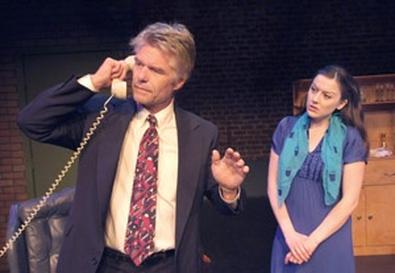 Religious satire is always good for a few laughs. In writer-director Luke Yankee's new play, he sweetens the pot with pointed barbs about the pitfalls of sudden fame and fortune. The result is an agreeable ethnic comedy populated with daffy characters.
The fable charts a startling transformation within the Irish-Catholic Flynn family. Sweet-spirited but vaguely discontented Agnes (Anastasia Lofgren on the night reviewed) disregards the warnings of her protective grandmother (Barbara Tarbuck) when Agnes allows young goofball Seamus (Aaron Leddick) to lure her down to an embankment. The result is a huge hickey on Agnes' neck, which her grandmother is startled to discover is a perfect replica of Jesus Christ. Grandma is even more amazed to learn that praying to this skin discoloration can cure illnesses and grant other miracles. When Agnes' hard-drinking widower father, Sean (Harry Hamlin), gets wind of this, he decides to exploit the situation and earn a fortune. As in all good morality plays, common sense and decency ultimately prevail.
Yankee keeps the whimsy quotient high. Whenever the piece seems headed toward slightly darker reflections, bawdy barbs and the comic eccentricities of the characters keep it rooted in feel-good fare. Lofgren is charming, projecting a combination of pitiable waif and smart cookie, who's more savvy about life than are her befuddled elders. Tarbuck is a spirited farceur; her feisty character sparkles with energy and wit. Hamlin's opportunistic patriarch, sort of a Celtic variation on ne'er-do-well Alfred P. Doolittle of "Pygmalion," is often amusing. With his tongue-in-cheek approach, the actor manages to prevent his self-serving character from lapsing into utter contemptibility. Among these three, Lofgren maintains the most credible and consistent dialect. Tarbuck's brogue is more evident when her character is riled up or engaged in boisterous mischief; at other times, it tends to fade. Hamlin initially makes a token effort at an accent, then pretty much abandons it as the story progresses, focusing on the character's swaggering bravado.
Leddick elicits solid yuks as the horny suitor who inflicted the fateful love bite, and there are creditable turns from Roddy Jessup and Tom Killam in small roles.
Presented by the Katselas Theatre Company at the Skylight Theatre, 1816 N. Vermont, L.A.
June 12–July 11. Fri.–Sat., 8 p.m.; Sun., 2 p.m. (310) 358-9936. www.katselastheatre.org.