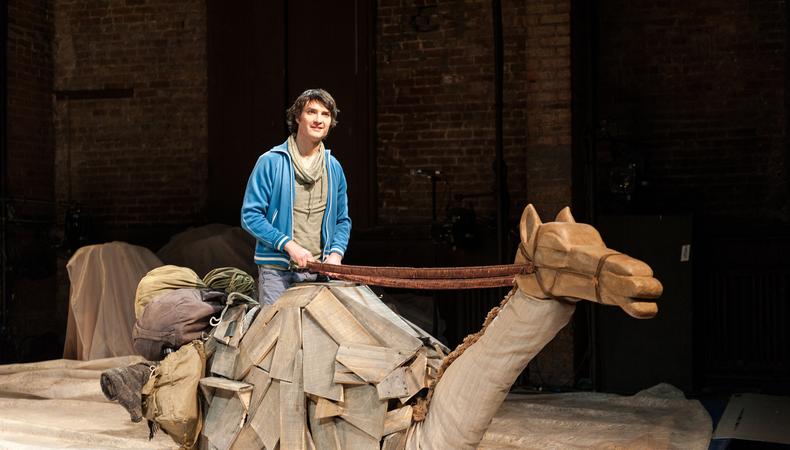 "Wait—was there something I was supposed to do right now?" This question, which is posed by an 18-year-old, pot-smoking Jesus of Nazareth to his punk-rock band in first-century India, may capture in microcosm the concept of playwright Lloyd Suh's highly charismatic play "Jesus in India," but it cannot hope to fully encapsulate the work's casually anachronistic humor and low-key spiritual musings. Carefully staged by director Daniella Topol, this uber-hip, rock-infused production depicts the most famous person in the history of Western civilization as just another foul-mouthed teenage burnout squirming under immense parental pressure and his own unfathomable potential.
Since the 19th century, some on the far fringes of religious scholarship have suggested that Jesus' missing years (between ages 12 and 30) might have been spent on walkabout in the Indus River region of India. There, such pundits claim, Jesus learned about Hinduism and Eastern culture, influences that could allegedly be felt later in his own chilled-out teachings. Suh's playful script sidesteps any religious debate by taking hold of only the broadest strokes of this idea, finding far more interesting material in Jesus confronting the familiar crossroads of angsty adolescence and responsible adulthood. Coping with being the Son of God should be a monumental transition, but Suh instead renders it with casual grace, employing refreshingly contemporary slang, loud music, and Theresa Squire's stylish modern costumes to ground this prodigal savior in a kind of manageable normalcy.
The play opens with Jesus and his friend Abigail on the desert road to India. Unable to deal with some troubling news given to him by his father, Joseph, Jesus and the manically devoted Abigail have run away from Galilee together. When Abigail's constant nagging starts to harsh Jesus' mellow, he strikes out on his own, eventually hooking up with Gopal and Sushil, two Indian slackers from nearby Bohd Gava. Sushil is somehow the maharaja of Bohd Gava, which means that he and Gopal have the "flyest temple" to loaf around, complete with a modest slave girl named Mahari to attend to their every boneheaded whim. They instantly take to Jesus and ask him to play bass in their crummy, yet-to-be-named punk band.
Justin Blanchard plays Jesus as a distracted, idle youth, totally oblivious to his innate talents and magnetism. When he speaks—or wails one of music and sound designer Shane Rettig's punk songs—people listen. His ability to captivate is perhaps most apparent in his stoned philosophy sessions with band mates Gopal and Sushil, played with amusing youthful narcissism by Vedant Gokhale and Neimah Djourabchi, respectively. Jesus' aching romance with Mahari, portrayed by the demure Meera Rohit Kumbhani, almost comes too late but ultimately leads to a surprising digression into grownup domesticity.
The peppery Molly Ward gets stuck with a thankless, exposition-filled role as Abigail, who returns later with word from Galilee: Joseph has died, and the Jewish population wants Jesus to lead its rebellion against the Roman Empire. See what he means about Abigail? Total buzzkill.
Presented by Ma-Yi Theater Company at the Theatre at St. Clement's, 423 W. 46th S.t, NYC. Feb. 21–March 10. (212) 352-3101, (866) 811-4111, www.theatermania.com, or www.ma-yitheatre.org. Casting by Paul Fouquet, Elissa Myers Casting.
Critic's Score: A