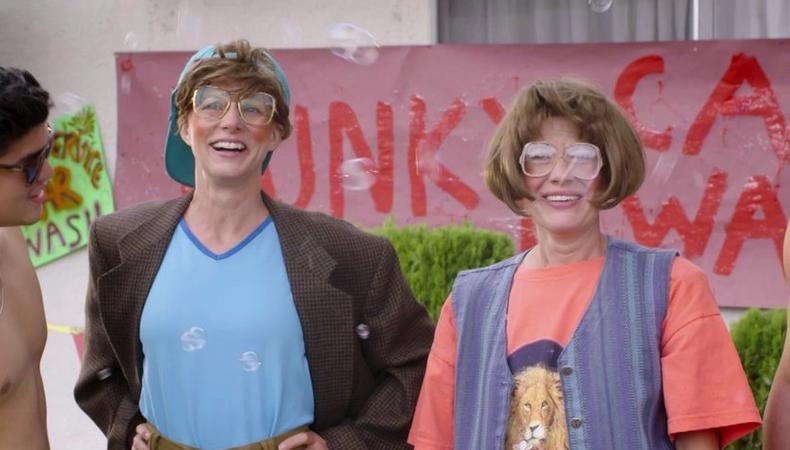 Comedians have often had success creating over-the-top alter egos. Garry Shandling had Larry Sanders. Martin Short had Jiminy Glick. Now, Tara Jepsen and Beth Lisick hope to replicate some of that success with their portrayal of the low-functioning but highly charismatic "estrogen comediennes" Carole Murphy and Mitzi Fitzsimmons in "Rods & Cones."
"We wanted to develop characters that were just so removed from even the notion of self-examination that they were totally happy," Jepsen tells Backstage.
Jepsen and Lisick relied on Kickstarter to get the series off the ground, which Jepsen describes as a "miserable, and even embarrassing" experience. They only wanted to do a Kickstarter once, knowing their supporters weren't any more well off than they were.
"It had to be in service of a greater vision of showcasing our act — and writing, selling a series, doing things that will be meaningful," Jepson says. "But it's not fair to ask for that on an ongoing basis." They were able to raise $30,490—meeting their funding goal—and spent the majority of it on equipment, crew and actors.
The two knew their strengths were in writing and performing so they handed off production of the series to some capable friends and professionals.
They cast friends and people they knew from the Upright Citizens Brigade. In the first season, Carole and Mitzi have a comedy battle with rivals George and Bess, known as The MILFies. The parts were written for Erin Markey and Jibz Cameron, the duo's longtime performer-friends.
The five-episode series was filmed over the course of five days in the Highland Park area of Los Angeles, with the pair's longtime friend Laurel Frank directing the series.
"Laurel's worked in the industry forever and she brought out people that we were like," says Jepson. "We're writers and actors — neither of us has any ambition to direct or produce or anything. It's just not our freaking skill set."
Jepsen and Lisick brought their creation to Jill Soloway, creator of Amazon Studios' award-winning series "Transparent" and one of the founders of wifey.TV, a multi-channel network aimed at women. "[Soloway] has that combination of being super intelligent, but also really playful, and it just felt like that she would be into it," Jepsen says.
Wife.TV released the series and is now looking for funding for a second season. While Jepsen and Lisick say a TV series would be ideal, they're content with whichever form "Rods & Cones" takes.
"We just have to trust if it's gonna be a thing, it's gonna be a thing" Jepson says. "It was so fun to make, and to write. We have been writing together over 10 years, and we still get together and just laugh our faces off."
Want more L.A. news? Sign up for our Backstage L.A. newsletter!