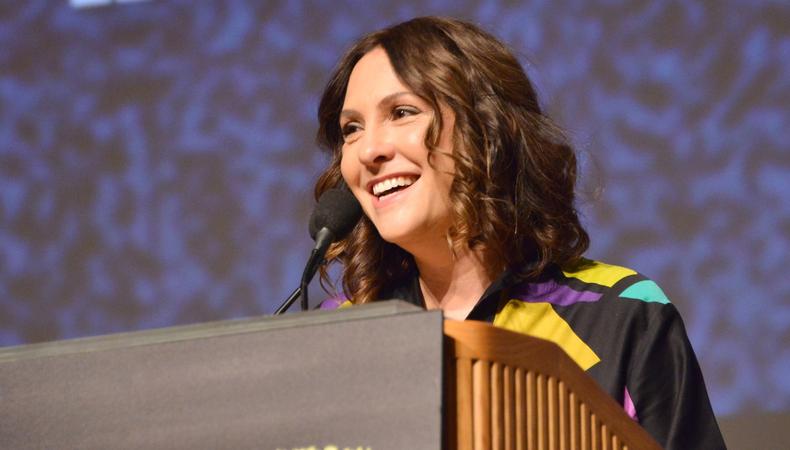 Three years ago, Jill Soloway was ready to leave Hollywood. Despite her success on "Six Feet Under," HBO passed on her pilot. She tried to get a TV writing job, but it didn't work out. Then after some struggle, she made a short that landed at the Sundance Film Festival. Soon after there was "Afternoon Delight," her critically acclaimed indie film that led to "Transparent," the much talked about Amazon series starring Jeffrey Tambor as a trans person. In many ways, Soloway's was a classic Hollywood reversal of fortune.
Many actors-creators struggle with a common entertainment challenge: You may make great art, but are you really that good at selling it? This is where filmmakers like Soloway, who was the keynote speaker at the recent Film Independent Forum, and business-minded professionals like Alamo Drafthouse CEO Tim League, who also addressed attendees, can help.
1. Know when you need outside help.
Soloway was an accomplished writer and producer—even while toying with the idea of leaving entertainment. In addition to HBO's "Six Feet Under," her credits include "The Oblongs," "United States of Tara" and "How to Make It in America," among other series. When she was getting her own projects underway, though, Soloway needed some guidance. She turned to Joan Scheckel, who runs the Filmmaking Lab and has worked with several acclaimed directors.
"She gave me a technique," Soloway said during her speech, "which I didn't have before." Soloway sums up the technique as, "What are you doing to get what you want?" She doesn't just apply this to the characters, but to every aspect of the filmmaking process. Moreover, she says, she uses this technique to guide her career. "I think you really need a technique, whether you make it up or you learn it," she said.
2. Know your audience.
It's one of those pieces of advice you might get in film school, but it bears a lot of repeating. That was the crux of League's address at last weekend's confab. He suggests that filmmakers think about the audience before you make the film. This is important because that audience will guide how you make the movie. He notes that certain genres of film, science fiction and horror flicks for example, don't need the big name actors to succeed.
The same goes for documentaries. But for other types of movies, League suggested finding someone with name recognition. That could be a "rising star" or a veteran actor looking to reignite his or her career. Your intended audience is going to shape the brand you create and the way you approach marketing. He cites the incredibly successful tumblr campaign, "My Dad Was in a Band," for the documentary "A Band Called Death" as an example.
3. If you want to distribute the film yourself, be prepared to do a lot of work.
League pointed to "Indie Game: The Movie" as an example of this type of heavy lifting. That the documentary focused on a "niche subject" helped, he said, but more importantly the filmmakers had to become "experts" in marketing and distribution. Plus, they put in a lot of time to develop and implement a strategic campaign that involved heavy social networking as well as festival appearances and a small theatrical release, all of which is documented in the filmmakers' case study.
4. Look for the people who will help you.
Married directing team Aron Gaudet and Gita Pullapilly explained that because of their documentary, "The Way We Get By," they had an audience in Maine. That audience was willing to help them make "Beneath the Harvest Sky" on a tiny budget. "There are people who want to see you succeed at this craft," Pullapilly said. The key is to know who can be helpful and let them lend a hand.
5. Be creative.
Despite all of the issues involved with getting financing for films, "creativity is the great equalizer," said Brian O'Shea, CEO of The Exchange, an international sales company.
Of course, writers and directors are inherently creative, but this has less to do with the script and the shots. Creativity can mean looking for distribution alternatives. It can also mean finding investors who will help with the marketing. That's what Gaudet and Pullapilly did when they developed a relationship with Terra Chips for "Beneath the Harvest Sky." Since Terra Chips works with JetBlue, the partnership resulted in some great marketing opportunities.
"Don't give up," League said. "Just keep on making awesome films."
Inspired by this post? Check out our film audition listings!