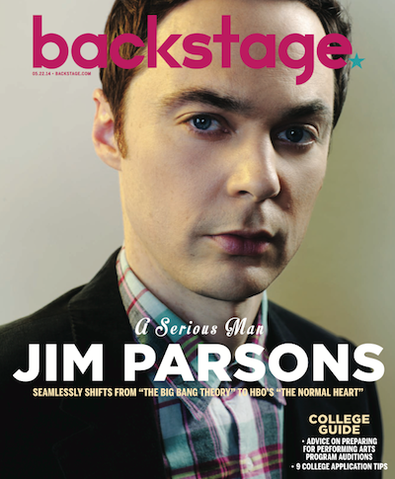 Jim Parsons graces our cover this week, and he chats with Backstage about his starring role in HBO's "The Normal Heart." Read the full story here!
---
Jim Parsons on Awards and Activism
Though Jim Parsons' mantelpiece is heaving under the weight of his awards hardware—three Emmys, a Golden Globe, and a Television Critics Association award to date—he seems proudest of an award that is in both a literal and metaphorical sense not for acting. Last October, he and his partner of 10-plus years, art director Todd Spiewak, received the Gay, Lesbian & Straight Education Network's Respect Award for Inspiration. Though quick to point out he does not consider himself an activist ("I know what an activist is, I know Larry Kramer!"), Parsons accepts the award, in a sense, for the very people he is hoping will watch "The Normal Heart" on HBO.
"The thing I understand about this award is that it offers inspiration to other people out there to see someone being able to just live their life as they are, with the person they love," he says. "I get that. And it was a real honor, something very special for us to share but also a similarly otherworldly experience to other awards. Even when you're feeling honored and humbled, it's still, 'What the hell is this?' I don't know that there's a proper place to put it in the head and heart. You're not exactly sure where it would settle, and I don't know that anyone is asking you to.
"You get used to walking the red carpet as much as you can but there is some fear and anxiety: 'What if I don't have a good answer?' And very early on: 'What if they want to ask me about being gay?'
"Even when there is a spotlight shined on you, in a sense, be it at the Emmys or Golden Globes, you realize A) It's not as scary as you thought it would be, B) There's a level of enjoyment there, hopefully, if you try and let it be, and C) Even with your face on TV at a nationally broadcast awards show, people still don't care about you and aren't thinking about you as much as you think they are."
And be sure to check out our audition listings!