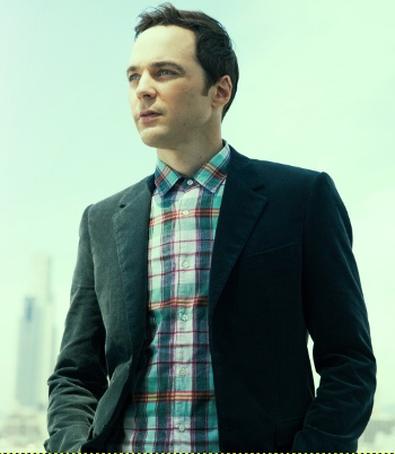 Four seasons into "The Big Bang Theory," the powerhouse CBS sitcom with a multigenerational, multinational fan club that has made him every which way rich, Jim Parsons accidentally pre-empted his own professional future. Disappointed by his extracurricular hiatus work offers—"Which in some ways sounds greedy, considering the work I was being able to do"—he moved to New York City for the summer. "I told my agents, 'I don't care if I just do unpaid readings for nonprofits all summer. I need to get back to theater,' " he says. "There was no master plan or ladder-climbing move on my part, and it wasn't a pill-popping depression. It was a frustration funk and I just had to feel good again. Within days, my [then-] agency called about 'The Normal Heart' on Broadway."
Larry Kramer's 1985 play chronicled the onset of HIV and AIDS in New York City between 1981 and 1984, and the formation and activism of the Gay Men's Health Crisis, but mostly the utterly human face and toll of the tragedy. Initially Parsons was asked to consider the roles of Tommy Boatwright—"the unwavering heart of GMHC"—and Mickey Marcus, a savvier, older NYC Department of Health employee.
He tried and failed to pass on Tommy. "I felt like I knew that person, and I wasn't right to play him. Mickey, on the other hand, had speeches dealing with facts and figures and I thought I could certainly ease my way into that." But fate and co-director (with Joel Grey) George C. Wolfe stepped in; Wolfe had seen "The Big Bang Theory" and had enough confidence in Parsons that he persuaded him to take on Tommy. While recounting the odd twists that led to his Broadway debut, Parsons sighs, smiles, and sips his coffee, apparently oblivious to the myriad of glances and whispers in his direction at a packed café in Los Angeles' Silver Lake neighborhood.
During the Broadway revival's run, Kramer named Rodger McFarlane as the inspiration for Boatwright, going so far as to state that the first paid executive director of the GMHC "did more for the gay world than any person has ever done." No wonder Parsons felt the need to delve a little deeper, discovering that McFarlane, who nursed his brother for years before he died of AIDS in 2002, subsequently wrote a book for those charged with doing the same: "The Complete Bedside Companion: No-Nonsense Advice on Caring for the Seriously Ill."
"To sort of be a specialist at it, to literally write a book on it, that says something beautiful about Rodger and his empathy for his fellow human beings," Parsons says. "I didn't read all of it but there were specific things in the way he worded things and the way he would talk. And also I found it very telling that he was the type of person who would do that when he ended up taking his own life. He had started having back and maybe some heart trouble and wasn't going to allow himself to become the person he takes care of." In 2009 McFarlane traveled to Truth or Consequences, N.M., left instructions in his car, and shot himself.
Parsons' homework paid off, and Kramer was enamored with his performance. "Larry was a huge supporter of me," Parsons says. "He was always so positive in his attitude and his comments about what I was doing as Tommy. And it was so genuine. This is Larry Kramer we're talking about; he's not willy-nilly handing out compliments."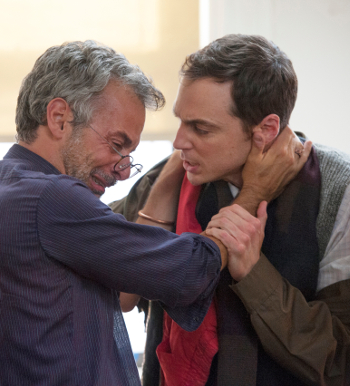 But when the HBO production—starring Julia Roberts, along with Mark Ruffalo as the Larry Kramer stand-in—was greenlit in 2013 with Ryan Murphy as director, Parsons did not pursue it. "It's not that I didn't have a desire to do it, but it just didn't occur to me," he says. "The film felt like its own thing." Before long, Parsons—warm and voluble in person, the absolute antithesis of TV's most engagingly original comic creation, his socially stunted physicist Sheldon Cooper—had signed on for "The Normal Heart" Version 2.0.
For his part, Murphy says that Parsons was "perhaps the easiest casting of them all because he was the one that Larry was the most adamant about. He loved Jim and wanted to take that role and expand it in the movie for him. Jim is arguably the biggest star in TV and such a brilliant comic actor, but I think he's also a brilliant dramatic actor. I kept saying to him, 'You should do more serious work; you're so good at it.' "
With 40–50 percent more material in the film version, Parsons indeed has the expanded role Kramer and Murphy wanted for him, including a brand-new eulogy scene. In it Parsons visibly weeps, admitting the tears were easy to come by. "Was it sad to traverse so many of these scenes? Yeah, it was harsh, but there was also a joy in it," he says. "You were getting to celebrate those that are not here anymore. People are so scared of lives lost in vain, and even more so when it is the life lost in vain of someone else that you love."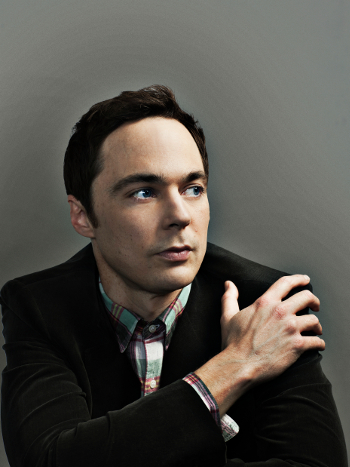 In 2001, Parsons was finishing his graduate drama program at the Old Globe–University of San Diego—"I still love the collegiate atmosphere and would love to teach a master class"—and preparing to move to New York when his father was killed in a car accident.
"He passed away at such an interesting time of my life and I don't know what to draw from that," he says. "While I would give anything not to have that happen, I'm no fool and obviously there were some benefits. I think it kicked me into taking control of my own life in a way that I wouldn't have otherwise." Within a month of arriving in New York he had a theater job and "was doing what I was supposed to be doing."
That he was supposed to star in "The Normal Heart" on Broadway and then on HBO seems like kismet, a word he uses often. "For me, personally, it was the right time of life to be involved with it. I don't think this would have been the play I'd have enjoyed making my first or second season in national television. There were too many phantoms in my head, too many shoulds and woulds and coulds."
And then there was the day on set, filming a celebratory first official GMHC fundraiser with Kramer in attendance, when the Supreme Court struck down DOMA.
"Sometimes you want to ask, 'Am I on the right path?' " Parsons says. "But who would you ask anyway? So when it feels like the universe gives you a jolt, it's like, 'Thank you, I thought so!' " And that moment said to me, 'Yes, you're on the right path at the right time.' "