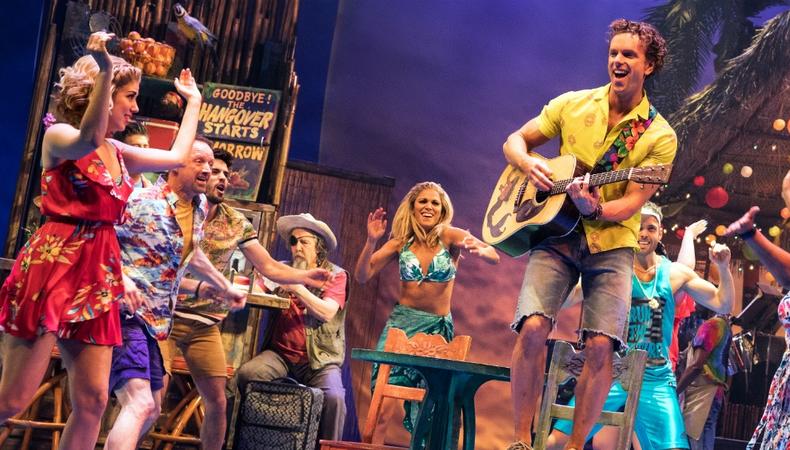 On Broadway and beyond, a curtain can rise as quickly as it can fall; a star can be swapped as easily as Bernie Telsey can say, "That's enough." Theater is the beating heart of New York show business and, if you want to make it here, it's crucial you're up to date on incoming projects, latest castings, and other industry news. Don't worry, Broadway baby, Backstage has your back. Every week, we're rounding up the can't-miss stories no thespian should live without, so you can focus on important matters like hitting your high F. Curtain up and light those lights!
"Margaritaville" will waste away.
In one of the first post-Tony nominations casualties, Jimmy Buffett's "Escape to Margaitaville" has announced that it will close on Broadway on July 1. The musical, which features a score comprised of the Buffett songbook as well as a couple new Buffett tunes, opened in March to tepid reviews and has struggled at the box office since. Featuring a cast led by Paul Alexander Nolan and Alison Luff, the tuner was directed by "Come From Away" Tony winner Christopher Ashley.
Kat McPhee extends her stay at the diner.
Current "Waitress" on Broadway star Katharine McPhee has extended her time in the Tony-nominated tuner. The "Scorpion" star will in fact depart the production on her originally-scheduled date June 17, however, she will then return for an additional stint beginning July 5 through Aug. 19. McPhee will star opposite Erich Bergen, who will assume the role of Dr. Pomatter on June 5.
"Straight White Men" finds one more of its men.
Casting is at last complete for Broadway's incoming production of Young Jean Lee's "Straight White Men." Paul Schneider has rounded out the cast, joining previously announced stars Armie Hammer, Ty Defoe, Tom Skerritt, and Kate Bornstein. The Second Stage Theater production will begin previews at the Helen Hayes Theater on June 29, under the direction of Anna D. Shapiro.
A new Ahrens and Flaherty musical is en route.
A high-profile industry reading of "Little Dancer," the new musical from Lynn Ahrens and Stephen Flaherty ("Once on This Island"), will be held in New York City on June 8. Tony-winning director Susan Stroman will helm the run-through, which will star a number of Broadway stalwarts including Kate Baldwin, Scarlett Strallen, Tiler Peck, Karen Ziemba, Dee Hoty, Arbender Robinson, Olivia Puckett, and others. The piece will have its world premiere production in Seattle in March 2019, for which casting has not yet been announced.
Hello, Donna—again.
On the heels of the news that Bette Midler will reprise her Tony-winning role in Broadway's "Hello, Dolly!," it's now been announced that her original alternate Donna Murphy will also return to her post. Murphy will again play the titular medler during six select performances of the classic, until it closes at the Shubert Theatre on Aug. 25.
Hall may head back to the stage.
Former "Hedwig and the Angry Inch" star Michael C. Hall may soon be heading back to the stage. The actor, who won a Golden Globe for his role on TV's "Dexter," will lead a reading of "Gnit," an innovative take on Henrik Ibsen's five-act drama "Peer Gynt." Presented on June 18 at Polonsky Shakespeare Center in Brooklyn, the reading will be directed by The Debate Society's Oliver Butler.
Now it's your turn! Check out Backstage's theater audition listings!