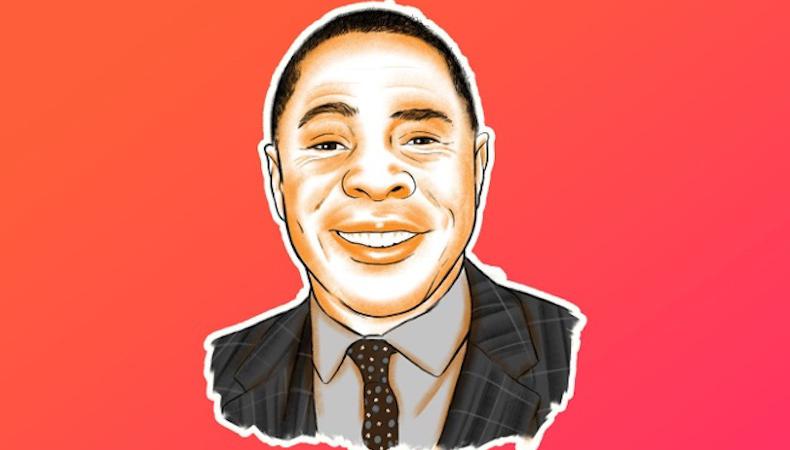 Michael Potts returns to the stage with a bang for the first-ever Broadway production of August Wilson's "Jitney." As Turnbo, Potts is putting his Yale School of Drama training to good use and delivering a magnificent turn. The actor, who got his start on "The Wire" before moving on to "True Detective" and "Gotham," chats about his audition preparation process, the film every actor should see, and the advice he'd offer his younger self.
What has playing Turnbo added to your acting skills?
[Laughs] Well, in the way I'm playing him, it has not necessarily added to my acting skills but refreshed some things or worked muscles that in other roles I haven't been able to use as often: the notion of playing on the line, breath control, and fleetness of mind—just very, very quick turns. Turnbo just can keep going on and on and on. He has many asides, so it's about holding onto the main thread of the story he's telling, but at the same time also these sort of accompanying descriptors that August Wilson likes to throw in…. August didn't write pauses. The periods that we see and the punctuation we see in the scripts is basically an editor doing that, but August didn't really write that way.
What's your go-to audition song?
If I'm really asked, it's a musical comedy of sorts; I always go to something Randy Newman because that tends to be the perfect thing—and sometimes even if it's serious. One of my favorite Randy Newman songs is "Dixie Flyer." I do that or "Sail Away."
What movie should every actor see?
"Lincoln." I think Daniel Day-Lewis is amazingly transformational. He's someone actors should go and watch and see how he does it. "My Left Foot"—[see] all of his movies and watch how he transforms.
READ: 15 Actors Who Masterfully Hide Their Natural Accents
How do you typically prepare for an audition?
I like to be off-book. I can't stand being on the page; it's a little too limiting for me, so I spend a lot of time trying to memorize, just get off-book for it. And the process of that is to break down the scene and figure out what it's about, first. Break down the beats for myself and then commit it to memory and go through it several times. Hopefully I'll have enough time, a day or two, where I can do that, so it becomes a sort of running thing in my head. It's that thing that you see on the subway all the time: actors talking to themselves. They're just running lines.
What advice would you give your younger self?
I think my younger self was rather naive about how the business worked. [I thought] it was about doing the play and doing the work and that would be it, and I guess my advice to my younger self is that marketing is important. Typing yourself and knowing where you're headed is probably something I should've paid more attention to. It's not just about being a good actor in terms of building career. It's about more than [that].
READ: Dealing With the Business Side of Acting
How did you get your Equity card?
I started off as an Equity membership candidate when I first got out of school—well, actually, before school. When I was working at the [Eugene O'Neill Theater Center] in my first year of Yale is when I became a candidate. And by the time I was in my first play at Lincoln Center, "Playboy of the West Indies," is finally when I paid it all up and got my Equity card.
What was your first headshot like?
My first headshot? Oh, so young. I had a little bit of a Grace Jones haircut, just a little bit. I was wearing some kind of red plaid jacket with a brown corduroy collar. I thought it was a really, really nice jacket. [The photographer] was someone a friend had recommended to me. She was very nice and took some good shots. I don't even know if I have it now but I remember I was very, very young. I didn't use it very long because my first agent didn't like it all. We got new ones immediately.
Have you ever used Backstage?
Oh, yeah! Early on, during that period of the first headshot, I would go and try to get into some of the films. Backstage was something that I got every week to see what I could go in and audition for. I definitely used it. I went in for a lot of student films that were listed in Backstage, some plays. I don't remember booking any, but I did book a couple of student films through Backstage.
What is your worst audition story?
The original production of "Wicked." I went for the original Doctor Dillamond, the goat. And I was having such a hard time. I couldn't convince myself that I really wanted to play a goat! I had a mental block about it. It came to Doctor Dillamond's song, and every time I got to the part "Something Ba-a-ad" [goat braying], as much as I tried, I couldn't get any further! It was so sad. The producers were there, [with] Joe Mantello, and I could never get through the song. They kept saying, "No, do it again. Start again." I just couldn't get past it and finally I said, "I'm sorry, guys. I suck today. I'm not gonna get through this. I just suck." Obviously, I didn't get the job, and was rather pleased I didn't! I just couldn't. Something, some block just wouldn't allow me to finish that song.
What was your most memorable survival job?
The most memorable one was when I first got out of school, working for the Metropolitan Opera in their ticket phone sales department. I don't know if you know Lincoln Center that well, but there's a huge pool right in front of the theater. Well, right below that pool is where the office that I worked in was. So [I was] basically underground all day, on phones, selling opera tickets. I had to learn how to pronounce a lot of the German and Italian operas, know the various singers, and give people information on who would be singing that night, where they last sung, what the story's about. And then listening to them buy tickets that could've paid my rent and all my bills for the month. Like, Wow! What I'm getting paid is just pocket change for you. And they were serious, these opera aficionados. They are very serious about it. I thought, Maybe I need to get into opera.
Looking to get your start on the stage? Check out our Broadway audition listings!