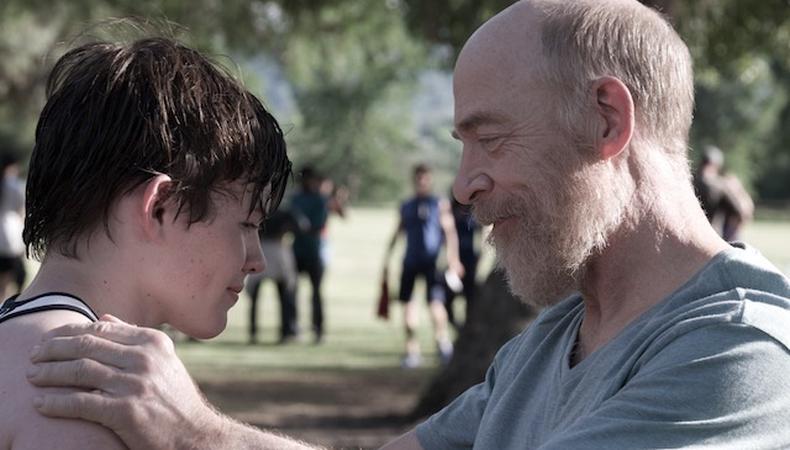 Oscar winner and self-professed "journeyman" J.K. Simmons is the kind of actor who pops up in just about everything, and often when you least expect him. (It was easy, for instance, to miss last year's super-quick cameo reunion with "Whiplash" director Damien Chazelle in "La La Land," no?) His latest project, however, puts him front and center as a widower and father who, after moving across the country for a new teaching job, learns to love again. "The Bachelors" is a heartfelt and touching comedy with newcomer writer-director Kurt Voelker—and it also showcases a never-better and emotionally exacting Simmons.
The veteran actor recently talked to Backstage about his latest film, his love of sharing the screen with young talent, and the importance of listening.
How did your role in "The Bachelors" first come about?
It was just one of many scripts that my agent sent me. A big side effect of getting all the trophies handed to me [for "Whiplash"] was there were a lot more offers coming my way, so I could now actually afford to be as selective as I have always tried to be. This came, it was just something that early on in the script, I had a sense of not only is this guy [Voelker] a good writer and these are characters that I believe, but this was a character that I felt like I could understand and get into. It's definitely a two-step process. I read a lot of scripts that I think, Oh, this is good, but it's not necessarily a character that I feel like I'm the right actor for. Bill was a character that I felt like I could understand.
Writer-director Kurt Voelker is pretty early in his career. Do you enjoy the opportunity to work with young filmmakers and help their projects get made?
I like working with people that I think are really talented and have something to say. And that could be Jason Reitman, who doesn't need my help getting his movie made, or, yeah, if it's a less experienced guy, now that I am sort of in a position to help get something made, that's a nice little fringe benefit. But really, the thing that hasn't changed is I'm just looking for really good material that I believe I'm the right guy for. And I'm finding more and more that I'm less interested in having, "Oh, we want to build this project around you now because you won a bunch of trophies!" I prefer something like "Whiplash" or in this case, "The Bachelors," where Kurt, he had a story to tell, and he put it down, and then they went around looking for somebody to play Bill. That's always the way, I guess, that I will continue to want to work. But working with a writer-director that's got a dozen features under his belt and a track record of success, I don't mind that at all! I'm working with Jason Reitman right now, so I love working with people that I have established relationships with. But if somebody comes along that I have never heard of and has something really exciting and wonderful, I'm happy to be a part of it.
What is something you wish you knew as an actor when you were first starting out?
My path was pretty circuitous. I went from studying music in college and thinking I wanted to be Leonard Bernstein into musical theater and then doing straight plays and 18–20 years of that before I was even in front of a camera. But the thing that I learned or that was just a part of my process from the beginning was to listen. And I mean both as an actor when you're playing a scene and also just in life in general: Be a sponge. When you're in a position working, or taking class, or reading scripts with a bunch of friends because no one will pay you to do it, I think listening is in many cases an under-utilized and under-developed skill.
Especially if you want to have chemistry with a scene partner and be in the moment with them—it's a give and take.
Yeah, hopefully, ideally—and that's often not the case. I've been doing this a long time and I've worked with a lot of people and people have different processes and come from different backgrounds and different priorities and, you know, there are actors who don't emphasize that particular tool in their tool belt and manage to come off very well in a scene. That's just not as pleasant an experience for me as an actor. It's like when you're sitting down at lunch and having a conversation, and somebody's distracted and you get the sense that they're not really listening to you and that they're just interested in their own agenda—that's not a table that I want to be sitting at.
What actors have you worked with who are especially good listeners?
Well, Miles Teller springs to mind. I could go all the way up to A-listers that would sound like I'm name-dropping to people you've never heard of. Another one, this is going back several years, was Brad Whitford. He and I had a chance to work together on Broadway, and I was an understudy, but I got to go on and play the Colonel in "A Few Good Men" when Brad was playing Lieutenant Kaffee. And that's a particular situation where when you're in his shoes, you know, he's been doing the play for six months with Ron Pearlman playing the Colonel and maybe with another actor before Ron, I'm not sure what the sequence was. And then this new guy comes and nobody had any idea who I was. He's an established guy by that time, and all he has to do is wait for me to shut up and say his line, but those few performances were some really engaged and intense scenes because I was miraculously, somehow able to get my nerves out of the way and be in the moment and be listening to him. So yeah, that's another one that jumps out. But honestly, more often than not, I mean, right now, I'm working on this Jason Reitman film, "The Front Runner," and it's Hugh Jackman [playing Senator Gary Hart], who's obviously a gigantic movie star, and if you go through the rest of the cast, his campaign staff is younger actors; I'm the old, experienced journeyman both in life and in character. There's a lot of young actors who have really good careers going but are not maybe household names or faces, and I'm really having a great time throwing the ball back and forth with all of them. It's also a little more improv-y than Reitman films tend to be, and obviously when you're doing that, you're way better off when you're listening.
In movies like "The Front Runner" or "The Bachelors" where you are working with a young stable of actors, are you the one with the wisdom on set?
I think it's very similar to being the veteran on the baseball team or the football team or whatever. It's not so much a young actor coming to me and going, "Hey! I'm having this problem with this particular scene. What should I do?" It's more, I think, a sense of just kind of going about my business day to day and somebody who is young and relatively inexperienced paying attention and being willing to look at something and go, "Oh, that's interesting. That might work for me." Again, everybody's got a different process, and I'm not there giving acting class—believe me, I'm not qualified to teach acting. But I'm just doing what I do and fortunately finding actors who are less than half my age that are very capable of being a completely equal scene partner.
Ready for the big screen? Check out Backstage's film audition listings!