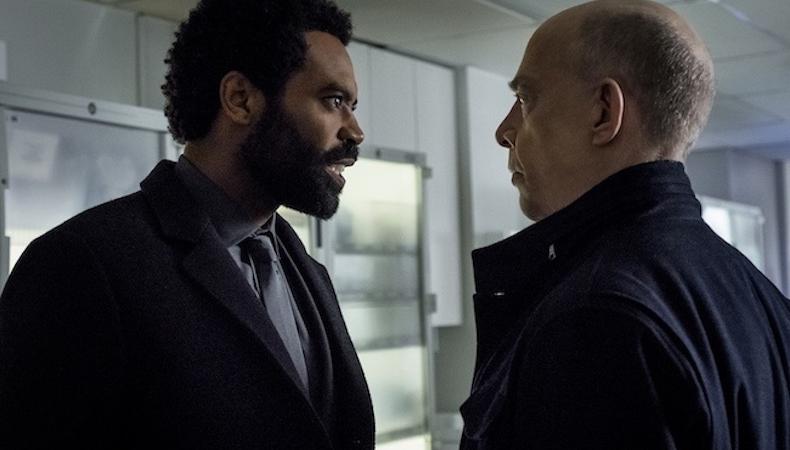 On the set of "Counterpart," J.K. Simmons would begin his day with slumped shoulders, tired eyes, and just a hint of a sheepish grin. After shooting a scene or two as low-level government agent Howard Silk in this sci-fi espionage thriller, he would return to his trailer, shed his beige wardrobe, take a shower, and put on black garb to become Howard Prime, Silk's titular coequal who is a highly achieved, foulmouthed, badass assassin from a parallel universe.
The starring double role of the Starz series is the brainchild of Justin Marks, who grew up reading the spy thrillers of John le Carré and Graham Greene. He modeled Silk after his grandfather, a longtime employee of the Treasury Department, and centered the premise around one question: What if you could meet the person you might've become had you made one decision instead of another?
Set in Berlin, the show has its identical counterparts share an early history at the end of the Cold War until an unidentified event reveals a tunnel under the city that connects the parallel worlds. The opening of that tunnel then leads each respective counterpart down different paths to becoming different people.
"The idea in the show is that identity is elastic and prone to circumstance. Two universes always create this terminology of good and evil, but I think there's so many ideas of duality that have nothing to do with good and evil and are much more complex and interesting," explains the creator and showrunner while on a break from shooting Season 2. "One of the things, which is a philosophy of the writers' room, is that there is no such thing as happiness or fulfillment or a better life. It's just different sides of a coin, and all our characters are all just making different versions of the same mistake."
READ: J.K. Simmons to Aspiring Actors: Listen, Listen, Listen
Playing two roles is a tall order for the series' actors, each of whom helped shape their onscreen halves' minutiae, down to their dual mannerisms. "We never want the actors to think of these two people as two different characters. It's still me, but it's just a different set of experiences that are shaping who I am. Thankfully, we have a really smart and literate cast that's able to give this to us," Marks explains.
Executing the high-concept episodes—especially scenes where Simmons shares the screen with himself—on a TV series' tight shoot schedule is another story. "This was a very trial-and-error process last season, like any first year of a show," Marks says, laughing. After experimenting with a variety of "time-consuming" and "frustrating" methods, the series has stuck with the split-screen technique, with Simmons shooting opposite his double, John Funk. "He plays the other Howard in every scene with him, and you can see the way they both make decisions," explains Marks.
After capturing coverage of one side of a conversation, the director will lock the camera for a master shot of the two Howards while he changes, and then reshoot the dialogue with Simmons as his counterpart. Says Marks of writing these scenes, "We've found that when we try to draw attention to the stunt, it becomes less believable. We pretend they're just any two actors together and ask ourselves, when would we actually have them in the same frame? And J.K. is able to internally embody what makes each of the Howards different on a very granular, biographical level, so that rather than making it about a gag or a mustache or something like that that separates them, he just inhabits the pose of each person."
Marks, who also previously adapted Rudyard Kipling's classic "The Jungle Book" for Disney and is set to pen its sequel, admits that creating a show with dual universes can sometimes feel overwhelming. From an episode's initial draft to its final edit, he has to make sure the viewer always has enough information to know which world the story is in at any given time. And with so many details to keep track of, the writers' room often references an in-house encyclopedia that lists each of the world's various truths and rules. "You can't just do that simple story of, 'Let's give them a mission this week and watch them solve the crime,' " says Marks.
Still, the creator posits that he wouldn't have it any other way, even in a parallel universe. "If I've lived my life well," he says, "my other is, hopefully, doing the exact same thing I am."
Want to act on the small screen? Check out Backstage's TV audition listings!