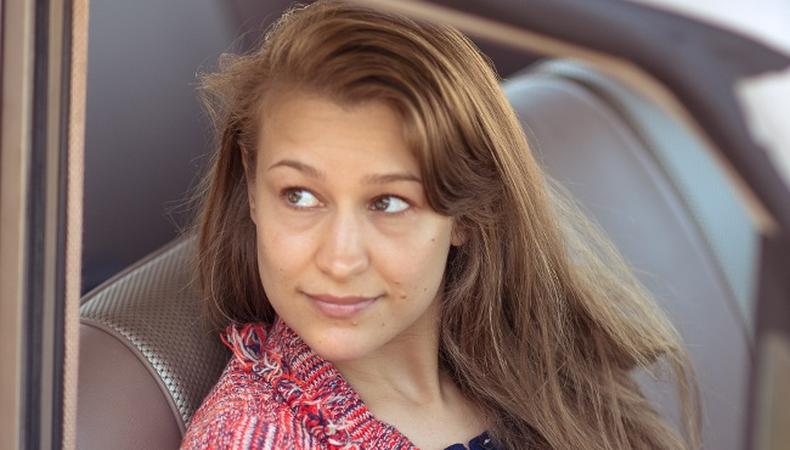 Joanna Newsom didn't know she would be appearing in Paul Thomas Anderson's latest film until someone reached out for her measurements. The writer-director had asked her to record some snippets of narration from Thomas Pynchon's psychedelic novel "Inherent Vice," and Newsom, a singer-songwriter, sent over audio clips without a second thought. "Definitely for a lot of the process I wasn't actually sure I was in the movie or not," she says with a laugh. "Paul had never said, 'By the way, the narrator is also a character in the movie.' Nor had he said, 'I want you to play this character.' "
For someone who considers herself primarily a musician, a feature film debut of this caliber was a daunting task, particularly when it comes to personifying such an idiosyncratic voice. "I imagine most of the actors in the movie read the book to get more insight into their particular characters," says Newsom, who found herself in awe of cast mates Joaquin Phoenix, Katherine Waterston, and Josh Brolin. "In trying to embody that character I didn't really know where to start because in a way, everything in the book that's not dialogue is, by default, me."
Anderson invented this narrator, whom Newsom considers "a fictionalized fragment of Thomas Pynchon," after deciding against having her exist only in voiceover. Instead he plucked one character from the author's massive menagerie of drug-addled screwballs and conferred upon her an omniscient quality. In French, "sortilège" means casting a spell, foretelling the future through supernatural divination. In "Inherent Vice," Sortilège is a friend of the story's dazed protagonist Doc, a hippie-era oracle with a predilection for lost civilizations and prophecies.
Newsom's initial approach to performing her narration was simple: "I did as little thinking as possible." Reading aloud as she would to a friend, Newsom felt confident in her delivery despite her lack of technical acting experience. In fact, it was her identity as a musician that enabled her to tackle the monologues. "I was like, I know how the music of that line would fit," she says of the speeches Anderson sent her. "I've always loved the syntactical, specific style of Thomas Pynchon, the way he strings words together; it has its own musical signature to it."
From the perspective of an experienced harpist, pianist, and singer, acting is simply a matter of unearthing the compositional signatures buried in great writing. "It can mean different things with different writers," explains Newsom. "There's a music to Hemingway—it's a very minimalist, rhythmic noise I would compare to something much more modern. There's definitely a music to William Faulkner." She also saw parallels between music and storytelling in her "Inherent Vice" collaborators. Like great jazz improvisers, Anderson understood his creative framework so thoroughly he was able to adapt to what Newsom—in a scintillating, Sortilège-esque way—calls "riding waves of happenstance and visitations of inspiration." Because he'd been working on channeling Pynchon's vision for so long, Anderson embraced improvisation, even deciding spontaneously one day to shoot Newsom's opening monologue in a sun-drenched field.
Phoenix, meanwhile, simply cast a spell. Newsom recalls her scene partner's "magnetic ability to create a sense of realness. Looking in his eyes I was not looking at Joaquin Phoenix, I was looking at Doc. There's something about that ability that allows everyone else to enter that same space." Is acting opposite such a virtuoso and taking direction from such an eminent filmmaker the start of a prolific Hollywood career? Not necessarily, says Newsom; her music takes precedence nine times out of 10. But, she admits, "If anything like this came up again, of course I would drop everything to do it."
Inspired by this post? Check out our film audition listings!