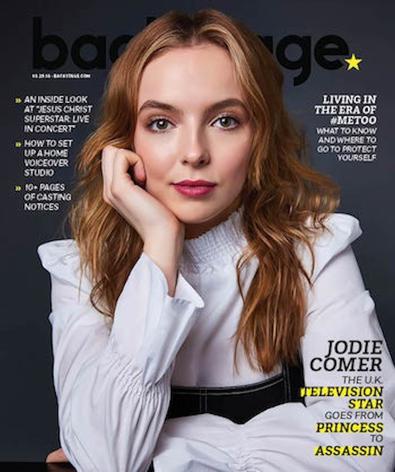 Answering a work call on vacation can ruin a getaway. In Jodie Comer's case, it meant cutting a family trip to Barcelona short when she picked up the phone to learn she was needed in Los Angeles for a callback—immediately.
That interruption led to another call, one that meant her vacation availability for the foreseeable future would be greatly diminished: She had landed the role of Villanelle, a mercurial assassin on the upcoming "Killing Eve," a BBC America series from "Fleabag" creator Phoebe Waller-Bridge.
Starring opposite Sandra Oh, the titular Eve, as an obsessive counterintelligence assistant at MI5, Comer's character hides in plain sight as a villainous hit woman. In the first episode alone, we follow Villanelle from Vienna to her home base in Paris, then to Tuscany, Italy, and back. She moves effortlessly between languages while making jokes and taking nothing but her job seriously.
"What I love about Villanelle is that she's so many characters in one. She puts on these different personas, so sometimes it was like playing different people intertwined," Comer says over lunch at the Crosby Hotel in New York City. And while climbing the drainpipe of a Tuscan estate house and speaking Italian and French—plus English with a Russian accent—was not easy, the role provided access points for the British talent: "She reminded me of an actress; that's how I approached her," she says. "She sees dressing up, the languages and everything, as a challenge. She will take so much time in making sure a persona she's putting on is perfect for what she needs to do."
Comer brings a duality to Villanelle that allows her to stand out in one scene and intentionally blend in in another. "I wanted her to be someone you could walk past in the street and not notice, because that is the truth of it—you shouldn't be able to pick someone like her out," she says.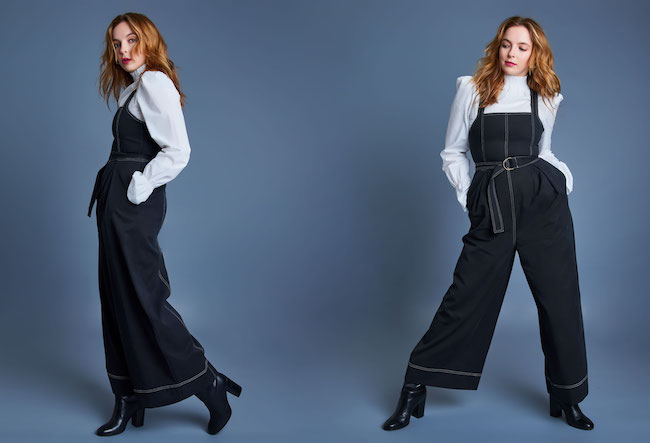 The show sees Villanelle flying under everyone's radar, even as a string of her high-profile marks turn up dead. But, of course, Eve has an instinct about Villanelle, one that messes with the assassin's desire to go unnoticed. And when Eve's insistence gets her fired from MI5, only to be given free rein as a new hire on a privately operated team, the cat-and-mouse game truly begins, with Comer's character expertly blending in to evade capture.
The BAFTA TV–nominated Comer, who was first introduced to American audiences on Starz's short-lived 2017 miniseries "The White Princess," relied on feedback from creator Waller-Bridge when developing Villanelle. The two worked together extensively to craft a fully realized—even sometimes sympathetic—character. "The genius thing about Phoebe is she finds the light in the darkest moments," Comer remembers. "In a scene that was actually quite serious, she'd find humor. A lot of it went against my instinct. It was great having her on set to learn that, because by the end, I fully understood it."
It's a skill she says she'll bring to future jobs. "I don't think anyone can do what Phoebe does, but it has reprogrammed my brain to recognize that what's on the page is not always as it seems. Now, I'll try a scene different ways, and if it's silly, I don't do it, but it's fine to try."
And while Comer was no stranger to TV, "Killing Eve" also became a master class in working with different directing styles. "We had three directors, and they had completely different ways of approaching their work. I'd get into a motion and then someone would bring a different energy in," she says of her time on set. "I'm constantly learning with each new job, especially about people, which is important for playing characters."
That learning process never stops for Comer; she views every new role as a lesson, a mini acting class, not unlike the weekend drama classes she took early on in her career. At 15, she won a local drama competition in her native Liverpool and got cast from an open call for a lead in a BBC Radio play. Her co-stars connected her with an agent and headshot photographer, and by the time she had graduated high school, she already had several professional jobs on her résumé.
READ: A Film + TV Training Route When Drama School Isn't An Option
"I was working with people twice or three times my age. I matured and learned so much by being in that environment," Comer says. She also recognized that she was "lucky enough at that age to be working," and chose to continue rather than pause for drama school. Though she admits there are aspects of her craft that could benefit from formal training, she knows some skills you just can't learn in a classroom. "I don't think talent or an instinct for acting is something you can teach."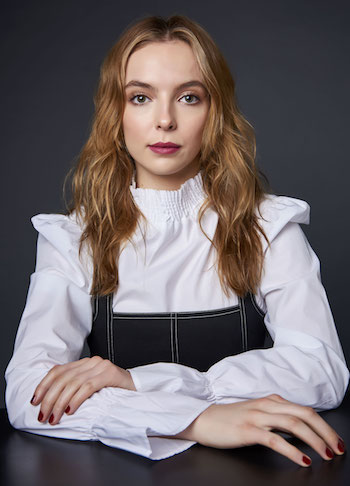 A big part of being a professional actor that can't be taught? Accepting rejection and waiting. After her early success, Comer faced a life that's well-known to the working actor: "You have to be confident enough to pick yourself up and go to 30 meetings and be told no every time and not take that to heart. That was something I really wasn't aware of, being told no." But the waiting game is part of what she appreciates about the job. "I've had months at a time without a project, which is a bit daunting, but that's what I love about it. You just don't know where you're going to be next week. You might still be at home on your couch in pajamas or you can be going to London and filming a series like 'Killing Eve.' "
Being unemployed for stretches of time has proven just as informative as getting cast in a project. "I learned you can't [pin] your happiness on the validation of getting a job," she says. Her go-to career advice has come not from her co-stars, but her nonactor parents: "My mum used to always say to me, 'What's meant for you won't pass you by,' and it's true. If I didn't get something, it wasn't meant for me. I'm so much better at understanding that now rather than feeling as if I were robbed."
"Killing Eve" is the only exception to that rule. "Usually, I can watch if I don't get a part," she explains, "but I said, 'If I don't get this, I don't think I can watch it,' which is such a shame because I love this script so much."
Ahead of the show's April 8 premiere, Comer is already hoping she gets to revisit the young killer. "Villanelle is not self-conscious at all; she doesn't care. At first, because I'm quite a self-conscious person, I'd have to totally be rid of that. The more it went on, the more I went with it, the more fun it was, and the better it worked. It was so liberating," she says. "It's so bad because I just excuse everything she does, which isn't always right. I love her. I feel so lucky."
While she waits for the world to be introduced to Villanelle and "Killing Eve," Comer's enjoying her free time and even the uncertainty of her next steps—she never knows how long it will last. "Maybe I should book a holiday," she jokes. "Just get a one-way ticket and see what happens." Though she'll keep her phone close by, just in case.
Looking to get cast? Apply to casting calls on Backstage.
Photographed in NYC on March 2 by Matt Doyle