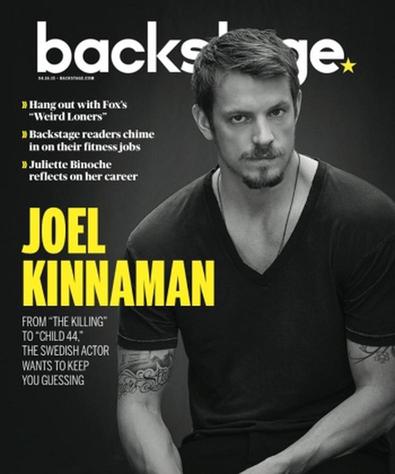 Just over a year ago, Joel Kinnaman was learning the hard way that no one knows anything in Hollywood. As the title character of Brazilian director José Padilha's ambitious "RoboCop" reboot, Kinnaman was expecting to see his profile—already growing, thanks to his starring turn on AMC's "The Killing"—elevated a notch at the film's release. But then the Hollywood gods intervened. " 'RoboCop' got hit by half the country being buried under a snowstorm that weekend," he explains, the disappointment in his voice still palpable, between bites of a gourmet burger at Hollywood gastropub the Pikey. "I'm still proud of it."
Kinnaman regrouped slightly and assessed his aims. "Things always fluctuate, and you've got to keep your eye on what you want to do and why. Then be patient and not sell yourself short. You can only control your work and remaining passionate about it. That's the trick—and now everything is going really well. Even then, offers were already coming in."
Three grabbed his attention: the action thriller "Run All Night," opposite Liam Neeson; the heavily anticipated "Child 44," out this week, based on a best-selling book by British writer Tom Rob Smith and starring Tom Hardy, Noomi Rapace, and Gary Oldman; and "The Bends" with Rosamund Pike (scheduling the pair is proving difficult).
Clearly, Kinnaman's career is heating up to the degree that no one in the know is surprised that he replaced Hardy in David Ayer's "Suicide Squad." Currently filming another thriller, "Backcountry," in Canada, Kinnaman will immediately join the rest of the stellar cast: Margot Robbie, Will Smith, Jared Leto, Viola Davis, Scott Eastwood, and Cara Delevingne.
In "Child 44," he plays one of his least sympathetic characters yet. Set in Stalinist Russia in 1953, the film features Kinnaman as loyal Stalinist Vasili, capable of the most heinous acts and riddled with hatred for Leo Demidov (Hardy), who is trying to stop a serial killer of children against much resistance in Moscow.
"I was drawn to the idea of playing a sociopath," Kinnaman says. "I really like those kind of roles, too. Often they are the bad guys but also some of the people you learn the most from playing. They are the ones that are usually the furthest from you. I loved working on the film. It felt like we were in summer camp; very intense, emotional summer camp. And then of course to work with Tom and Noomi and, most of all, Daniel [Espinosa] again—I love working with directors over and over again, that shorthand you build on a movie; you have it from the first day and it's always there."
Kinnaman and Espinosa, a fellow Swede, are close friends who have now worked together on three projects, including 2010's Swedish film "Snabba Cash" (retitled "Easy Money" in the U.S.) and 2012's "Safe House," starring Denzel Washington and Ryan Reynolds.
Their shorthand, however, led to some consternation on the film's set in Prague. "It was the very first day of shooting, with 20 extras and crew in a room. Daniel said something that pissed me off, in Swedish. Then we started having a big argument, screaming at each other, then he walked out and I walked out," Kinnaman recalls. "Then we came back into the room and said, 'Let's go.' We know each other very well. Arguments don't bother us, and often when we work, we hardly have to talk."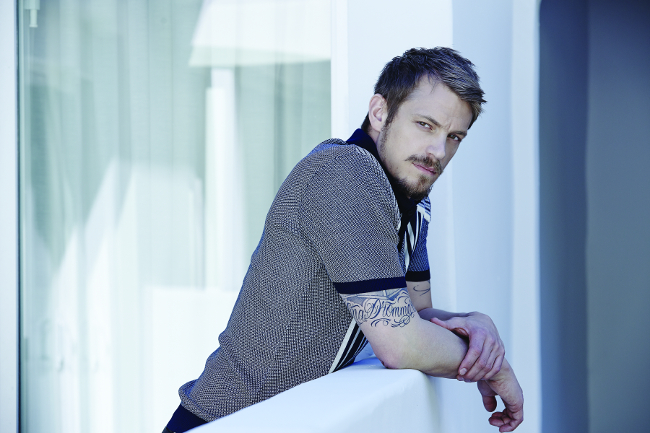 Rapace is a friend as well, and Kinnaman says she "may have done her best work in 'Child 44.' " She speaks admiringly of his work in turn. "Joel's acting is beautiful. Every take we did was different, exploring the scenes and the relationship together. I loved it."
Before leaving for a set, the Kinnaman way is late nights and lots of them. "I read the script over and over. I read the book twice. It's usually nights when I work on roles, when everything else is closed down," he says. "Your mind quiets down a little bit because you're tired. But I don't go to bed and end up wandering around in my bedroom for four or five hours. All of a sudden it's 6 in the morning and I probably have to go to work or shoot that day. But my imagination kicks in a lot more when I'm a little fatigued. The worst feeling I can have on set is too many coffees. That makes me present in the wrong way. If I'm tired, I can access everything in a much easier way. I sort of melt right into it."
His current preparations sound even more exhausting—he films during the day, goes to the gym afterward, sleeps, and eats. "I hate food so much right now," he grimaces. "I'm trying to look like a cartoon, so I've got to gain weight. I gained 28 pounds in eight weeks; I'm trying to do 10 more pounds. If you want to gain this much weight in a short period of time, you can't eat clean. There's a lot of mashed potatoes and hamburgers. I'm getting a little flabby."
"Run All Night" was different again, a strategy Kinnaman admits is virtually his only one. "The culture I grew up in revered the actors who took very different roles. If I was ever so lucky as to have an audience that followed my work, my dream would be that they'd go to see a new film wondering, 'What's he going to do with this role?' "
Playing Neeson's son was a dream scenario. "I will never forget his performance in 'Schindler's List.' And 'Run All Night' was a beautiful, emotional script, but I did have some notes. My character, Mike, was too clean-cut for someone growing up with a known gangster and alcoholic father. That's going to leave traces, built-up anger. They accepted my notes and I do feel they added dimension." Neeson calls Kinnaman "a terrific, energetic actor and a lovely guy." Kinnaman simply observed him in action. "Liam doesn't complicate things unnecessarily; there is no chatter. You go in, do your job, and if you carry the conversation of the story inside of you, you don't have to overthink things. That can be very powerful."
Kinnaman first acted by chance as a child, and sees parallels with his older self. "My sister was dating Ingmar Bergman's son, who was directing this Swedish soap opera. They needed a 10-year-old: I got the part and filmed for a year. I've since heard I was very opinionated then and was already rewriting my lines." He didn't act again until long after school, when he observed friends getting accepted to drama school and thought he might try it out as well, enlisting an older actor as his coach. "One time he looked at me and said, 'You could really do this if you want.' And I felt that, too. It was the first time I felt that I might actually be good at something."
Want to read more? Check out our Backstage covers here!