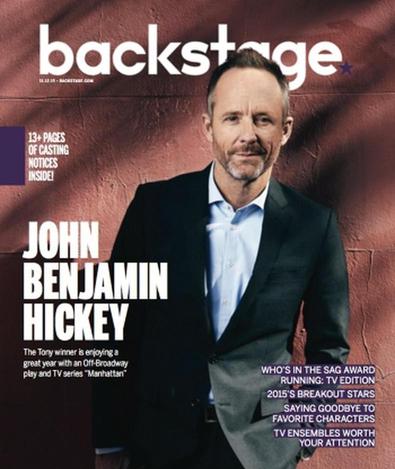 Sitting in Tavern on Jane on a late October afternoon, John Benjamin Hickey is reminiscing about the last time the N.Y. Mets won the World Series—in 1986.
"The Normal Heart," Larry Kramer's play about the HIV epidemic, had just premiered the year prior, and Hickey, in his mid-20s, had just arrived in New York City. "I came of age as an actor in New York in the early '90s. This was the age of Tony Kushner and Craig Lucas and Paula Vogel and [Jon Robin] Baitz and Terrence McNally. And these were playwrights who were addressing the epidemic and the AIDS crisis so brilliantly," he says.
"But the other side of those plays [is that] they were sort of meditating on our place as outsiders—on gay men's place as outsiders. And there was sort of an implicit plea inside these plays for straight audiences to see the characters as like them."
Hickey built his career upon those plays, making his Broadway debut in McNally's "Love! Valour! Compassion!" and winning a Tony for playing Felix Turner in the 2011 revival of "The Normal Heart." But his newest project, Peter Parnell's "Dada Woof Papa Hot," couldn't feel more like a departure from that era.
Directed by Scott Ellis ("On the Twentieth Century,"), the Lincoln Center Theater production follows two couples—Alan and Rob (Hickey and Patrick Breen), and Scott and Jason (Stephen Plunkett and Alex Hurt)—as they become friends after meeting at a parents' group. It traces how their lives mirror those of their straight friends, and what life as a gay man is like after the Supreme Court's June 26 decision to legalize same-sex marriage redefined cultural norms.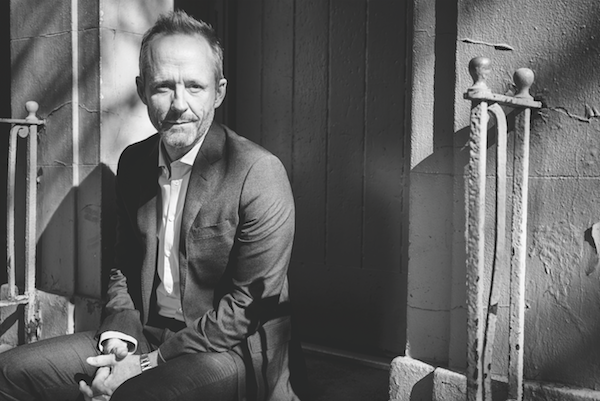 In one scene that exemplifies what Hickey calls the "melancholy heart" of "Dada," Alan and Jason are sitting in his daughter's bedroom. Designer children's furniture fills the Manhattan apartment.
"I just don't feel gay anymore," Alan says. "Not in the way I used to feel."
Jason asks if it's because he got everything he always wanted. "And I say, 'Yeah, I guess, but being like everybody else isn't exactly what I wanted, either,' " Hickey says.
"It's a play about what you do when you've only ever defined yourself as somebody who's on the outside [and is now on the inside]."
The actor can relate. A Texas native, Hickey says he was "scared to want to be an actor." He followed Tony-winning Texas State University classmate Julie White when she left for Fordham University. "I wanted people to talk about me the way they talked about her: this great actress who left school and followed her dream to New York City."
Almost 30 years later, he's cemented his place as an insider, landing roles on everything from Showtime's "The Big C" to "Pitch Perfect," and now the hit WGN America series "Manhattan," on which he plays theoretical nuclear physicist Frank Winter.
Set against the backdrop of World War II and currently airing its second season, "Manhattan" is loosely based on the real-life Manhattan Project, set up by the U.S. government in the 1940s to develop the world's first nuclear bomb. Frank, a lead scientist who believes the work he's doing is of the utmost importance, is a "fictionalized composite of the most brilliant scientific minds of the planet," according to his portrayer—and not exactly the kind of material to which Hickey's accustomed.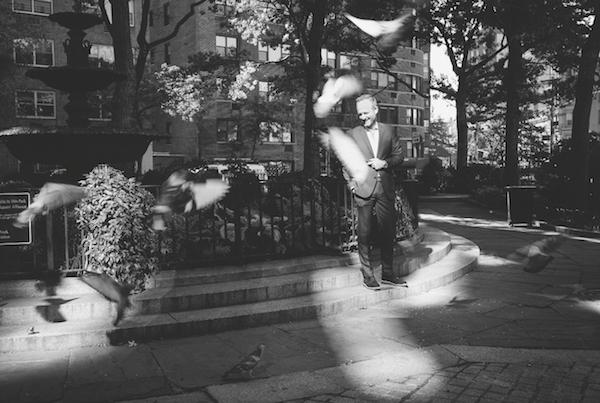 "I was reading Neil Simon plays in high school. I wanted to be the lead in 'Barefoot in the Park.' I didn't want to go to physics class," he says with a laugh.
But if you have a lame left leg, as Hickey explains it, you tend to favor the right, meaning, "If you have a hard time understanding the brainy stuff, you have to look at the emotional truth of the character."
And because the work the scientists on "Manhattan" are doing is highly classified—they can't even tell their families, and the outside world doesn't know their New Mexico town exists—Frank is the perfect candidate, as he prefers theories and ideas to people.
To find the character within himself, Hickey sought out their psychological similarities, asking, " 'What kind of a child was he? Where did he not get enough love that drives him in such a way?' All those things we have in common as damaged adults.
"Playing a person as complicated and, on paper, so different [from who] I am has been a wonderful form of therapy for me," he adds. "As an actor, you have to break yourself down to find that character within, so you find the commonalities but you also grow."
This process is one his co-star Breen has seen before; the two have been acting alongside each other since 1991, when they starred in the Lincoln Center production of "The Substance of Fire." The actor says Hickey's ability to create a character is unparalleled. "His character work is really specifically detailed," he says. "In 'The Normal Heart,' to show [Felix's] decline from AIDS, he put a pebble in his shoe to give him a feeling of pain when he walked, and I thought that was just fantastic."
With "Manhattan" on TV, "Dada Woof Papa Hot" playing Lincoln Center's Off-Broadway Mitzi E. Newhouse Theater, and "Truth," in which Hickey has a small role opposite stars Robert Redford and Cate Blanchett, currently on screens across the country, Hickey has to admit, "I don't know if there's more to ask for as an actor than that kind of range of opportunity."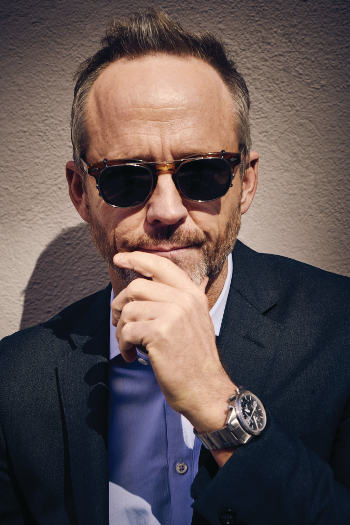 As a character actor, he says, "There's always a sense of a journeyman about [us]. No matter where you are in your career, you go where the job is and you go where the love is."
---
Life Isn't Always a 'Cabaret'
Never read the reviews. John Benjamin Hickey knew this when he starred in the 1998 Broadway revival of "Cabaret," but he couldn't help it.
"I'm kind of a firm believer that actors read reviews looking for something that's gonna get them, that's gonna sting. [There's] this weird part of us that's not satisfied until we scratch that itch," he says.
The iconic production starring Alan Cumming as the Emcee, Natasha Richardson as Sally Bowles, and Hickey as American writer Cliff Bradshaw received rave reviews and four Tony Awards (including best revival of a musical), but the "young, impressionable, and very thin-skinned" star managed to seek out a negative review that scratched that masochistic itch.
"This was kind of pathetic: I called my mom in Texas and was like, 'This is too hard.' But I managed to survive it!" he says with a laugh. "So I'm as thin-skinned and vulnerable as the next person.
"You know, the question is: Have I ever had hard times? Yes, and I continue to have them. You just try your best to ride out the hard times, but I don't think they ever go away."
Want to read more? Check out our Backstage covers here!