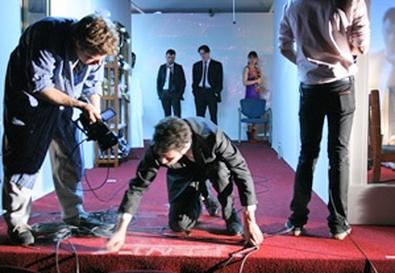 "It is important to be messy. And real," writes director Doris Mirescu in the program notes for her multimedia stage adaptation of John Cassavetes' 1970 film "Husbands," a production of her company Dangerous Ground that's part of the Public Theater's Under the Radar festival. Mirescu's staging gets across the "messy" aspect, and her able cast is certainly "real," but this sometimes confusing three-hour production proved too messy and real for the many audience members who left at intermission. Those who stick with it, though, will be rewarded with an intense, painful, and imaginative examination of male friendships and macho posturing.
Employing Cassavetes' original dialogue—most of which, contrary to popular belief, was scripted, despite its improvisatory feel—the show follows a trio of buddies on a four-day bender after the funeral of a contemporary. The protagonists Gus, Archie, and Harry (played in the movie by Cassavetes, Peter Falk, and Ben Gazzara) are adolescents in adult bodies, fleeing from rapidly approaching middle age and responsibilities. They impulsively fly to London to gamble, drink, and hook up with younger women. The film, along with all of Cassavetes' work, has no strong plot but conveys the subtextual connections between characters through small details, fragmentary dialogue, and the expressive features of the cast.
Mirescu has found a theatrical equivalent of Cassavetes' famed cinéma vérité style by having onstage cameramen follow the cast around—including into offstage bathrooms—and projecting the images all over her purposefully cluttered unit set. The young women in the cast, garbed in 1970s cocktail dresses, continually wander in and out of the action, like elusive objects of desire. Another ubiquitous, mysterious figure, a mature lady in an evening gown, played with mute grace by Gayle Greene, may represent the dead friend's widow, the mothers of the directionless heroes, their absent wives, or all of the above. The original director's spirit hovers on the edges in the form of a DVD of his short-lived 1960s NBC series "Johnny Staccato," which constantly plays on a TV set. Also, the dead friend is called John here, while in the movie his name is Stuart.
At first the production seems totally rudderless, with scenes blending into and overlapping each other, body mikes loudly rubbing against clothing during embraces, and occasional inaudible dialogue. But the close-up images and the strength of the acting gradually create a compelling portrait of three men searching for their vanished youth. The 12-member ensemble delivers sterling work. My only quarrel is the age of actors Florin Penisoara (Gus), Anthony LaForgia (Archie), and Francis Oberle (Harry): In their late 20s to early 30s, they are more than a few years shy of midlife crisis.
Presented by and at the Public Theater as part of Under the Radar, 425 Lafayette St., NYC. Jan. 6–17. Schedule varies. (212) 967-7555 or www.publictehater.org.