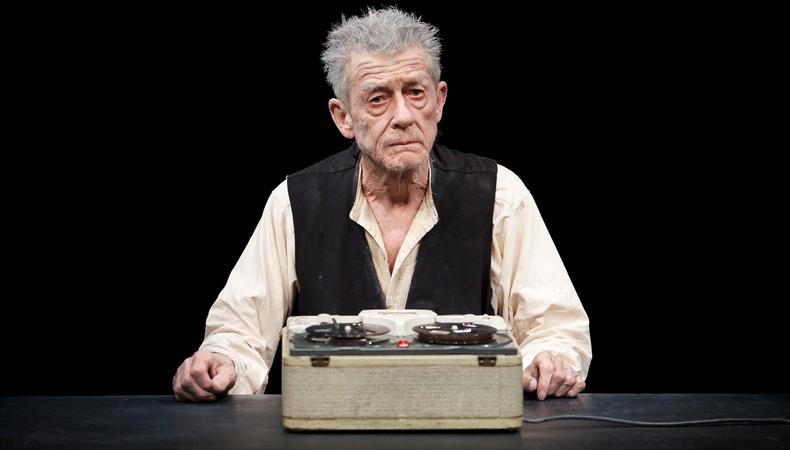 Lights up on a man, his face deeply lined, his eyes red and sunken, his hair silver and in messy tufts. A thrift store wouldn't sell the pants or shoes he's wearing. His hands splay across the front of the desk at which he is seated as though they are anchoring him in place. For easily a full minute, the man does not move. Not even a blink. The man's physical resemblance to playwright Samuel Beckett cannot be accidental.
Though his return to Beckett's "Krapp's Last Tape" represents his Los Angeles stage debut, John Hurt is no novice to the stage, to the works of Beckett, or certainly to this role. "Tape," which Hurt previously performed in London, Dublin, at the Brooklyn Academy of Music, and in a 2000 TV adaptation, is a showpiece and a tragedy in miniature. The performer, directed by Michael Colgan of Dublin's Gate Theatre, leaves no actorly stop unpulled. In fact, he's putting on a veritable clinic.
Comedy? It's there, from the near obscene delight Krapp takes in holding a banana in his mouth to the Chaplinesque twirl of his cane and a bit of cat-and-mouse with the light borders. When he chuckles along with a humorous memory, trying unsuccessfully to out-roar his taped self, the laughs are contagious. Beckett, even at his bleakest, sees plenty of humor in this crazy puzzle we call the human condition.
Pathos? Most certainly. While listening to a particularly tender memory from his younger days, Hurt's Krapp cradles the tape recorder as he would a lover, his eyes seeming to retreat even further into his head. Krapp interacts only with himself via his voice on a now 30-year-old tape that he is constantly rewinding or pushing past as sweet recollections turn bitter. The role is one of the loneliest in classical drama, and Hurt—his head twitching occasionally to see whether somebody might finally be coming—makes us feel every pang.
And every surprise. Faced with the more robust and confident voice of his 39-year-old self, this Krapp seems not to recognize his words, his voice, or certainly his life observations. The absurdity over a dictionary definition ("the state—or condition—of being—or remaining—a widow—or widower") leads to frustration or befuddlement rather than amusement. Even with his voice at full if dying-breath strength, the claim that "Perhaps my best years are gone. But I wouldn't want them back. Not with the fire in me now" still rings hollow.
Of course it does; what choice does a man staring down his own mortality have? Beckett knew this so well. So does John Hurt, via what is fast becoming a career-defining performance.
Presented by Center Theatre Group and Gate Theatre Dublin at the Kirk Douglas Theatre, 9820 Washington Blvd.,Culver City. Oct. 10–Nov. 4. (213) 628-2772 or www.centertheatregroup.org.
Critic's Score: A-