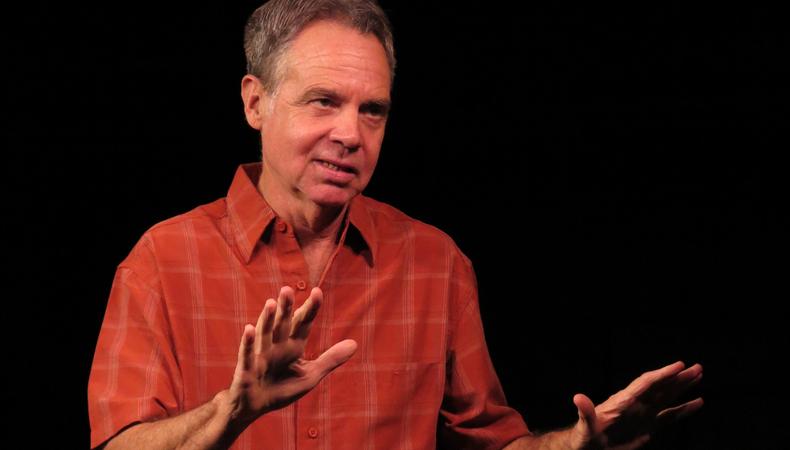 Though playwright-performer John Jiler deals provocatively with the subject of death in his 80-minute one-man play "Ripe," the show is vibrant with life. And the principal life span being examined is that of Jiler's rambunctious father, Morris, who lies dying as his son keeps watch. While Morris may be its lively centerpiece, the play is also a wider-ranging consideration of father-son relationships: Jiler, himself a parent at 50, must cope with his inquisitive young son, Toby. This touching memoir of the three Jiler males is consistently engaging, helped by a supporting cast of animated characters that Jiler the actor dispenses with easy skill.
The play's opening has Jiler on the phone to his local pharmacist ordering three sets of diapers: one for Morris; one for his mother, Julia; and one for Toby. Immediately, we have a protagonist caught in the middle, a baby boomer who must juggle the dying and the newly alive. In the process of tending to the present, we slowly learn to assemble pieces from the past. Jewish Morris, home from World War II, meets Irish Catholic Julia. When marriage is announced, both families are bitterly opposed, but the wedding takes place at city hall. Nobody comes except Morris' father, who arrives too late. There are the happy penniless days, but with the birth of John, Morris is not often on the scene ("Dad was strangled by fatherhood"). Morris, successful in the commodities market, becomes a big-time gambler, with the racetrack as his second home. When John is 12, Morris introduces his son to Belmont and its colorful habitués.
Back in the present, John takes a precautionary visit to Campbell's East Side funeral home, where Peter the director promotes the expensive caskets ("It's a one-time shot") while advising that the track lighting exposes cheaper woods. We also hear the conversation of funeral workers—body collectors, actually—complaining about a fourth-floor-walkup job. A further persistent problem is Morris' belligerent Irish nurse, Brigit, who offers advice at every turn and states that John, because of his mixed parentage, has "no moral anchor." Worried that his genteel mother may be suffering, John sends Julia to a psychiatrist, but she is much too inhibited to discuss personal matters. At home she quietly defends Morris to the end ("Even in his dirty jokes there was character development").
Director-designer Sturgis Warner keeps the tale vital and Jiler moving on a set of simple wooden platforms, with votive candles representing the dying man. It is a story and performance that deserve a wider audience.
Presented by and at Theater for the New City, 155 First Ave, NYC. Oct. 13–Nov. 11. (212) 868-4444, (212) 254-1109, www.smarttix.com, or www.theaterforthenewcity.net.
Critic's Score: A