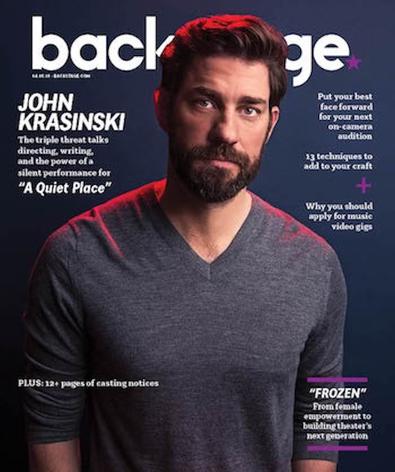 From all angles, it appears John Krasinski is living every actor's dream. In the 15-odd years since he started acting—on a whim after seeing a flyer for a sketch comedy group while walking across his college campus—he's starred in a long-running, much-beloved network sitcom, landed supporting roles alongside some of Hollywood's heaviest hitters, become a bona fide leading man in an action film, and donned both a writer's and director's hat. (Yes, he also has the requisite "Law & Order" credit on his résumé.)
When you add "A Quiet Place," his latest film, in which he plays the role of scribe, auteur, and star, to the mix, it's obvious there's only one thing left for Krasinski to do before he can retire: throw on a cape and play a superhero.
It's the kind of career that's been hard-fought and even harder won, and that has him earnestly referencing advice he's received from friends and colleagues like George, Michael, Ed, Gus, and Emily. (That's Clooney, Bay, Harris, Van Sant, and Blunt, his wife, respectively.)
It took years of hard work and dedication, but here's the thing about Krasinski: He utterly adores what he gets to do every single day. Talking about it, his eyes get bigger, he sits up taller, and when he says things like, "This [industry] can't be a world of 'I wish I had, I wish I had.' You've got to look to yourself every day and say, 'I'm so glad I get to be doing what I'm doing. I wonder what comes my way today,' " you believe that's really how he approaches life.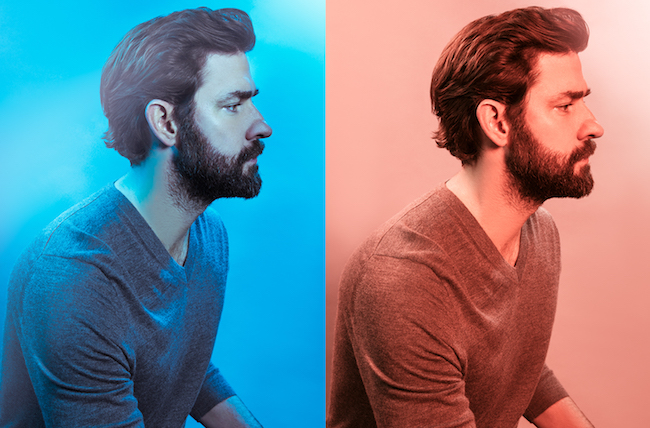 Playing Jim Halpert, the floppy-haired resident prankster of "The Office," for nine seasons would have made it easy for Krasinski to fall into a comfortable pattern of everyman roles: relatable, handsome without being intimidating, adorably goofy. And for a while, it seemed like those John-as-Jim parts would stick. His "Office"-era projects were made up mostly of rom-coms ("The Holiday," "License to Wed," "It's Complicated," "Something Borrowed"), animated voice work ("Shrek the Third," "Monsters University"), and playing his affable self in similarly feel-good films ("The Muppets"). But in the space between those "on-brand" marquee projects, he began making small moves in different directions.
READ: How to Become a Film Director
In 2009, he stepped behind the camera for the first time with "Brief Interviews With Hideous Men," a film adaptation of David Foster Wallace's book by the same name. Three years later, he teamed with Matt Damon to pen the screenplay for and co-star in "Promised Land," a drama about fracking and the death of small-town America. He pulled double duty again with 2016's "The Hollars," directing and playing one of two sons in the drama about a dysfunctional family dealing with a brain tumor. Not exactly fodder for laughs.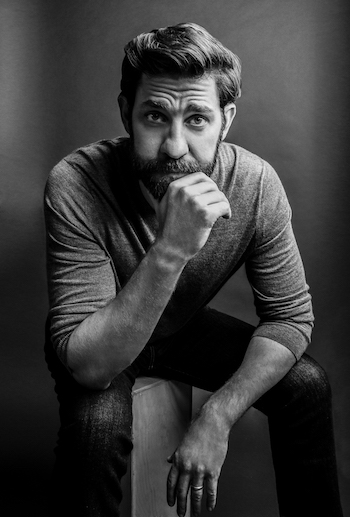 According to Krasinski, he didn't take on these projects to keep himself from being pigeonholed or typecast for the rest of his career. "I have to connect to it emotionally," he says, referring to what makes him say yes to a project. "There's gotta be something, some sense of 'I know what to do with this role' or
'I know what to do with this as a director.' "
From the get-go, he's felt that the nature of a varied career fulfilled a promise he made to his younger self and fellow struggling actors back when he was waiting tables in New York after college. "I'm not trying to run away from comedy in any way, shape, or form. But living in New York as a waiter, the one thing you don't get very often when you're trying to be an actor or writer or director [is to] do what you really do—you're just trying to make ends meet. There was a group of us who would meet every Sunday night.... We would talk about plays, music, movies, books. It was the only day of the week we actually freed ourselves up enough to do that.
" 'The Office' gave me so much, and so much of the business opened up to me. I felt like it would be a total shame and a weird, almost waste of an opportunity because when I was at those [Sunday night] tables not acting, I would sit with the guys and say, 'The best part of what we do is choosing to do a whole bunch of different things...and looking at what you're interested in.' So when I got 'The Office,' I thought, I'm gonna try to do a bunch of things just like we talked about." (He even named his production company Sunday Night to honor those early days.)
Yet despite the unpredictable path his art has taken, Krasinski says, "I'm pretty sure that by the end of my career, the thing I'll still be most known for is Jim, and that's awesome. I couldn't be happier about that." But his latest role, his first ever as a triple slasher—writer-slash-actor-slash-director—may just change that.
READ: How to Create Your Own Content
Prior to its official release on April 6, horror film "A Quiet Place" has been making waves as more than just a scary movie. Sure, there's a requisite Big Bad, a tense fight for survival, and many (many) moments of terror, but when you strip away the visual effects and occasional death, it's an examination of a family and the way people communicate—or don't—with one another, told with almost no dialogue.
Set in the near future, a mysterious breed of creatures has wiped out nearly all of Earth's human inhabitants, save a family made up of a father (Krasinski) hell-bent on protecting his kin, a mother (Blunt) insistent on letting her children experience life, a hearing-impaired daughter (Millicent "Millie" Simmonds, who is deaf herself), and a son (Noah Jupe). Because the monsters hunt via sound, the only way to survive is to live an impossibly silent life, communicating via sign language and facial expressions. The result? A movie that's basically a modern version of a silent film, something the multihyphenate compares to a "magic trick."
If this seems like a bit of a departure for Krasinski, that's because it is. Recalling the first time a producer asked if he'd consider acting in a genre movie, he said, " 'I can't even watch genre movies, I'm too scared. But if it's a cool idea…' The line they pitched was: It's about a family that can't speak and you have to figure out why." He was sold.
When he got the spec script, "it wasn't really there, but the idea was.... Within hours, I had this vision of what I wanted to do." With Blunt's urging—"She was actually the one who said, 'You seem so excited and so connected to it, you should direct it,' "—he agreed to star if he could also rewrite and helm.
"It was the most fun I've ever had writing a script because it's basically like writing your imagination.... I got so into it that I saw the movie already," he says of penning something with minimal spoken lines but a whole lot of direction. "Most of my directing happened in the script writing because I formulated this vision. I wanted every single second of the script to feel visual and feel like you cared, and not leave anything to chance. Instead of saying, 'This is a shot of the family having dinner,' I wrote out everything that happened at the dinner so we could all see it."
As a writer, a script light on lines was a dream to concoct. But as a director, Krasinski knew the challenge would be capturing what the actors (and he) were communicating with just their faces and gestures. It wasn't until he noticed Simmonds "taking all of me in when she was listening" that he realized the potential weakness of the film was also its greatest strength.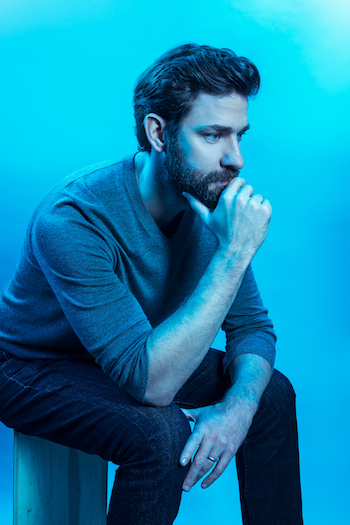 "After a few days on set, I saw the actors emoting such incredible context and power with no dialogue. The idea of capturing fear or love or wanting to feel safe—they were able to communicate so much on their own. I was so blown away by the power of the performances without words that I thought, Man, if this translates on camera, we really might have something here."
Ever humble, Krasinski credits his years in front of the camera working with other directors for the success he's found behind it: "As an actor, you get to see the world and how the whole circus works, so you hope you can put it all together. It's the reason why I have the confidence to direct—I've seen the whole process."
And while his next big role as the titular character in Amazon's political action thriller "Jack Ryan" series sees him trading his writer-director hat for a CIA prop badge, it's yet another subversion of career expectations.
After that? Maybe a cape.

---
Making the choice to be confident.
When it comes to the advice he'd give his younger self, Krasinski says, "Confidence is everything." Particularly as a young actor, "it's the confidence to keep going and make choices and dedicate yourself to why you really love what you do. Choosing to be an actor is obviously a very difficult and long road, and I think at the end of the day, where I succeeded the best was where I felt the most confident....Taking a chance is what it's all about. It's really a scary thing. When you wake up in the morning and everything around you is saying, 'You're not gonna get it, you can't get it, there [are] so many other people,' you just harness a little bit of real, honest confidence and say, 'Yeah but you know what? It could be [me].' "
Check out Backstage's film audition listings!
Photographed at the Whitby Hotel in NYC on February 22 by Emily Assiran