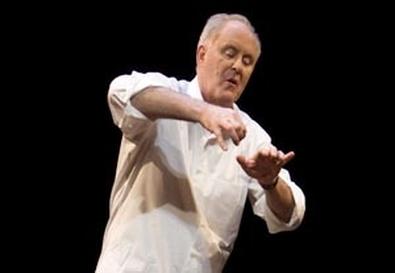 No doubt about it: John Lithgow is a formidable raconteur. With just a coat rack, a high stool, a couple of small side tables, an armchair, and a scattering of Oriental rugs on the otherwise empty stage, he compels our attention as first he shares tales of his boyhood, then links them to a rendition of Ring Lardner's 1925 short story "Haircut." It's a subversive satire of Americana and small-town Midwestern life with a bitter aftertaste, and Lithgow serves it with the requisite sting.
Lithgow spent his youth moving back and forth with his family between New England and Ohio as his father pursued a career in theatre. He knows what it was like to be the new kid in small-town America, and it gives him a perspective on what he calls the "openness and insularity, kindness and cruelty" of the Midwestern natives. He begins the evening with a rendition of a folk song titled "Eggs and Marrow Bones," which tells the story of a woman who first blinds her husband and then attempts to murder him, only to find herself the victim when he turns the tables on her. It's a sunny slice of darkness, and the perfect aperitif to Lardner's story.
"Haircut" is told by a single narrator, a nameless barber in a small town in Michigan who is giving the traditional shave and a haircut to a newcomer. Naturally, the barber rambles on about the town and its inhabitants, telling stories that initially seem unrelated but eventually coalesce as Lardner reveals his own purpose as storyteller. Central to the mayhem is Jim Kendall, a good ol' boy who loves to play mean practical jokes that most everybody in town, at least according to the barber, thinks are downright hilarious. Kendall's stunts include viciously teasing a mentally handicapped 10-year-old boy, sending anonymous notes to husbands accusing their wives of infidelity, and the attempted rape of a young woman. As the barber tells these tales, he laughs heartily at that rascally Kendall and his antics, morally blind to their real nature.
Under director Jack O'Brien's quiet guidance, Lithgow spins this yarn while expertly miming a complete shave and a haircut by that high stool, which he invites the audience to imagine themselves occupying. It's quite a feat, perhaps at times a little too distracting, as it tends to make us wonder how he manages to coordinate and remember it all. He creates a fully realized barber; having grown up in small-town Ohio, I easily recognized him, not to mention the various other characters the barber describes. Like Meredith Willson, Lardner knew the territory. If I didn't enjoy the journey to Lardner's knife-turning ending quite as much as the rest of the audience seemed to, it's probably because I know the territory all too well.
"Haircut" is now relatively obscure, but apparently it was quite well-known in its day, even contributing its final line -- "Comb it wet or dry?" -- as a catch phrase to the popular culture. If only for a moment, Lithgow's expert rendition brings a small gem of American writing back into the light.
Presented by Lincoln Center Theaterat the Mitzi E. Newhouse Theater, 150 W. 65th St
.,
NYC
.
April 19
–
May 24. Sun
.,
7 p.m
. (
Additional performance Mon
.,
April 20, 7 p.m
.)
(
212
)
239-6200
, (
800
)
432-7250, or www.telecharge.com
.