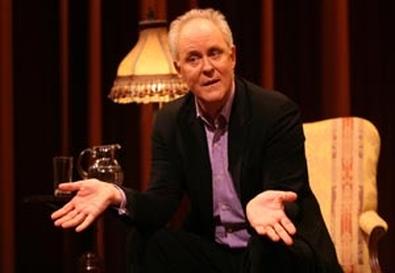 This is Back Stage's review of the show's original run in spring 2008
.
About the only thing that doesn't work in John Lithgow's one-man show
Stories by Heart
is the title. The name holds out the promise of a lineup of performed pieces, but the program isn't quite so full. Apart from Lithgow's "stories about stories," there's just a curtain raiser and then the main event. But it turns out that's all Lithgow needs to fashion a deeply fulfilling evening.
As he takes the intimate Newhouse stage, looking tall as ever and trimmer than he has in recent years, Lithgow offhandedly engages in a bit of mind reading. Why, he senses the audience wondering, would anyone engage in such a musty, vainglorious activity as mounting a one-man show? The answer he proffers is the power of storytelling—and the dazzling performance that follows (directed by Jack O'Brien) more than justifies the form, which Lithgow has a bit of fun with anyway, entering with old book in hand and beginning one rendition in a high-backed chair, reading glasses firmly in place.
Lithgow's first offering is "The Wonderful One-Hoss Shay," an Oliver Wendell Holmes poem inflected with wintry New England wit. Grammy Lithgow used to share it, and now her grandson passes it on with excellent diction and a playful twinkle. It's exactly what you might expect from a man who happens to be a great Shakespearean, a wonderful all-around comedian, and a marvelous musical theatre performer (albeit a poor singer). What follows is the surprise.
Leading up to a virtuosic performance of P.G. Wodehouse's "Uncle Fred Flits By," Lithgow allows his eternally heightened theatrical veneer to crack. The larger-than-life Lithgow vanishes, replaced by a mass of aching vulnerability recounting how he came to read the story to his ailing father, a vagabond of the theatre who helped pioneer the regional movement. There's no artifice in this lovely, honest tribute—and no self-indulgence either.
Long before the evening might turn too personal, Lithgow launches into the Wodehouse yarn, a colorful Pongo caper with vivid images—the pink chap, the parrot—that stick in the mind. The tale provides occasion for Lithgow to trot out a sublime assortment of English accents, arched eyebrows, and rubber-faced antics. It's absolute fribble and, through Lithgow's bravura performance, comes to seem substantial enough to have rehabilitative powers. It's certainly substantial enough to justify yet another one-man show.
Presented by Lincoln Center Theaterat the Mitzi E. Newhouse Theater, 150 W. 65th St
.,
NYC
.
April 27
–
May 18. Mon
.,
7 p.m
.
(
212
)
239-6200
, (
800
)
432-7250, or www.telecharge.com
.