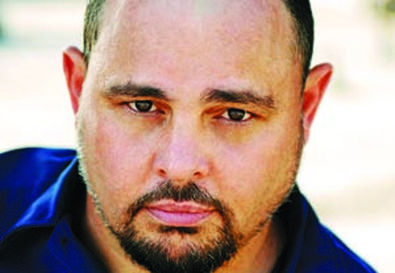 Know your "type" and submit only when appropriate are basic rules every actor should follow, yet many do not. Fortunately for Johnny Ferretti, he has made these rules the foundation of his pursuit of acting, and so he landed the role of Bruno in the theatrical world premiere of "Moose on the Loose."
Ferretti routinely picks up the print edition of Back Stage from his local 7-Eleven. "I like having the physical thing and circling the roles that I like in a red pen," he says. Maybe it's his technical background—a degree in journalism and electrical engineering, flight testing airplanes for Boeing, and working as a software consultant—that gives him a focused approach to acting. "I've been at this long enough to know for the most part what kind of characters they [casting] are going to want me to play," says Ferretti. "I'm wasting my time if I submit for something that I'm not right for."
The writer-producer of "Moose," Dina Morrone, wishes all actors were this self-aware and finds it alarming how many submit themselves when they do not fit even the basic physical description. Morrone was frustrated and disappointed at not being able to find the right actor for Bruno. Exhausting her search through various personal and professional contacts, she decided to use Back Stage. Morrone says she appreciated the help she received from a Back Stage staff member in rewriting her character descriptions to help yield the best results and fondly remembers receiving Ferretti's submission and subsequent audition. "I had just finished complaining to the other producer and to my director that I was never going to find this actor," she recalls. "I went online, and this guy [Ferretti] submitted. It was 1:15 in the morning, and I went, 'Oh, my God. He's Bruno!' " Morrone immediately added him to the audition list. "Then he came in and auditioned, and he was perfect looks-wise. He was so prepared and did some improv within the lines, and we knew, like the minute he opened his mouth, he was just the right guy for the part."
Director Peter Flood was equally pleased. "He was a perfect match: his sense of humor, his timing, and his temperament," Flood says. "I never looked for anybody else once Johnny walked through the door."
Flood resisted using Back Stage for fear of attracting a huge cattle call to the audition process. But in the end he was glad that Morrone went behind his back and placed the notice. "It was a good move; I was wrong, she was right," he says. "Everybody who came in through Back Stage I thought was worth seeing. I wouldn't hesitate to use [Back Stage] again." Flood was impressed with Ferretti's preparation and improv ability in the audition. "I needed a smart actor who could push the play forward, an actor who had a sense of the character and had what I would call their own authority, so they're not just waiting to be told what to do either by the line or the director."
Ferretti studied acting at the Beverly Hills Playhouse for almost a decade and credits Gary Imhoff, a teacher there, as a major inspiration, as well as Julia Fulton from UCLA, whom he studied with briefly prior to that. He doesn't attach any specific label to his technique, describing it simply as "a belief in circumstances, to take things as they come and react to them as the person I am at that moment."
Ferretti also sings opera and is looking to branch out in that arena. He can be seen on occasion playing the high school janitor on Nickelodeon's "Victorious" and has recently been cast in an original musical adaptation of Shakespeare's "Twelfth Night."
Ferretti is represented theatrically by BPM Artists and by Commercial Talent in Los Angeles.
Has Back Stage helped you get cast in the past year? We'd love to tell your story. Be in the weekly column by emailing casting@backstage.com for New York or bswcasting@backstage.com for Los Angeles with "I Got the Part" in the subject line.