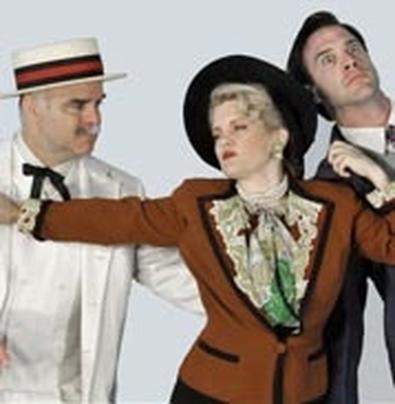 Any play that includes the cry "Politics isn't woman's business!" is certainly of the moment. The fact that Johnny on a Spot is set on the eve of a senatorial election and scandal is involved makes it even more topical. Charles MacArthur's spirited satire of Southern politics first saw the light in 1942, but it seems that politicians and scandal form a twosome that still insists on going steady.
The production is from the estimable Peccadillo Theater Company, which last gave us a revival of Room Service, a classic American farce delivered at full speed. The material this time out is not nearly as sturdy; The Front Page this is not. MacArthur is in workmanlike rather than inspired mode, and wheels can be seen turning. Director Dan Wackerman often has to energetically crank the machine — and his large cast — to keep the fun alive. But there still is fun to be savored, painted by MacArthur in broad, cynical strokes.
Nickey Allen (Carter Roy) is Gov. Johnny's campaign manager, aided by Johnny's secretary, Julie Glynn (Ellen Zolezzi), who just happens to be in love with Nickey. Reporters are swarming as Johnny is set to make an election-eve speech, but where is the governor? Is he on the floor of a barroom? Is he delayed in the whorehouse run by his ever-loving Pearl LaMonte (Margery Beddow)? His cronies "Booter" Kusick (Robert O'Gorman), Doc Blossom (Dale Carman), and Judge Webster (Mark Manley) are restive, and even the usually cool Nickey is worried. Enter Judge Webster's headstrong niece, Barbara (Laura Daniel), also in love with Nickey and just spoiling to make trouble. As someone on stage wisely remarks, "Miss Webster is self-explanatory."
Any more information would spoil the wonderful first-act curtain (yes, this is a three-act play, with a single intermission). But this is only the beginning of the fireworks, for Nickey might have invented spin, and this aggressively physical farce has enough spin to make you dizzy. Such turns as a prison inmate who finds God, a severe case of rigor mortis, and swooping birds of prey help keep the plot revolving until final curtain.
Ably supported by the attractive Zolezzi, Roy adroitly drives the play's engine, serving as the linchpin of the production. The crazy comedic style demanded by the proceedings is best caught in the performances of Manley, Carman, and especially Beddow — her Pearl is indeed a small gem. And who could smear an entertainment that informs us, "They don't arrest senators; they only investigate them"?
Presented by the Peccadillo Theater Company at the Theatre at St. Clement's, 423 W. 46th St., NYC. Sept. 8-Oct. 4. Thu.-Sat., 8 p.m.; Sun., 3 p.m. (212) 352-3101 or (866) 811-4111 or www.theatermania.com or www.thepeccadillo.com.