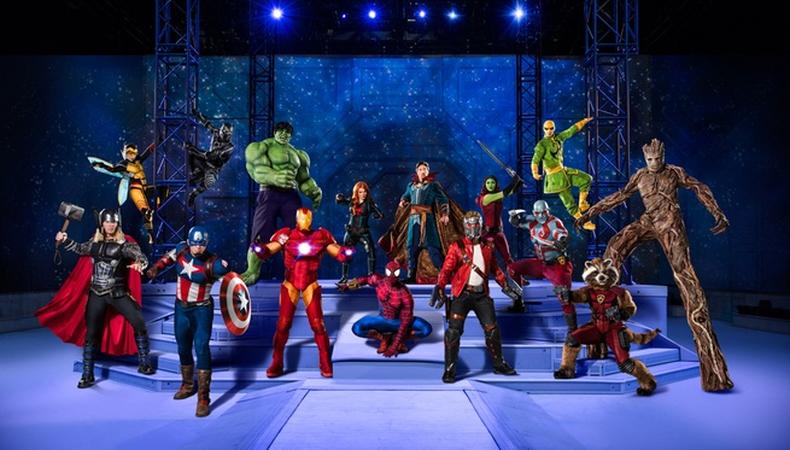 If you've ever wanted to be a part of the Avengers, now could be your chance! "Marvel Universe LIVE!", the touring "arena stunt spectacular," is seeking performers with athletic skills. The show features dozens of the popular superheroes and their supervillain foils from the Marvel comics and movies.
The production is looking for men and women, aged 18–40. Performers should ideally possess stage combat experience and have additional training in at least one other discipline: martial arts, harness flying, parkour, gymnastics, and/or motorcycle riding. Stunt training, firearm training, and experience with weapons in a stage combat setting is a huge plus.
All performers should be athletically fit and able to perform stunts for eight to 12 shows each week. Many characters require skin-tight costuming. Auditionees should come in athletic attire, and be prepared to demonstrate their ability to learn combat choreography. For those that wish to demonstrate additional skills, especially weapons experience, please refer to the FAQ in the casting notice.
Casting is taking place nationwide. The New York City audition is April 23. Additional dates in other cities, like Los Angeles, Chicago, Illinois, and Orlando, Florida, are also listed. Compensation is a competitive weekly salary, with a full health benefits package and paid travel expenses. The tour rehearses in Florida in June and July and begins touring in mid-July. Contracts vary, including full tour contracts through April 2019, as well as replacement performer contracts that may be offered on a rolling basis.
For full information, including a detailed FAQ on video submissions, what to wear, and how best to demonstrate relevant skills, visit the casting notice here.
Check out Backstage's New York City audition listings!