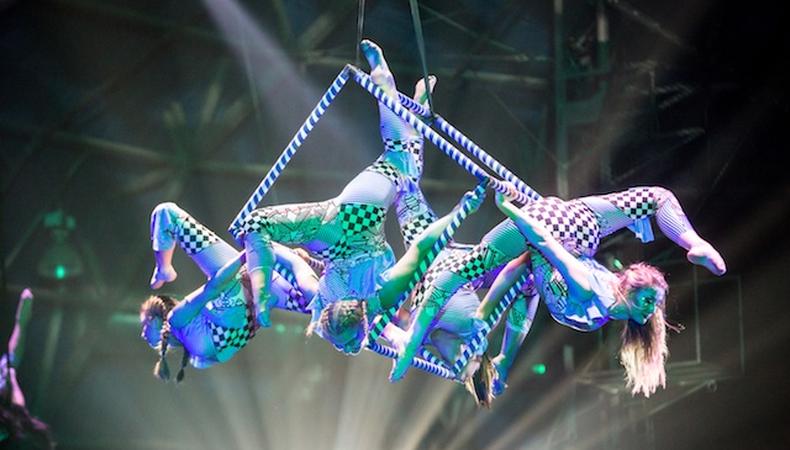 It's a great time to be a circus performer. Specialty live entertainment programs like those of Cirque du Soleil have taken over everywhere from Vegas to Broadway and beyond, showcasing some of the world's finest entertainers taking on some of the most awe-inspiring feats to hit the stage or arena.
So how did these entertainers get to the top of their field? Just like many of today's finest performers, it helps to start training young—and that's where youth circus programs like Circus Juventas come into play.
Founded 22 years ago in St. Paul, Minnesota by Dan and Betty Butler (who, by no small coincidence, met while performing in a youth circus program), Circus Juventas has expanded from a once-a-week extracurricular to a full-fledged facility, offering classes in all circus skillsets year round, six days a week at exploratory/recreational levels, intermediate/preparatory levels, and advanced/premier levels. It now stands as the largest youth circus of its kind in North America.
Circus Juventas co-founder Betty Butler spoke with Backstage about how aspiring performers can get involved with Circus Juventas; the benefits of circus skills for any performer, whether you're pursuing the arts professionally or not; and what some of their best alum are doing in the performing arts today.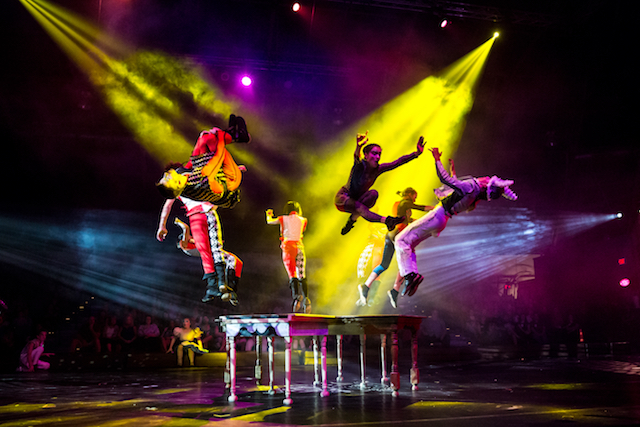 On why youth performers should strengthen their circus skills.
"We're just thrilled with the community that's accepted circus back into its arms. I think it's experiencing a great renaissance and I think it's a wonderful time to be a part of the circus community because there's so many exciting things going on and so many different kinds of circuses—the contemporary or the old school circus, or dance companies, social circuses. There's just so much out there that is enriching people's lives, [and] you see it everywhere in media and commercials."
On attracting students from far and wide.
"We definitely draw from the Twin Cities metro area and I would say, probably 50 percent Minneapolis, 50 percent St. Paul. But we do see a number of students that come from as far as Rochester and River Falls, Wisconsin. [Or] way up north—Forest Lake, Minnesota. So there's some that can drive a good hour, two hours to get here. It's unbelievable, really, the commitment that they have. In the summer, we do get international students as well that come from around the world."
On Circus Juventas' origins.
"[Dan Butler and I] just wanted to offer something to give back to the community—something that we found as youth, as a passion. We met in the youth circus, so we wanted to give back and thought this might be fun for Minnesota, a very family-oriented part of the country. It just grew; it mushroomed quite quickly within that first year. After that first exhibition that we did, we started developing a waiting list, and within several years, really came to a crossroads where we had to say, 'Are we going to be able to continue this at the pace that we are and maintain our jobs, or do we have to devote ourselves fulltime to a circus facility?' And we decided to go on a campaign, raise the money, and build our own building so we could run it full-time."
On the school's many offerings.
"We have five genres of circus arts that our classes fall within: the aerial component—just about any aerial apparatus you can possibly imagine, we teach. The hoops, the rope, the miniature flying trapezes, swings. It's probably the largest of the genre group that we offer. Then the acrobatics—the teeterboard, the Russian swing, the wall trampoline, and that goes on and on. We have balance, which is your globes and your wire and your German wheel and unicycle. We offer them extensive listing of theater and also dance classes. So it's a very, very comprehensive school. There's really not much we don't offer."
On post-Juventas opportunities.
"I would say 10 percent of our students probably have desires to go professionally. I would say 5 percent actually pursue it, where you try to find a circus school or a company, and it really ranges across the board as to how they are able to continue on into professional life. I mean, we've gotten many that are involved in circus programs around the world. Canada, of course—Quebec and Montreal. Some are in the Netherlands. And then we've got some that are able to jump right into a show. We've got several students in Cirque du Soleil performing right now. We've got some that are in smaller companies, some that are training professionally out in Las Vegas and do part-time corporate work. It's quite a varied scale of how our performers are reaching around the world."
On advice for circus youth performers who want to go pro.
"[I would tell them] to pursue their dreams and passion for circus life, which can be filled with surprises, exhaustion, and magic. Yes, it's a life that can be very hard [and] grueling as a circus nomad on the road, and/or challenging to dig deeper [to] find the stamina to be able to perform two shows a day. This is the way of a professional circus performer. But the camaraderie you will find, the 'family' that exists inherently in circus, the sheer electricity of performing and bringing that element of joy to the audience is worth the journey!"
For more information on Circus Juventas, including how to enroll as a youth performer, visit circusjuventas.org.
Want more opportunities for your child performer? Check out our audition notices for kids!
And for more acting advice, visit Backstage's YouTube channel!