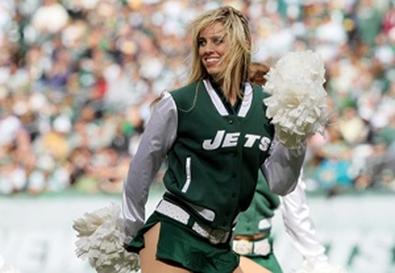 If you've ever pictured yourself dancing in front of 80,000 screaming fans every week, now could be the time to make your dream a reality. The New York Jets Flight Crew, the NFL team's professional cheerleading squad, has announced auditions for the upcoming 2012 football season. The auditions will be held in April at MetLife Stadium in East Rutherford, NJ, where the team dances on the sidelines at every Jets home game.

"This is one of my favorite times of the year because it symbolizes a new beginning for the Flight Crew," Denise Garvey, a former Knicks City dancer and Dallas Cowboys cheerleader who has been the director of the squad since it was created in 2007, said on the team's website. "We are looking for young women who are talented, athletic, attractive, personable, and poised to be good representatives for the Jets. The Flight Crew was rated one of the top cheer squads in the NFL in 2011 and we are looking for women who can continue to enhance our squad in a positive way."

Weekly prep classes will be offered in March and April to prepare dancers for these auditions. The preliminary round of auditions will be held on Saturday, April 21, with semi-finals to follow on Sunday, April 22. Final auditions for selected candidates will be held Sunday, April 29. Rehearsals will begin in May, and the Flight Crew performs regularly until the NFL season ends in February 2013. For more information and audition details, view the full casting notice on BackStage.com. (Subscription required.)

Candidates should pre-register online to guarantee an audition slot. The deadline for pre-registration for auditions is April 16. Walk-up registration will be held the morning of the preliminary round on April 21. Non-refundable application fees are required. To be eligible, dancers must be at least 18 years old by April 21, 2012.

The Flight Crew's public appearances are not limited to performing at Jets home games, though. In past seasons, the team has danced in Times Square, lit the Empire State Building green, and rang the New York Stock Exchange closing bell, in addition to other promotional and charity events. Those selected to join the group for the 2012 season will also be candidates to model in the Flight Crew's fourth annual swimsuit calendar this year.