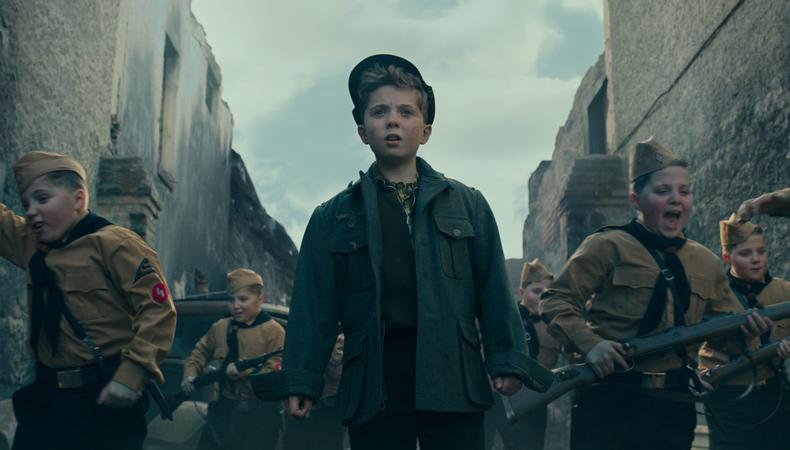 The following content has been sponsored by Fox Searchlight Pictures.
The ensemble cast of Fox Searchlight Pictures' "Jojo Rabbit" (Roman Griffin Davis, Thomasin McKenzie, Scarlett Johansson, Sam Rockwell, Rebel Wilson, Stephen Merchant, and Alfie Allen) was faced with a formidable challenge: imbue an anti-war satire with both humor and humanity. Written and directed by Taika Waititi, who himself takes on the role of a 10-year-old's imaginary friend, Adolf Hitler, the Toronto International Film Festival Grolsch People's Choice Award winner is a moving statement against hate, as hilarious as it is relevant today.
Waititi based "Jojo Rabbit" on Christine Leunens' acclaimed 2004 novel "Caging Skies," putting a comedic spin on the tale of a young German boy joining the Jungvolk, a.k.a. The Hitler Youth, in the last, desperate days of WWII. "I have always been drawn to stories that see life through children's eyes. In this case, it happens to be a kid that we might not normally invest in," Waititi explains. That childlike perspective of little Jojo, whose bigotry is a byproduct of Nazi indoctrination and an innocent desire to belong, allows the audience to empathize and even care for him.
"It was important to me that Jojo be clearly seen as a 10-year-old boy who really doesn't know anything," says Waititi of his leading character. "I approached the story as a child trying to make sense of his world the best he can in the most absurd and chaotic time in history."
Roman Griffin Davis, in his first professional feature film role at age 11, brings specificity and earnestness to the titular Jojo. Over 1,000 audition tapes were submitted from the U.K., U.S., Canada, Germany, Australia, and Waititi's native New Zealand. "Roman is a really endearing, beautiful kid, and when you hang out with him, you want to protect him," the writer-director says. "He has this very caring heart, and the idea was always that this would carry into the undercurrents of the character."
Surrounding Jojo and his clownish imaginary friend Adolf are those living through wartime in the fictional Falkenheim, brought to life by a cast of heavy hitters. Golden Globe nominee Scarlett Johansson plays Jojo's anti-Nazi mother Rosie Betzler, who is revealed to be hiding a Jewish stowaway named Elsa, played by Spirit Award nominee Thomasin McKenzie. There's Jojo's pal Yorki, portrayed with adorable sweetness by Archie Yates. Academy Award winner Sam Rockwell plays Nazi Youth trainer Captain Klenzendorf, aided by the goofy Alfie Allen and Rebel Wilson, with Emmy winner Stephan Merchant as the sunny-yet-terrifying Captain Herman Deertz.
It's an impressive roster of talent, perhaps even intimidating for a newcomer like Davis. But the young star asked questions of his director and co-stars, taking their advice and adding nuance to his performance. According to Rockwell, "Taika was really good at getting Roman to go deep into Jojo's experience—but in a way that Roman was always having fun. There's a real trick to that."
Jojo's psychological journey, from fanaticism to doubt to love and very real grief, would give even a veteran actor pause. It's a lot of emotion to play convincingly while maintaining a natural authenticity too often missing from child actors. But Davis rises to the occasion, charting Jojo's growth and getting the audience to see through his eyes. By grounding "Jojo Rabbit," Davis allows Waititi, McKenzie, Johansson, Rockwell, and the other supporting players to contribute audacious comedy and heartfelt drama to the story as needed, creating a seamless ensemble performance.
Check out the behind-the-scenes featurette on "Jojo Rabbit" below. For more information and to find a screening near you, visit Fox Searchlight's official site.