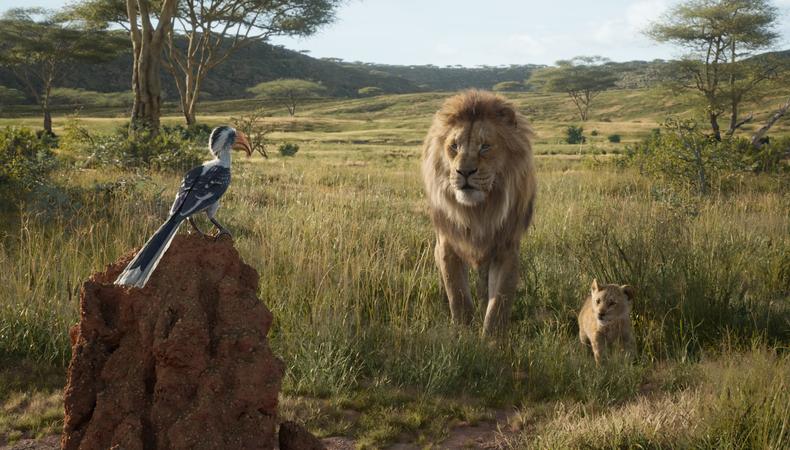 Even on a massive undertaking like "The Lion King," the highly technical CGI remake of the beloved Disney classic, director Jon Favreau knows how to keep things grounded in humanity. In a movie completely untethered from the use of a physical camera thanks to groundbreaking technology, Favreau says the challenge became even more so than during 2016's "The Jungle Book": "How do you take a movie that's completely animated and make it feel like it's live-action?"
The answer came in the way the director rehearsed and worked with his actors to emulate a live-action production as much as possible. "We treated it like a blocking rehearsal, as you're putting a stage show on its feet," he explains. "We created what's essentially a rehearsal space and let them carry the script, so you're walking around on-book. They could experiment and they could overlap each other and improvise."
Favreau was able to bring the techniques he has used on small-scale projects like 2014's "Chef" to a film as grand in scope as "The Lion King." "It's about creating an atmosphere and a looseness," he says. "I think the hard part when you're working on the big technical stuff is it tends to get very tight. We're humans, and the audience are humans, and we are looking for a shared human experience that's emotional and engaging. Subconsciously, the audience picks up on a very casual, naturalistic performance underneath all these very overwhelming technical aspects."
It's in those casual conversations throughout the new "Lion King" that Favreau found he had the most room to play. Especially with naturally comedic performers like Donald Glover, Seth Rogen, and Billy Eichner in the roles of Simba, Pumbaa, and Timon, respectively, he was able to update the dialogue and humor. "If done correctly, you would feel like you saw something that may have been recorded from the same script. But if you look scene by scene, you see there's actually quite a bit of deviation."
Elsewhere, Favreau found freedom to update the animated classic in the casting. On assembling easily the most exciting ensemble this year, Favreau compared casting director Sarah Finn's process to that of a stage production. "There's a tradition where the cast is an event," he says. And in creating an updated story for 2019, he decided to look to the 1997 Broadway production for inspiration, rather than the original 1994 film. "In keeping with the spirit, we felt there was greater authenticity in the casting, culturally [in the Broadway production]," Favreau says. "Casting is the most instinctive part of the process, and arguably the most important, because it defines what your movie is going to be. As a director, my ability to differentiate this from the original was going to be in casting."
Favreau thanks his children for the exciting casting choices of performers like Glover and Beyoncé. His son is a big Glover fan, and his wife and daughter are Beyoncé fans, so he set his sights on those talents—and that was three years ago. Favreau even found freedom in his approach to the animated film's beloved music. He worked on this new iteration with veteran composer Hans Zimmer. "It was about seeing how much he was willing to push the limits and change the way things are done while still being true to the legacy of the original," Favreau says.
There was one aspect of the original film that Favreau knew he had to keep the same, however: casting James Earl Jones as the voice of Mufasa. "With James, I thought about what you would do if you were mounting a production of a classic stage play," the director says. "It felt like keeping with that theater tradition of keeping an element that might bring [in] the people who grew up with it who are bringing their kids to it. It helps with intergenerational appeal."
This story originally appeared in the July 11 issue of Backstage Magazine. Subscribe here.