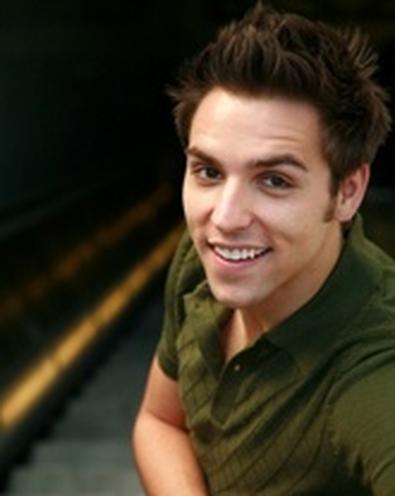 To borrow a phrase from the late Rodney Dangerfield, bass players "get no respect." That is the premise of the short, I'm in the Band, a comedy directed by Paul Sincoff, which stars Jon Frederick.
Frederick, while not a musician, portrayed a bass player. He deals with rejection and hits it off with the only girl who notices him, but he loses her only to find her again. Various characters get in the way to prevent him from getting to the girl. The story was derived from local bands, show, and after parties. The 16-minute film cost $40,000 and took five days to shoot at several locations, including The Gig on Melrose, a house in Beverly Hills, and the Sunset Strip.
Frederick saw the July 13th casting notice and showed up for the open call. Producer-director Eytan Elbaz saw over 40 actors for the lead role, and Frederick was selected because, "he has such a wide range of facial expressions, and that made him really stand out," Elbaz says. "He is so good about reacting to other people. When watching him, you really get to feel sorry for him. You can feel his vulnerability. He was a clear favorite from the beginning."
Frederick is an actor and a dancer with experience performing in numerous music videos, including Five for Fighting, the band +44, and Staind. He received his bachelor's degree in dance from the University of Michigan. An Ann Arbor native, he moved to L.A. to pursue acting full time in 2004. He currently studies at the Lee Strasberg Film and Theater Institute and under Golden Globe winner and Oscar-nominated actress Sally Kirkland. He is represented by the Jaime Ferrar Agency, commercially and theatrically.
"This is a good stepping stone for me and good for my reel. It's the first time he's had a lead role in a festival-bound film and I'm really excited about it," says Frederick who regularly submits through BackStage.com. Recently, he has also been featured on TV shows including Jimmy Kimmel Live! and Entourage. Frederick may be new to Hollywood, but with a lot of will and determination, he is certainly earning respect. Frederick's website is http://sitemaker.umich.edu/jjfreder/home.
I'm in the Band will premiere at the Beverly Hills High Def Festival on Dec. 28th at the Fine Arts Theatre on Wilshire. For more info about the film, visit www.imintheband.com.
Has Back Stage West helped you get cast in the past year? We'd love to tell your story. Be in the weekly column by calling (323) 525-2358 or emailing bswcasting@backstage.com with "I Got the Part" in the subject line.