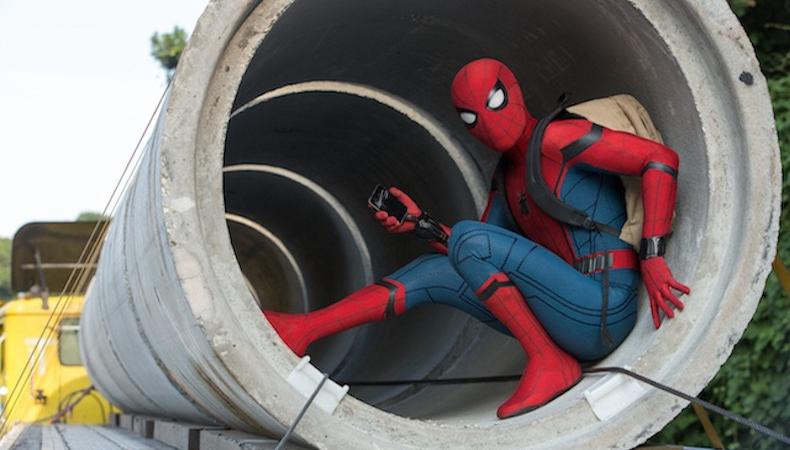 Jon Watts' first step toward writing and directing his debut summer blockbuster was to treat it as anything but.
"What was surprising was that it wasn't really that different," Watts says, comparing his "Spider-Man: Homecoming" experience with his years in independent film. "I mean, everything was bigger and there were more people, but when it comes down to it, you are still just on a set with some actors trying to figure out how to make this feel real. That's the same no matter how big or small the movie is. It boils down to the craft."
For a filmmaker who cut his teeth in the indie market and only has two feature film credits to his name (2015's Kevin Bacon–starrer "Cop Car" and 2014's horror flick "Clown"), you'd expect Marvel's latest studio tentpole to put sweat on his brow. But with this latest iteration of Peter Parker and his Spidey (here played by 21-year-old U.K. talent Tom Holland), Watts is going for the unexpected.
READ: Tom Holland Shares the Physical Demands of Shooting 'The Impossible'
That began with the casting. At age 15, this is decidedly the most teenage Peter Parker we've seen on the big screen to date. One of the main filming locations is his high school campus in Queens, New York, which subtly underscores this young kid's coming-of-age through fighting crime, keeping his secret identity close to the vest, and turning in his homework on time. To prepare, Holland spent time at a Queens-area magnet school, and Watts focused on casting a diverse ensemble to properly represent the borough.
"Part of my pitch [to Marvel] initially was that it should look like an actual Queens high school. Queens is one of the most diverse places in the world," Watts says. Turning to New York street photographers, Watts put together a lookbook to show studio executives what he envisioned. Then, once they were seeing young actors in the flesh, Watts maintained an open mind. Working more as if he were filling out the roster on a TV series rather than a film, he says he was looking to build characters around talent.
"There were certain character types in mind, [but] if some kid came in that was completely different from the way we were imagining it, rather than push a 15-year-old kid to do a character, that shift in character should be more like the kid," Watts says. "[We] just looked for really interesting, unique kids, and found a place for them in the movie."
Few other actors impressed him quite like Disney Channel star Zendaya, whom he cast as the "smart outsider" Michelle. Little is known about the character (though there are, of course, an array of rumors floating around Tumblr and Reddit), but what Watts does reveal is that Michelle "hasn't quite figured out her place in the universe yet." She is, however, "very observant, which can be dangerous for someone who has a secret identity."
"What was amazing was that she just came in and taped and I didn't really know who she was," Watts admits of Zendaya's initial audition. "And then when you would Google her, you see pictures of her on the red carpet or in 'K.C. Undercover,' and I was like, 'Is that the same person who came in?' Because she came in just totally natural, no makeup. She seemed like a completely different person.... She's such a pro, too. She's been doing it for such a long time that she had both of the things that we want: being a really good technical performer and also having a sort of effortless charisma."
Such ease in the audition room only comes with practice and time, but Zendaya and the rest of the "Spider-Man: Homecoming" cast are proof that you are more likely to get cast by taking a deep breath and being yourself.
Want to star in a feature film? Check out Backstage's film audition listings!