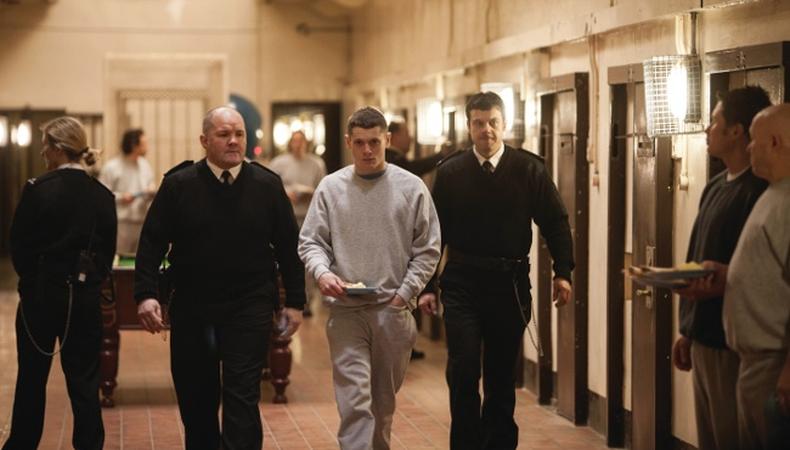 When the gates of Northern Ireland's Crumlin Road Gaol slammed shut behind Jonathan Asser, he wasn't afraid. In fact, he "felt safe," he says, with "a sense of coming home." Having spent a good portion of his adult life behind bars, Asser feels things that most of us don't. He also knows things that most of us never will. Like how to make a shiv from a toothbrush. Or how to use baby oil for self-defense. He also knows what it feels like to possess a fury so primal it makes you want to kill. "My earliest memory," he says, "is of a deep, profound hatred for my mother." Fury simmering with the constant threat of violence pulses through "Starred Up," the film for which Asser worked six years on the screenplay, occasionally taking creative writing courses. His tutor, A.L. Kennedy, gave it to a producer. The producer gave it to director David Mackenzie ("Young Adam") and the rest, as they say...
A little history: Though Asser has never been incarcerated, he has been "institutionalized," as he sees it, since he was first sent to boarding school at 8 years old, a type of "alternative family structure" without which he has found himself unable to survive. Twelve years ago, with no formal training, Asser created Shame/Violence Intervention, a method of dealing with anger that challenges the binary response—fight or flight—to conflict. SVI offers an alternative Asser calls "shame awareness," giving inmates tools to "cope with and tolerate shame in order to reach a different negotiation for power and safety."
It's safe to say that when the cast and crew of "Starred Up" entered Crumlin Road on the first day of shooting, nobody but Asser felt safe. Decommissioned in 1996, Crumlin Road Gaol is more than just another location for the film—it's the only location, the perfect cramped cage to contain Asser's harrowing coming-of-rage drama. Mackenzie, not known for naturalism, tapped "Winter's Bone" cinematographer Michael McDonough and shot the movie in sequence, a method of production typically too costly to pursue. For two years prior to shooting, Mackenzie worked with Asser to crank the script's suspense to a "gripping pace," he says. "I understand the violent dynamic. I understand what's at stake, the body language, emotional language."
To be "starred up" is to be prematurely transferred from a juvenile to an adult institution, and the film begins with this happening to Eric (Jack O'Connell in a riveting, star-making turn), a young man deemed dangerous enough to warrant segregation—a cell to himself. Eric moves silently through processing and strip search before entering his cell, where he makes and hides a shiv in less time than it takes to smoke a cigarette. Before the week is out he will beat another prisoner unconscious, fend off a pack of guards ("shields," Asser calls them), and reconnect with his dad (Ben Mendelsohn), one of the prison's most powerful inmates. Further problems arise when Eric joins an anger management group, based on SVI and led by Oliver (Rupert Friend), a caring therapist who may have finally met his match.
It would be easy to see Asser in Oliver, but according to the writer, "The three main characters are all different aspects of myself. Eric is my visceral, emotional id. His dad is my hostile, overactive superego—the right or wrong, you will do this, you will do that, you can't do this, you can't do that. And Oliver is my ego, in a positive, psychoanalytic sense, negotiating between the id and the superego in order to enable a meaningful connection."
Since finishing both "Starred Up" and SVI (it was defunded), Asser has turned all of his intensity to writing, an endeavor he finds "enormously helpful in managing my trauma." He has other scripts in the pipeline and says that what's important to him in a script is "personal, emotional investment in character. I think every individual is unique, so if the engine driving the drama of a story can come from that individual, it's going to be special."
Inspired by this post? Check out our film audition listings!