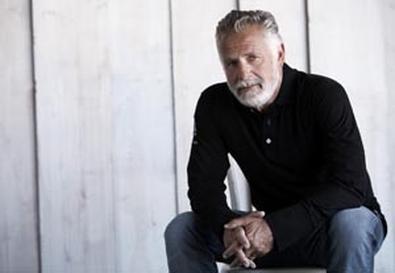 Jonathan Goldsmith
's mother does not have a tattoo that reads "Son," nor do sharks have a week dedicated to him. Those are facts about the character referred to as the
Most Interesting Man in the World
, whom Goldsmith has played in commercials for
Dos Equis
beer since 2006. Though he and his character are different people, the actor is by no means a boring man.
Goldsmith never even intended to become an actor, but he says, "It was a love affair from the very beginning"—in more ways than one. During his junior year at
NYU
, he was "asked to leave," he recalls, due to a "quite personal" relationship he was having with a married female teacher. At the time, he was taking part in "too much hell raising" and was "leading a fatuous existence," he says. His father sent him to see psychiatrist Fredric Wertham. The doctor agreed to treat Goldsmith only if he enrolled in classes at New York's Living Theatre.
Despite not knowing what an improvisation was, the 19-year-old received applause after performing his first. "Accolades, good-looking chicks—this is all right," he remembers thinking. Goldsmith then studied at the Neighborhood Playhouse and also worked as an extra. His first Broadway show was 1961's "A Cook for Mr. General," and at one point he told fellow cast member Dustin Hoffman, "The reason you don't like me is because I'm gonna make it and you're not."
After Goldsmith starred in the film "Act One" in 1963, an L.A. producer—in "loafers, no socks"—offered to help him find work, so he moved to California. For six months, he drove a truck with industrial waste and worked in construction, among other jobs, to make ends meet. Then he landed a role on "Perry Mason," beginning a steady television career in which he guest-starred on more than 350 shows, including "Gunsmoke," "Bonanza," and "Dallas." "I fell off almost every horse in Hollywood," he quips.
In the 1976 film "The Shootist," John Wayne shot him, requiring that Goldsmith have a blood pellet explode painfully between his eyes—for seven takes. The director doubled the actor's pay the next day. Two years later, he starred in the acclaimed film "Go Tell the Spartans" and seemed poised to break out in movies. Instead, he says, he "drifted into the ethos of occasional work," and out of frustration he left the industry in 1991.
During the '90s, Goldsmith became vice president of an international marketing business for waterless car-wash products. He enjoyed success as an entrepreneur and retired in 1998, but he missed acting. Soon after divorcing his first wife, he tried to "resurrect," as he puts it, "a very dead career." For a couple of years he found little work, until he received a call from his then agent, now manager and wife, for a Dos Equis campaign.
For the audition, the company wanted a "Hemingwayish type of character," he says, and required an improv that ended with the line "And that's how I arm-wrestled Fidel Castro." Goldsmith recalls hundreds of men in the waiting room who looked Latino. He didn't think his odds of booking the job were high, so he was "loose as a goose," he says. During the audition, he based his character and accent on the actor Fernando Lamas, a close friend and sailing partner. Goldsmith was surprised when he got a callback a month later and eventually a screen test. He booked the role and says, "It's absolutely changed my life."
In his spare time, he works with Free Arts for Abused Children, through which he teaches acting and improv in the Los Angeles prison system. He is grateful for his good fortune at 72 and says earnestly, aboard his sailboat, "The sound you hear is knocking wood. Lucky guy."
Fun Facts
- Once rescued a drowning swimmer off the Malibu coast
- Escorted a Miss America winner to the Oscars despite not having a tuxedo
- Used to wait in the lobby of the Beverly Wilshire Hotel for young women on their way to Warren Beatty's suite, saying, "Warren sent me down. I'm terribly sorry, but he had to cancel the meeting."
- Discovered a few years ago that he had two severely blocked arteries, but because he has exercised his whole life, his body developed routes to bypass the blockages
Watch The Most Interesting Man in the World on Language below:
To watch more Most Interesting Man in the World spots, visit the
Dos Equis YouTube channel
.