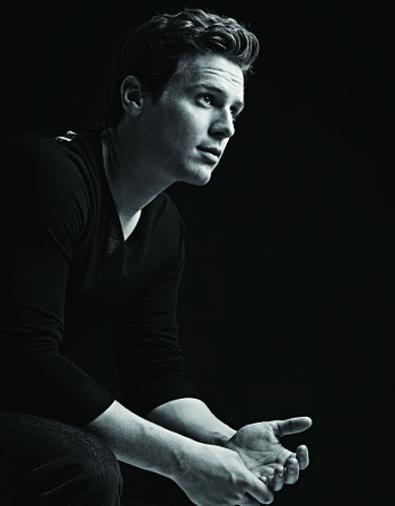 Jonathan Groff is as giddy as a 5-year-old. The former star of Broadway's "Spring Awakening" and current leading man on HBO's "Looking" is excited partly because that's just his nature and partly because he's going to be on the cover of Backstage.
"Backstage is 100 percent the reason I am even here doing this interview," he says. "Without Backstage, when I was a senior in high school, I would never have known about the audition for the nonunion tour of 'The Sound of Music' that I did for a year." He leans in closer to the recorder, both joking and earnest. "I believe in Backstage," he intones. "It changed my life."
Backstage may have helped Groff land the role of Rolfe in that national tour, but Groff's own talent and hard work have propelled his career since then. The past decade reads like an actor's fairy tale: He transfers to Broadway with the Off-Broadway musical "Spring Awakening" and explodes upon the scene, along with co-stars Lea Michele, John Gallagher Jr., and Krysta Rodriguez. He then spends a year working in Off-Broadway plays such as Craig Lucas' "Prayer for My Enemy," does two Shakespeare in the Park productions for the Public Theater ("Hair" and "The Bacchae"), and seamlessly segues into film and television, making his feature film debut in Ang Lee's "Taking Woodstock" and garnering national attention with a guest arc on "Glee" and then a series regular job on Starz's "Boss." Now he's starring on the buzzy "Looking," about a group of gay friends in San Francisco. Plus, he's not hard on the eyes. Hating him would be easy if he weren't still so thrilled by his own fortunes.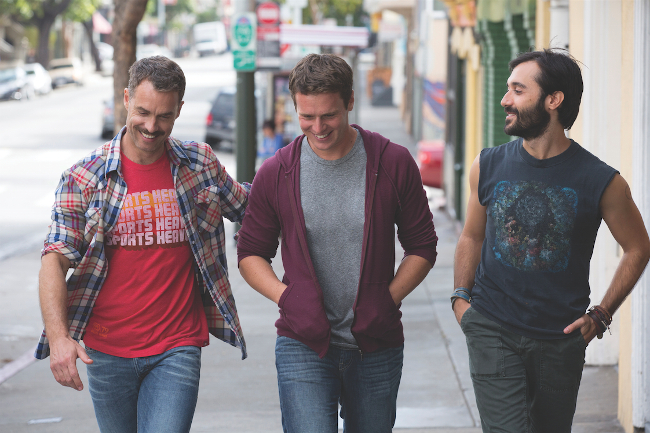 "People create from different places," he says of his process. "Some love to create from a tortured place, some from a joyful place. And when I feel like I'm a 5-year-old kid in my backyard playing pretend, that's when I'm happiest."
While his recent performance as mountain man Kristoff in the smash hit Disney film "Frozen" brought out that giddy toddler ("The big revelation of that movie was the actual work of being a Disney character is the same as pretending to be a Disney character as a kid in your room"), it is, somewhat surprisingly, the perpetually bumbling, faux pas–inclined Patrick on "Looking" that takes him to that joyful place.
Created by Michael Lannan, "Looking" has been reductively called "the gay 'Girls' " in the media, which is somewhere between accurate and dismissive. The eight-episode series follows three friends—sweet-natured Patrick, aging Dom (Murray Bartlett), and aimless Agustín (Frankie J. Alvarez)—as they navigate life in San Francisco. Patrick offers Groff the chance to do everything from romance to comedy of vicarious humiliation, all of which convinced him to go in for the show. "I'm very selective about television because you sign away so much of your life to it," he says. But the script and the chance to work with executive producer Andrew Haigh, the director of the beloved gay indie film "Weekend," was enough to draw Groff into the audition room.
Groff's audition took place a few days before he left to do press at Sundance for his first lead performance in the film "C.O.G.," a low-budget movie that forced Groff to stay on his toes and fully engaged without time to overthink. Smitten with that way of working, he adopted it for pilot season, learning his lines and focusing on staying open.
That tactic found a willing participant in Haigh, who prefaced the read by granting Groff permission to change any line that didn't sit comfortably in his mouth. Performing a scene from the pilot in which Patrick is on the receiving end of a flirtation with a stranger on a bus, Groff found himself getting tongue-tied and blushing. "I felt really close to this character and really nervous and sweaty, and the scene took on a life of its own," he says. "And that was the first experience of the show for me, and I was like, 'Whoa. I really want to work on this.' "
The sense of freedom and looseness in the audition carried over to the actual set, which Groff describes as "very organic and in-the-moment." "We believe in Andrew and the world Michael Lannan has created, and we just let it fly," he says. "I've never felt so unconscious of what I'm doing. Nothing is planned. We're just sort of balls out, figuratively and literally. We're flying free, letting the scene happen, rewriting stuff, trying to be creative, and not thinking at all of what it's going to look like. I've never felt that way before on a set." The result is a sometimes uncomfortably realistic depiction of life in San Francisco as a gay man today—at least, as a handful of fictional gay men today.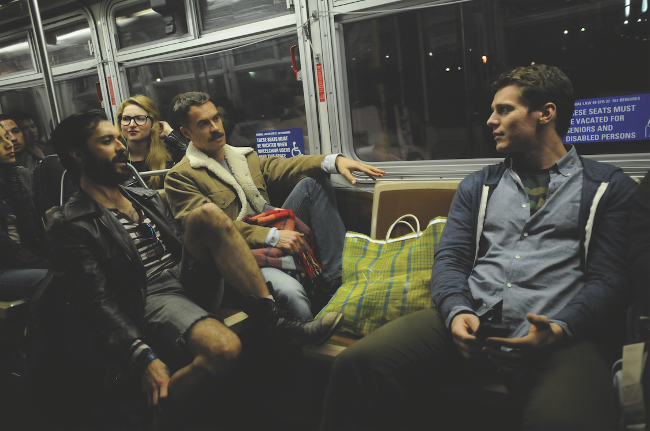 The distinction between fiction and reality is one Groff acknowledges is important, particularly for a small show on a pay-cable network. "It's daunting, taking on the task of representing the gay community, because there are so many different facets and different schools of thought and behavior," he says. "But it has a point of view, and it's specific to Michael Lannan's experience and his friends. Hopefully by making it specific, you make it universal."
Groff and his fellow cast mates helped in creating the characters as the writers of the show got to know their actors. While Patrick is far more awkward than Groff—the pilot opens with him cruising in a public park during the day and interrupting an encounter to answer his cell phone in case it's his mother—the rapport between Groff, Alvarez, and Bartlett found its way into the scripts. Not that the writers let Groff off the hook when it comes to the potential for embarrassment. "Every single script had one moment, without fail, where I was just like, 'Oh my god, I can't believe I have to do that!' " he says, before adding, "I'm so grateful to have that response because it forces me to step out of my comfort zone."
While Patrick's behavior may make Groff squirm, his nudity and the overt sexuality of some of his scenes have zero effect on the actor. Blame it on performing the sexual content of "Spring Awakening" eight shows a week at a formative age, but Groff says he's far more at ease being physically naked than emotionally. "Andrew Haigh laughed at me because I feel so comfortable getting naked," Groff says. "I did 'Spring Awakening' for two years; I know how to do this. So when I'm lying on the bed on set wearing nothing but a dick sock and an anal cover, I'm like, 'Hey guys!' "