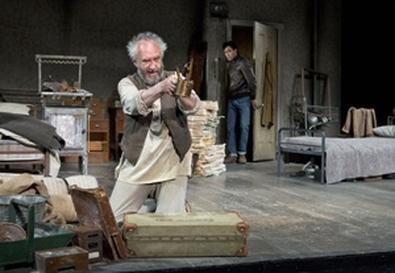 Jonathan Pryce
is a living example of the old adage that work begets work. The acclaimed Welsh actor is in the midst of performing in Harold Pinter's "The Caretaker" at
BAM
in New York City, following its 2009 production in Liverpool and runs in London and some U.S. cities. It is his heralded performance as the mysterious drifter Davies that led to his upcoming stage role-one of Shakespeare's greatest characters, "King Lear," opening August 3 at the
Alameida Theatre
in London. "When I was doing 'Caretaker' in London, the reviews kept mentioning how Lear-like I was, or how much they would like to see my Lear one day," Pryce explains. "And that inspired a few people to ask me if I did actually want to play Lear. And one of those people was Michael Attenborough, the artistic director at the Almeida."
Those who can't cross the pond to see the two-time Tony winner (for his Broadway debut in "Comedians" and "Miss Saigon") onstage can catch him bringing his brand of intelligent sophistication to the silver screen. In the comedy
"Hysteria,"
now in theaters, Pryce plays a respected doctor in 1880s England who specializes in "women's medicine" and mentors the man who invents the vibrator as a cure for "female hysteria." Pryce says the film took seven years from script to screen, and he was attached for four of them before it was made, noting, "I think that's why it's even more rewarding, to see it go through all these struggles and seeing your budget whittled down and whittled down, and finally get made in 33 days."
And there is still time to catch Pryce in "The Caretaker," running at BAM through June 17. This is actually Pryce's second time performing "The Caretaker"; but his first in the role of Davies. In 1980, he played Mick to Warren Mitchell's Davies, and admits there was some intimidation at returning to the text. "But my excitement at playing the role overcame any intimidation," Pryce says. "I have such fond memories of Warren, and I've stolen a couple bits of business from him. He came to the show and it was so moving. He was very generous and quietly approving. I confessed that I'd stolen some bits of business from him, but he didn't remember, so it was fine." It's interesting to note that this is not the first time Pryce has returned to a certain work in a different role; after playing James Link in the 1992 film version of "Glengarry Glen Ross," he went on to tackle one of the leading roles, Shelley Levene, in a 2007 London stage production. He's also been in "King Lear" before, playing Edgar in the early 1970s.
Pryce has long segued effortlessly between stage and screen since his American film debut in the 1983 children's horror flick "Something Wicked This Way Comes," in which he played the menacing and mysterious Mr. Dark. Again, the role came about as a result of another job. Director Jack Clayton caught Pryce as "Hamlet" in London and offered him the gig. In addition to films like "Evita" and "Pirates of the Caribbean," Pryce is probably most associated on screen for his collaborations with Terry Gilliam-"Brazil," "The Adventures of Baron Munchausen," and "The Brothers Grimm."
So it's amusing to discover that Pryce actually turned down the first job Gilliam offered him. "I met Terry at a screening of '1900' parts one and two. He was sitting behind me. I'd been on TV the night before and he tapped me on the shoulder to say how much he'd enjoyed it," Pryce recalls. "We had coffee between the two parts of the movie, and the next thing I knew, he was offering me a role in 'Time Bandits.' Which I passed on, strangely enough." Pryce notes that he was broke, and instead said yes to a film called "Loophole," that was offering more money. "Mercifully, Terry came back to me with 'Brazil,' which was an extraordinary experience," Pryce says. "Terry likes to say that any painful situation he put me into in 'Brazil' was punishment for saying no to him the first time around."
Pryce doesn't rule out future collaborations with Gilliam—the filmmaker has long been trying to bring "The Man Who Killed Don Quixote" to the big screen, and Pryce is always willing. "I keep growing a beard and getting older, so if that ever surfaces, I'm ready," he jokes. As for his immediate plans after "King Lear," Pryce says his schedule is currently open. "I don't know what I'll do," he says. "Hopefully get my life back."