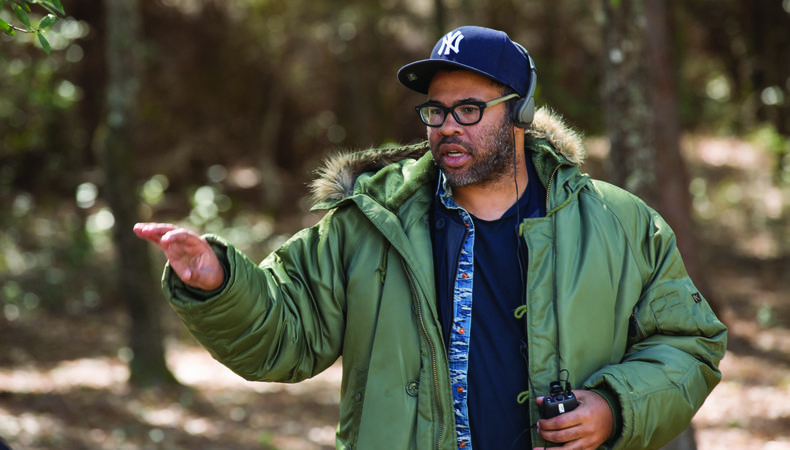 Hollywood's major guilds continue weighing in this awards season, shifting and clarifying the films and artists in the running for Oscar. Today the Directors Guild of America announced their nominees for the best directorial accomplishments of 2017.
Announced in Los Angeles by DGA President Thomas Schlamme, the five nominees for Outstanding Directorial Achievement in Feature Film represent the best big-screen helmers of the calendar year: Guillermo del Toro for "The Shape of Water" (Fox Searchlight Pictures), Greta Gerwig for "Lady Bird" (A24), Martin McDonagh for "Three Billboards Outside Ebbing, Missouri" (Fox Searchlight Pictures), Christopher Nolan for "Dunkirk" (Warner Bros.), and Jordan Peele for "Get Out" (Universal Pictures). Gerwig is only the eighth woman ever nominated for a DGA Award.
Peele, notably, was double-nominated; the writer-director also appeared on the list for Outstanding Directorial Achievement of a First-Time Feature Film Director. Joining him in the category are Geremy Jasper for "Patti Cake$" (Fox Searchlight Pictures), William Oldroyd for "Lady Macbeth" (Roadside Attractions), Taylor Sheridan for "Wind River" (Acacia Entertainment), and Aaron Sorkin for "Molly's Game" (STX Entertainment).
READ: 2018 PGA Awards Nominate 'Dunkirk,' 'Molly's Game,' 'Wonder Woman,' & More
The DGA's television nominees, announced Jan. 10, include the directors of drama series "Stranger Things" (Netflix), "The Handmaid's Tale" (Hulu), and "Game of Thrones" (HBO); the latter series was nominated for three different episodes of their recent season. Helmers behind comedies "Silicon Valley" (HBO), "Veep" (HBO), "The Marvelous Mrs. Maisel" (Amazon), plus two installments of "Master of None" (Netflix). In the mini-series and TV movie category, "Godless" (Netflix), "The Wizard of Lies" (HBO), "Story of a Girl" (Lifetime), "Big Little Lies" (HBO), and "The Immortal Life of Henrietta Lacks" (HBO) were recognized.
Schlamme said, "2018 marks the 70th anniversary of the DGA Awards, and filmmaking has reached new heights with each passing year. These nominees embody the excellence that comes to life when unique vision, craft, and skill come together in pursuit of masterful storytelling. Being nominated by their peers is what makes this award especially meaningful for directors, and I congratulate all of the nominees for their outstanding work."
Voting will take place online among guild members between now and Feb. 2 for the feature film nominees. Overlap between the DGA and the directing branch of the Academy is particularly strong; last year's top feature film prize went to eventual Academy Award winner Damien Chazelle for "La La Land." This year's winners in all categories will be announced at the 70th Annual DGA Awards, to be held Feb. 3 at the Beverly Hilton Hotel in L.A. For the full list of DGA Award film nominees, click here. For TV, commercial, and documentary nominees click here.
Check out Backstage's film audition listings!