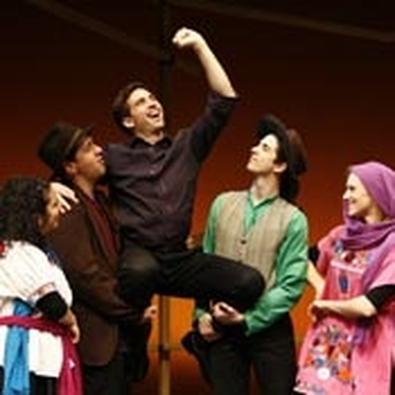 How do you compellingly relate the life story of Mexican-American modern-dance pioneer José Limón, explain the underlying principles of the new dance genre he helped codify, illuminate the process of choreographic invention, and teach the importance of finding and staying true to one's personal passion, all within an entertaining 60-minute musical theatre production designed for family audiences? Ingeniously! And with great sensitivity to the attention spans, emotional concerns, and aesthetic needs of today's youngsters -- that is, if you're the creative team behind José Limón: The Making of an Artist.
With a gracefully constructed book and smart lyrics by Barbara Zinn Krieger, classically influenced music and accessible arrangements by Charles Greenberg, and revelatory choreography by Eric Jackson Bradley, this moving and highly educational musical turns the mid-20th-century immigrant story of an artist struggling to find his voice into an enamoring personal journey relevant to any kid or adult, especially those new to America.
Directed by Brad Malow, with music direction by Tim Rosser, the show opens with a clever interactive dialogue between the audience and the endearing Diego Rodriguez as Limón; it then flows beautifully into expositional narration that organically segues into a full-fledged theatrical scene with lively singing, dancing, and period drama. And before you know it, you have a theatre full of kids watching sequences of serious concert dance with informed attentiveness and then applauding vociferously.
Aided immeasurably by quick changes of Tracy Christensen's brilliantly simple costumes, the five-member cast persuasively portrays multitudinous characters from Limón's life, including dance greats Harald Kreutzberg, Doris Humphrey, and Charles Weidman. The performers' dancing, however, while convincingly choreographed out of recognizable Limón and Humphrey-Weidman vocabulary, is executed with a precision that captures all of the externals -- the body shapes, rhythms, and spatial patterns -- but misses the dynamic kinesthetic impulses from which the movements need to spring in order to really convey the distinct expressive power of early modern dance.
Presented by Making Books Sing in association with Kingsborough Community College, Lehman Stages, and Symphony Spaceat Lehman College's Lovinger Theatre, 250 Bedford Park Blvd. West, Bronx, NYC.
Jan. 29–Feb. 13. Schedule and venue vary.
(212) 573-8791 ext. 246 or www.makingbookssing.org.