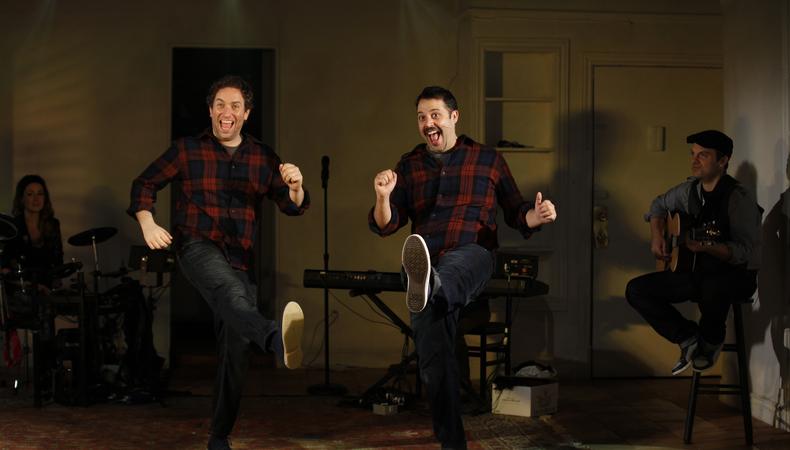 Imagine "Seinfeld" meets Rodgers and Hart as directed by Woody Allen. With book, music, and lyrics by David Rossmer and Steve Rosen, who both play the title character (one in the present and one a year ago), "The Other Josh Cohen" is a superlative musical laugh fest. It's hard to know where to start heaping on the praise. The writing is ingeniously comic. The music is delicious. The lyrics are uproariously witty. The six multitalented cast members are divine. The direction is brilliant.
Under the helm of Ted Sperling and valiantly supported by actor Kate Wetherhead, bassist Ken Triwush, drummer Hannah Elless, and musical director–pianist Vadim Feichtner, Rossmer and Rosen create a remarkably inviting musical theater adventure. They tell the tale of ordinary, nice guy Josh Cohen—the kind of guy we all know but probably never pay that much attention to—in a zippy, hilarious, and appealingly casual fashion. Josh is an endearing soul torn between his intrinsic moral decency and his desire to cash an enormous check that he just received in the mail. He desperately needs the money but suspects the check might have been sent to him by mistake.
The stage space (shrewdly designed by Dane Laffrey) is cluttered with rock-band essentials (a drum set, keyboard, stools, and guitars), but there's plenty of room for it all, because the setting is Josh's totally empty, recently robbed apartment. The thieves left nothing behind but a Neil Diamond CD, which justifies the warm, easy-listening stylings of the score's amusing array of pop-rock songs. There's a bit of bubblegum, some beautifully harmonized folk ballads, and lots of upbeat rhythmic rocking to hilarious, smartly rhymed lyrics. And no, it doesn't seem strange at all that there's this rock band in the middle of Josh's living quarters.
The most wonderful things about the show are its informal theatrical style and the generosity of its hard-working performers. Except for the two authors, everyone plays myriad roles. With quick changes of wigs, props, and costume pieces they transform themselves into all kinds of different characters, organically impelled by the needs of the narrative and the comedy. With the donning of a hat the keyboardist becomes an actor and plays Josh's dad. The drummer takes on thespian duties as one of Josh's lesbian neighbors, a member of a Bruce Springsteen cover group called the She Street Band. Wetherhead takes her turn at the keyboard when Feichtner is busy singing and acting. This fluid exchange of responsibilities makes for a lively production but more importantly evokes a tone of inclusiveness. That makes us want to join in the fun and also underlines the show's central theme: Goodness is ultimately rewarded through the sharing relationships we establish with others.
Presented by Amas Musical Theatre, in association with Scandobean Productions, at SoHo Playhouse, 15 Vandam St., NYC. Oct. 21–Nov. 11. (212) 352-3101, (866) 811-4111, www.theatermania.com, www.theotherjoshcohen.com, or www.sohoplayhouse.com.
Critic's Score: A+