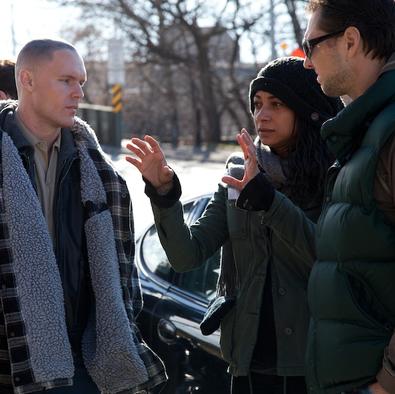 Water above and water below. I just resurfaced from directing and producing the feature length suspense thriller, "Tunnel Vision," starring Cristos, Ion Overman, Scott Haze, Courtney Geigle, and Leslie Mills. Well, I'm not quite out of the water yet. I still have the producing part yet, but the project no longer requires 16-hour days, so now I can catch my breath.
I became involved eight years ago when I shot a trailer for the project to raise funding. Almost a decade later, we're now being distributed on DVD in North America.
The tenacity, grit, and focus required for a project of this magnitude, at this budget, borders on cartoonish. Picture Goofy, splayed out on his back with little birds flying around his head getting back up again in a daze just to be knocked down by another obstacle! Duh! Goofy, are you dumb or what?! Or, maybe, you're just a super positive, steadfast, indie filmmaker guy? Goofy, you know what's up! You have a vision, and no one can tell you otherwise.
I've seen friends of mine book leads in series. Careers take off like gangbusters. I've also seen a lot of friends quit. Move to San Francisco to raise families, with an arsenal of good stories to tell around the fire.
James Earl Jones was mute during childhood and is now known for his voice. I'm an actor, dance, and director, but I've had people tell me I should choose what I call myself. Apparently being a jack of too many trades confuses one's focus as well as the onlooker. But those are the very skills that cumulatively help me to create. And I think about someone like Charlie Chaplin in front of the camera getting it done without playback and think, "What's to complain about?"
People often question my ability as a female directing a suspense film. Honestly, as long as I got the job done, no one really cared. I could have been a squirrel with a little megaphone and no one would have blinked. As long as I delivered.
I shot a slew of experimental short films before tackling a feature. So although I never went to film school, the skills required to shoot a full narrative were accumulated from prior experience and self-study. Aside from finding the best possible people to work with (hopefully more knowledgeable than yourself), understanding story structure, photography, fashion, fine art, acting, music, and technology are all helpful attributes for a director to have. And as for producing, being organized to a fault, willing to forfeit nights out (or nights in), reading, studying, being willing to ask questions, and having a business understanding are all great qualities.
I kind of fall in love with the people I work with on a project. I admire them, and want them to do well. Finding their strengths and figuring out how I can cultivate them so they have an opportunity to gain beyond the monetary prize. This is especially helpful on an indie, where it's nearly impossible to throw money at a problem to make it go away.
I've always believed that continual persistence does make a dent by pushing through when impatience and the drudgery of "no" overcomes the idealistic fire in the belly to adjoin reality and the dream. I'd say I'm a positive person with a propensity to tell dark stories, and my desire is that the audience joyfully experiences this very dark ride.
"Tunnel Vision" is playing one night only at the Laemmle Monica-4 on January 17th at 7:30pm. Look for it on DVD, January 22, 2013. View the trailer at www.tunnelvisionthemovie.com
Delila Vallot is an American stage, film, and television actor, dancer, and director born and raised in Hollywood, California. Inspired by the three-dimensional lines of ballet, the soul altering nuances of acting, and plugged into music by way of a rock band dad and a music exec mom, Delila has gained an aptitude for the art of film and the skill to direct via years of self study and osmosis.
She has directed several experimental short films exhibited at the Egyptian Theater and the Independent Feature Film Market New York. Her current project, "Tunnel Vision," a suspense thriller, is her debut as a feature length director.