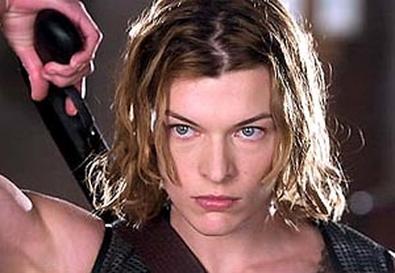 TORONTO –
Milla Jovovich
does not just want to rule the box office by killing zombies.
She aims to show versatility beyond her "
Resident Evil
" action-horror franchise with a pair of movies at the Toronto International Film Festival.
Jovovich co-stars with Robert De Niro and Edward Norton in the psychological drama "
Stone
," which premiered at Toronto over the weekend ahead of its theatrical release in October. Her second Toronto film, the teen comedy "
Dirty Girl
," also premiered at the festival over the weekend.
"I just keep chugging away at the smaller, more interesting character studies that I get to play," Jovovich said in an interview. "The `Resident Evil' world is amazing. I love it and I love the action. But really, when you do the little indies, you get a chance to play the parts you don't normally play."
Jovovich, 34, led the weekend box office with $27.7 million for "Resident Evil: Afterlife," the fourth installment in the series, in which she reprises her role as a superhero slaying ravenous zombies that have overrun the world.
The "Resident Evil" movies are overseen by Jovovich's husband, director
Paul W.S. Anderson
, who also is directing her in a 3-D adaptation of "The Three Musketeers," which features Orlando Bloom and Academy Award winner Christoph Waltz and is due in theaters next year.
Jovovich also has starred in such big studio productions as "The Fifth Element" and "The Messenger: The Story of Joan of Arc," appeared in Ben Stiller's "Zoolander" and Spike Lee's "He Got Game," and has done such smaller films as "The Claim" and "Dummy."
In "Dirty Girl," which is seeking a theatrical distributor at the Toronto festival, Jovovich co-stars with Juno Temple, Mary Steenburgen, William H. Macy and Dwight Yoakam in the tale of a teen bad girl. In "Stone," Jovovich plays the wife of a prison inmate (Norton) who seduces a parole officer (De Niro) to try to secure her husband's release.
Co-star Norton said Jovovich brought both her beauty and an exotic spirit to the role.
"I knew she had this in her," Norton said. "It's a weird comparison, but she reminded me of Karen Black or one of those great actresses of the '70s who though beautiful was always kind of finding a little bit of a funky kink in what they were doing and didn't feel like they were out of central casting."
The "Resident Evil" movies have left Jovovich somewhat typecast, making more serious roles a bit tougher to land, Jovovich said. "Stone" director John Curran said he initially had doubts that she could pull off the role but that Jovovich aced her audition.
Jovovich is not complaining about her main gig as an action hero, though.
"I'm really lucky to have a four-picture franchise. Not many women in Hollywood are given the opportunity to helm a big action franchise," Jovovich said. "So it's a big honor, and I keep doing smaller movies that give me a chance to play something different from Alice in `Resident Evil' and to really grow as an actress."
---
Copyright 2010 Associated Press. All rights reserved. This material may not be published, broadcast, rewritten, or redistributed.